We inherited a house. Well, kind of. It's still working it's way into whatever it is supposed to be. But that doesn't stop us from making it what we want it to be right now.
Grow where you're planted right?
In other words, make wherever you are now be as close to the dream as you want it to be because we don't live yesterday, we don't live tomorrow, we live now so make now matter.
Now that is a philosophy we really had to be committed to follow because we didn't really want a house, especially when we travel so much but we all agreed that it would be nice to have a "home base" to work from so being the Boheme's that we are and totally unafraid of work, we set in to get the job done.
Project: Dining Room Remodel
Now don't get any ideas of grandeur. The house came full of bugs, ant colonies, fruit rats in the attic and not 1, not 2, but 3 layers of moldy old carpet we had to tear up and throw away.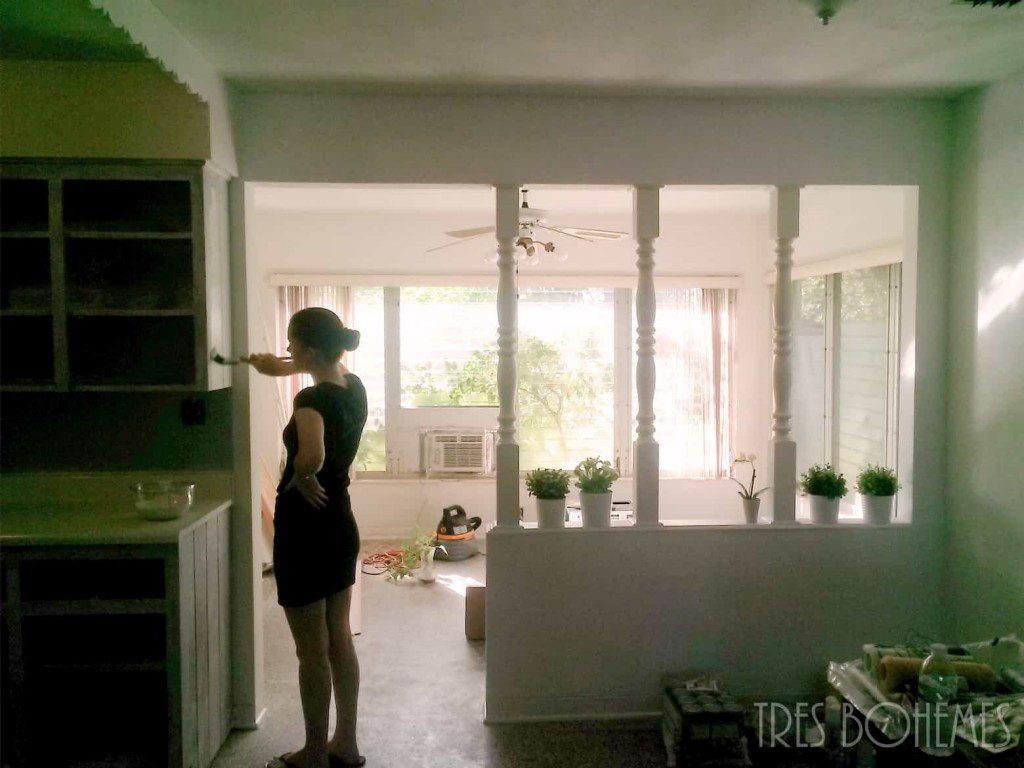 But with the hard work came some sweet surprises. Like this – underneath the hideously Marsha Brady carpets – yes, shag baby – we unearthed the most gorgeous Terrazzo floor that we spent days riding on a buffer to bring out the life in it.
Can you say gorgeous?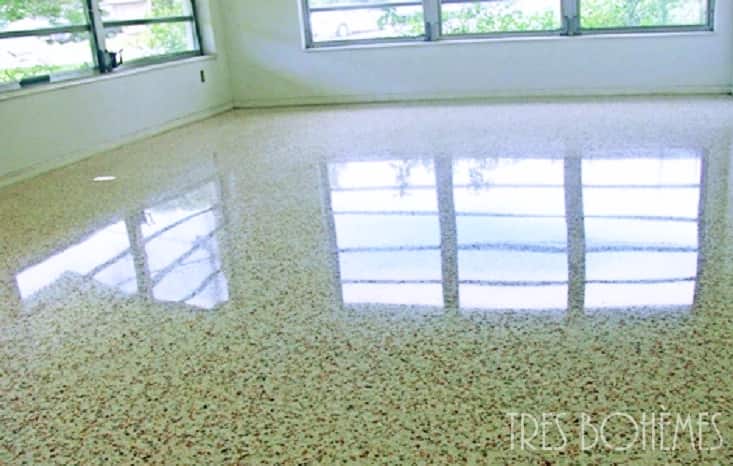 For two weeks we pulled, we dragged, we scraped, we washed, we scrubbed, we painted and we polished. This post shares the sunroom (previously closed off with sagging blinds) that we transformed into our dining area. Note the hideous air conditioner in the window of all places and the outside set of windows leading to another inside room of the house.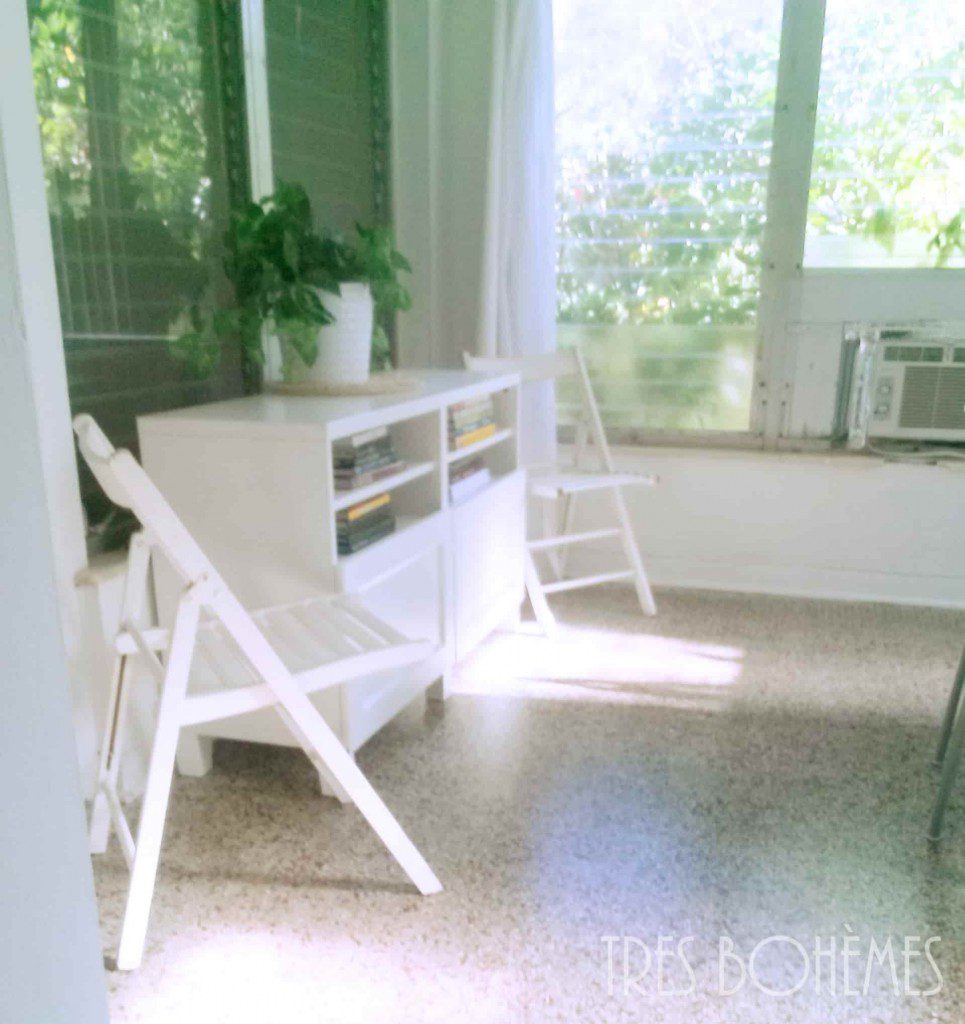 Even cleaned up, that weird window thing and the A/C just had to go.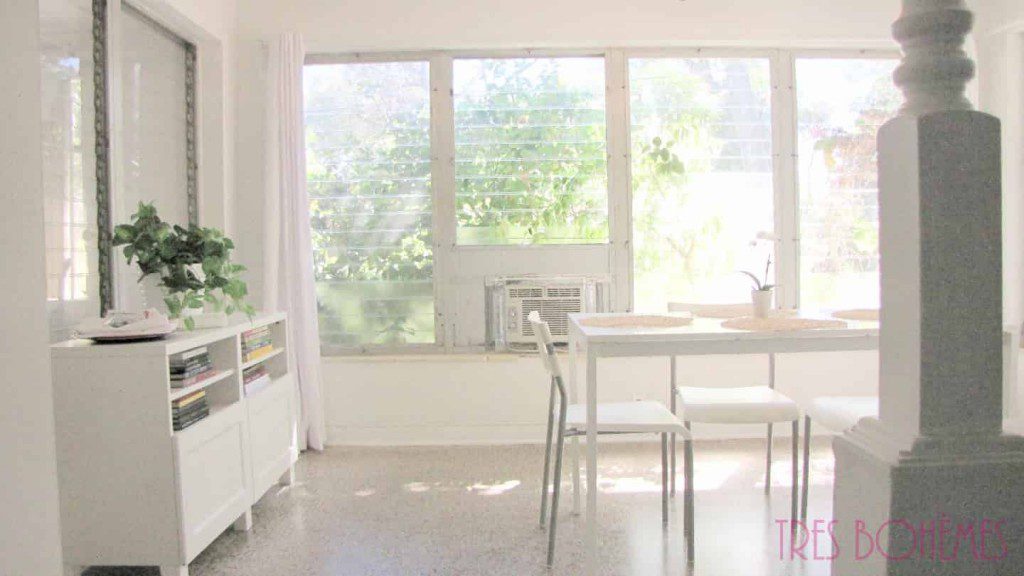 So we opened up some walls and we closed others. This particular room had a door to another bonus room and an outside window on the inside which was just… weird.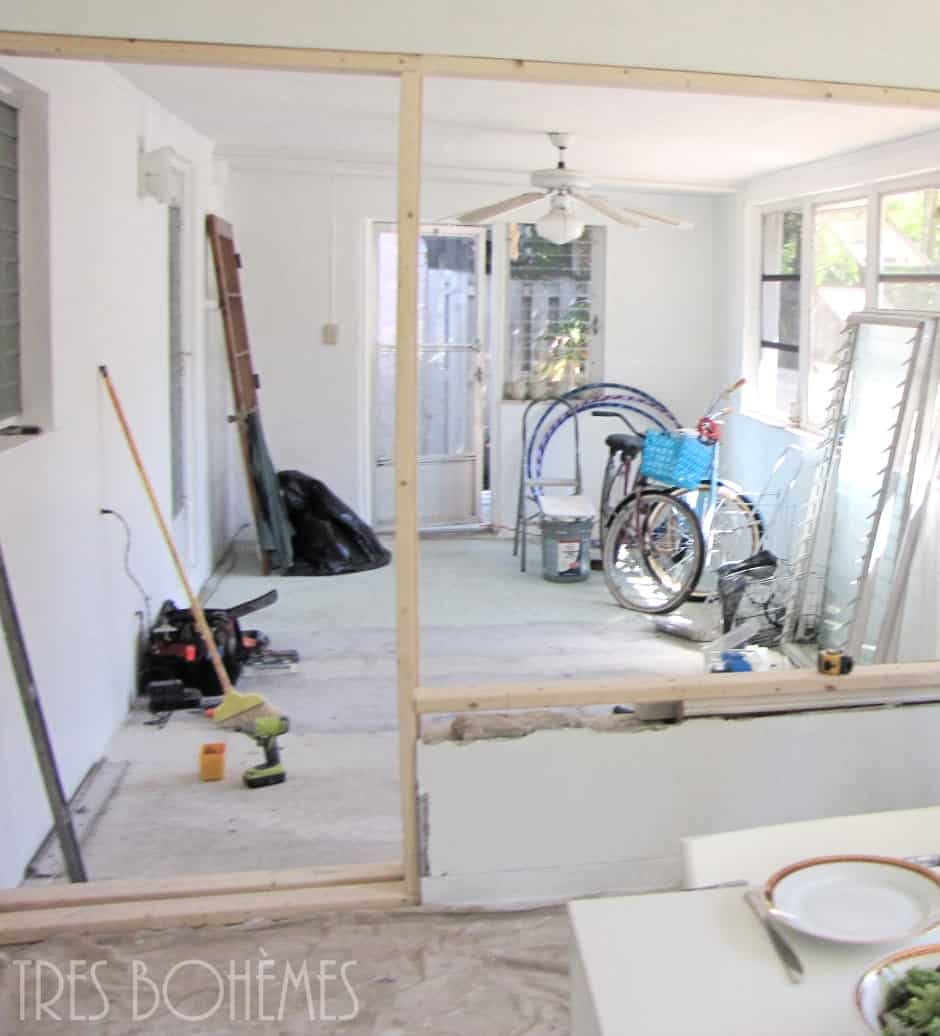 We decided since the room already had many windows and light, we would just close off the door and inside outside windows and build a wall.
The great thing is that this other sunroom is twice the size of this room and it had three doors, one to this room (that we closed off), one to the backside of our kitchen, which also happens to be conveniently located to our guest bath and one to the outside.
Hmmm, have we just created an Airbnb possibility?
Stay tuned on that. But meanwhile….
With a team of three and music on the radio, the time passed quickly and every day we were closer to making our non-home feel like a home. And what about those saggy blinds? Well, since we all love light and want to utilize the wonderful windows, we decided on some white cotton panels on the walls. You can see them here while Zynnia takes a much needed dinner break.
Of course, it has a little bit of hospital room chic when we close up for the night, but at least the neighbors won't be able to take a peek. Don't you just love that our Czech China is being used in a house full of dust and with ladders, paint cans and drills on the floor?
Please don't be mad at me for posting this "I can't believe you're taking my picture when I have been sanding and painting for 7 hours…." photograph. I think you look amazing, strong and beautiful, as always and it's the only photo I snapped of the panels.
But the room just sings of light. It's so sunny all of the time and even when it is rainy outside, the light still fills the house from these windows. Notice the floor shine?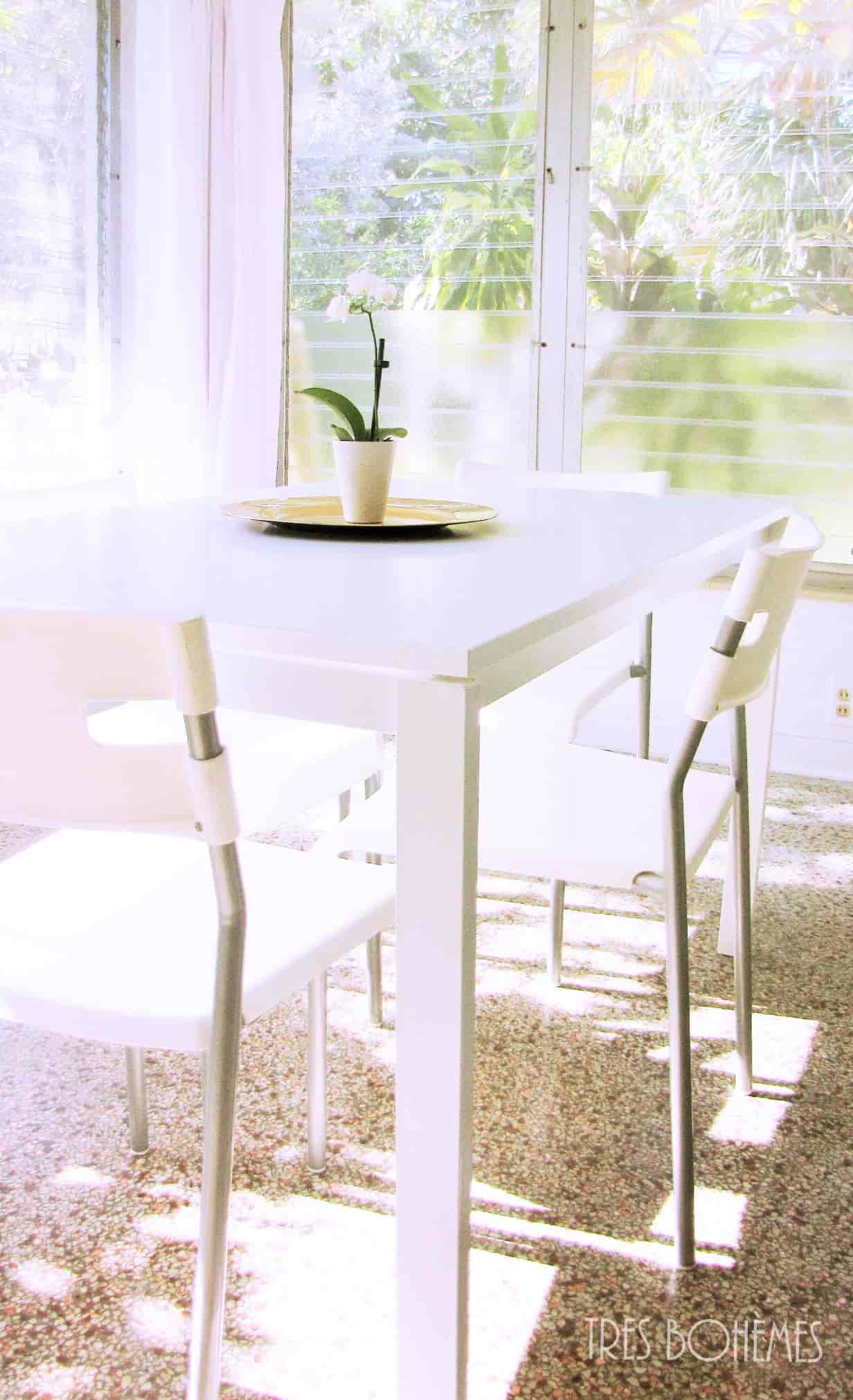 Light, simple, minimalist. One thing we all agreed on at the onset was that we were going to transform this 1950's style wreck of a box with 1970's decoration and furnishings into something light bright and uniquely ours.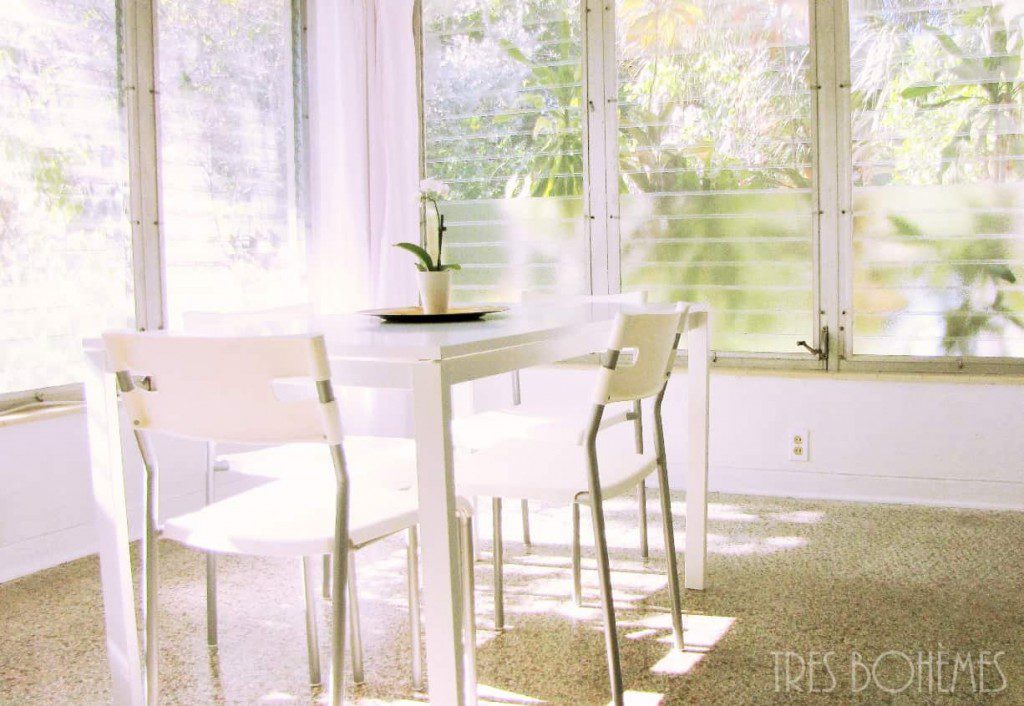 And because this may just be temporary, like all things, we needed something that would not break the pocketbook either. You are looking at a $135 Ikea table and chairs and 8 cotton window panels which were $28 each set (x 4 sets = $112).
Not too shabby.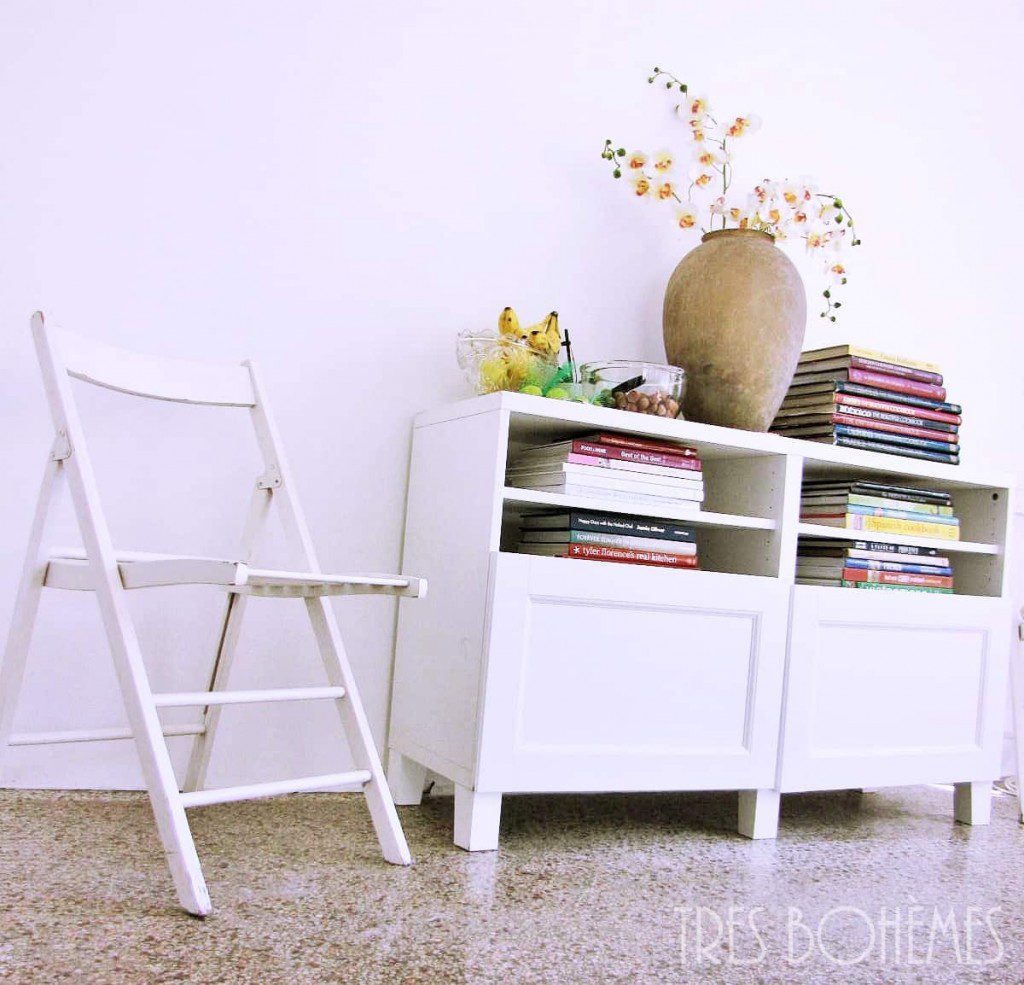 We also picked up this other Ikea table off Craigslist for $25 and two of these extra wooden chairs for $10 at a garage sale. We painted them white and voila!
Who needs the clutter of a "normal house"?
Not us. When we reach home base, the only thing we all crave is a little Zen.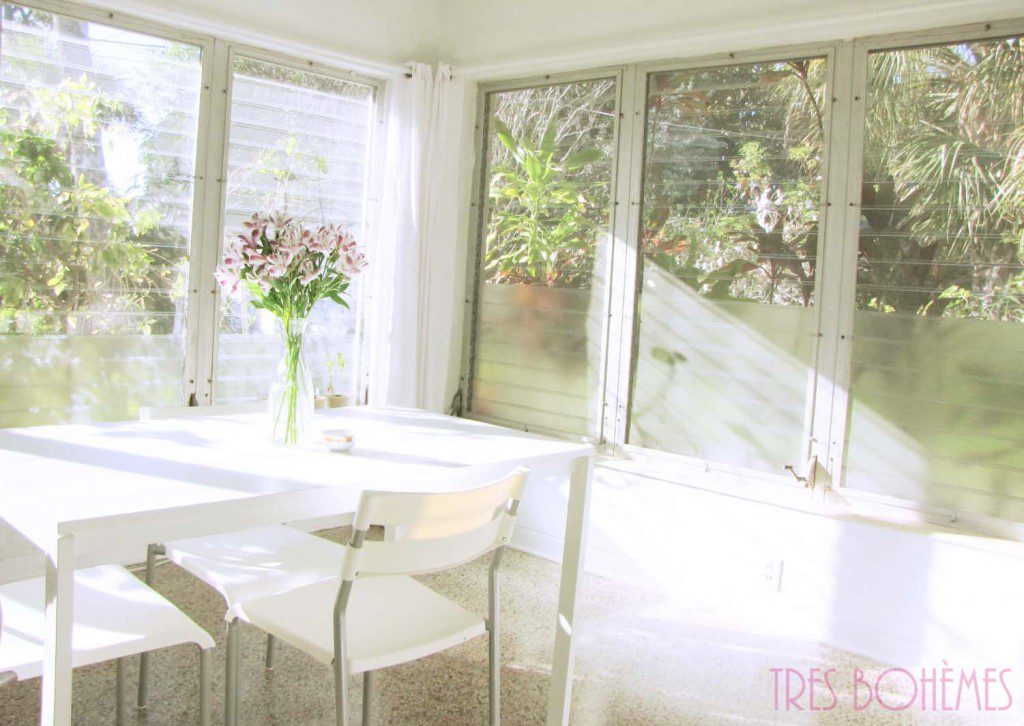 Seriously.
Everyone who comes to visit loves it and comments how peaceful it is. Clutter is a choice, one which we decided to part with a long time ago.
This beautiful rooms also doubles as an art-studio where Zynnia and Zanna draw and paint.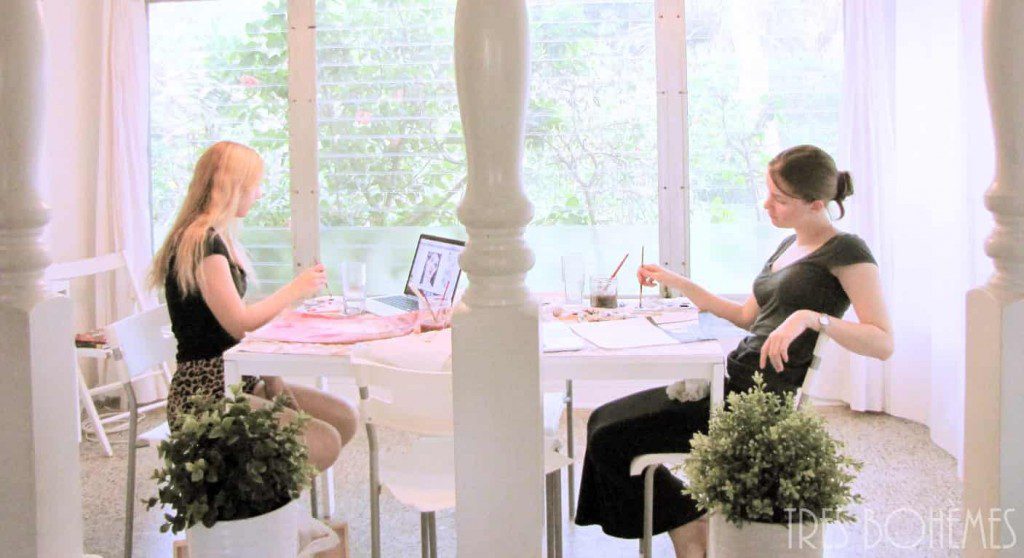 When we first came into this house, we had no idea how we could transform it, especially this room but we love what we've done and it didn't cost a fortune either.
Maybe we've inspired you?
We'd love to hear what you think about what we've done.
If you have not already subscribed to get TresBohemes.com delivered to your inbox, please use the form below now so you never miss another post.
---
Remember, we rely solely on your donations to keep the project going.
Become a friend and get our lovely Czech postcard pack.