Today we are looking at movie scenes from Prague. Many films and music videos choose Prague for obvious reasons, it's beautiful, picturesque, romantic, haunting, glamorous, unique, and well… just picture perfect. Each of these videos are just a few minutes, so take a peek and enjoy your little video visit to Prague.
Mission Impossible – the Charles Bridge scene
The next clip is from the film The Prince & Me. Can you guess the location? Make sure to mention it in the comments below.
Triple X has a wonderful fly by scene of Prague. Short and sweet, we see the iconic views.
No glorious buildings in the following scene, but those of you who have fed the swans know exactly where this scene from The Bourne Identity takes place.
In the "escape from the embassy" scene, we get to see Matt Damon in another Bourne Identity scene. Fans call this one of the best parts of the film.
The following is from the film Narnia, Prince Caspian, it's one of my personal favorites of showing Prague. It almost makes you want to step into the film and be one of the people walking in the background.
In Operation Daybreak, we see Czechoslovakia in 1942. The SS-General Reinhard Heydrich is appointed to become the Reich Protector of Bohemia and Moravia. The terror and oppression that follow cause Allied authorities in London to authorize a secret mission to kill the man who has come to be known as "The Butcher of Prague". The 70's film filmed entirely in and around Prague shows the operation leading up to Heydrich's death as well as the massive German reprisals that followed it.
It is amazing that with movie magic you can take a walk past the astronomical clock in this clip from The Brothers Bloom. I almost feel like I'm there…
Operation Anthropoid is a great movie which talks about one of the most important stories of WWII in Prague – the assassination of SS Obergrupenführer Reinhard Heydrich. The movie was so great that we've decided to show you some of the movie locations – for those of you who love to visit the places where movies were filmed.
Prague stands in as a mesmerizing substitute for 19th-century Vienna in The Illusionist, which features Edward Norton as the eponymous magician. It is a very successful replacement, as much of Prague's enchanting architecture has remained untouched since that period. Prague Castle features prominently in the film, as does the Divadlo na Vinohradech, which is a beautiful theatre in the heart of Prague where Norton's character performs.
People are led to believe that Alex from Everything Is Illuminated is walking somewhere in the Ukraine, but it's actually in Prague. The beautiful sunflower field scenes were so beautiful (and so talked about in this film) we wrote a post about them as those memorable locations were also in the Czech Republic.
Hugh Jackman's monster hunter battles Mr. Hyde atop Notre Dame Cathedral in Paris in the opening scene of Van Helsing, or so movie goers believe. We know that it is actually Prague's Old Town Square with some creative digital effects in the scene.
Also, while I am not a big fan of Van Helsing, I do enjoy this scene because they used a the St. Nicholas church in Prague for Dracula's "palace". Film buffs may also recognize this location as the one used for Beethoven's funeral in the movie Immortal Beloved.
The 2006 remake of The Omen was supposed to take place in contemporary Florence, but you can see the Charles Bridge, the National Museum, Prague Congress Center, Laterna Magika theater, and the Štefánik Observatory in Petřín among other city landmarks and Czech signs in the background.
Finally, we close with this quick creative clip done with overlays from a few more movies to add to your watch list.
When we miss Prague, we open our Czech library and watch Czech movies, or we journey there via these clips from various movie scenes from Prague in American films. It's nice to see so many places we've walked featured in film, don't you agree?
If you enjoyed this post, you will surely enjoy this read about the photographer who has dedicated his Instagram account to sharing scenes from all around the beautiful city of Prague. Another article written about his unique photographs appeared here.
You may click the image below to be taken to his account.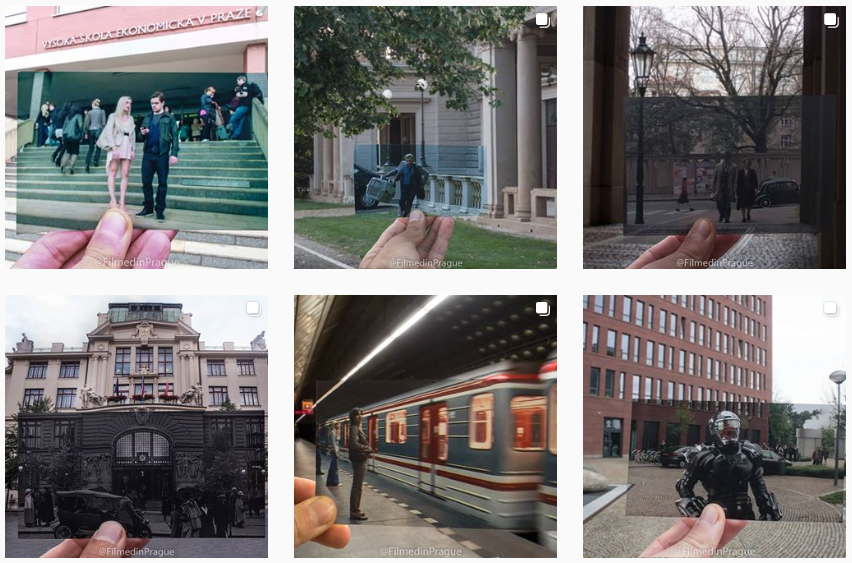 We know that you could spend hours, days, weeks and months finding some of this information yourselves – but at this website, we curate the best of what we find for you and place it easily and conveniently into one place. Please take a moment today to recognize our efforts and make a donation towards the operational costs of this site – your support keeps the site alive and keeps us searching for the best of our heritage to bring to you.

Remember, we rely solely on your donations to keep the project going.
Thank you in advance!
If you have not already subscribed to get TresBohemes.com delivered to your inbox, please use the form below now so you never miss another post.