In April of 1911, the capital of the Czech Republic became home to one of the greatest physicists of all time. Albert Einstein, who was 32 when he moved from Zürich to the city of Prague, lived there for 16 months with his wife Mileva and their two sons. During his stay, the Nobel Prize winning physicist worked at the German-speaking branch of the Charles University, which was called the German University of Prague. The German-speaking branch of Prague's Charles University ceased to exist in 1945.
In 1910, when the German University in Prague was looking for a professor of physics, Bohemia was still a part of the Austro-Hungarian Empire. Therefore, university appointments were made by the Ministry of Culture and Education in Vienna. When the position for professor of physics became available, it was recommended that the vacant position be offered to Einstein.
Einstein was interested in the city of Prague and accepted the offer. By the time Einstein was appointed as full professor of theoretical physics at the prestigious Charles University, he had already been recognized for his special theory of relativity and for his studies in molecular physics.
During his stay in Prague, Einstein and his family lived in a three bedroom apartment in a new building on Trebížského Street in the Smíchov district of the city. The building was located on the left bank of the Vltava River and was quite modern compared to their apartment in Zürich. The building had an elevator and electricity, something which their previous residence in Zürich had lacked.
The name of the street has changed since Einstein lived there. Trebížského Street is now called Lesnická street (It was renamed in 1947), but it is still remembered as Einstein's former residence. Today, the building bears a plaque with a life-size sculpture of Einstein's head.
Einstein was fond of the historical city and credited Prague with helping him to develop one of his key theories, the general theory of relativity.
As professor of theoretical physics, Einstein gave lectures on molecular physics, thermodynamics, and mechanics regularly. His lectures were usually held in either the Physical Institute on Viničná Street or in the Clementinum, which is located near the famous Charles Bridge.
Einstein admired the atmosphere and beauty of the Czech capital. He described Prague as:
"so beautiful, it would justify living here a lot longer."
When he was not giving lectures or spending time at home, the famous physicist could be found at the salon of Mrs. Berta Fanta or at the elegant Café Louvre.
Mrs. Berta Fanta's salon was located in a building on Old Town Square and served as the meeting place for a debating circle which, apart from Einstein, included many other famous participants, such as Franz Kafka and Max Brod. It is said that Kafka would sometimes read from his works while Einstein accompanied him on the violin.
Einstein would often bring his violin to these meetings and play music for his friends between discussions. One of his favorites was Mozart's Violin Sonata. Today, the building features a plaque which reads:
"Here, in the salon of Mrs. Berta Fanta, Albert Einstein, professor at Prague University in 1911 to 1912, founder of the Theory of Relativity, Nobel Prize Winner, played the violin and met his friends, famous writers Max Prod and Franz Kafka."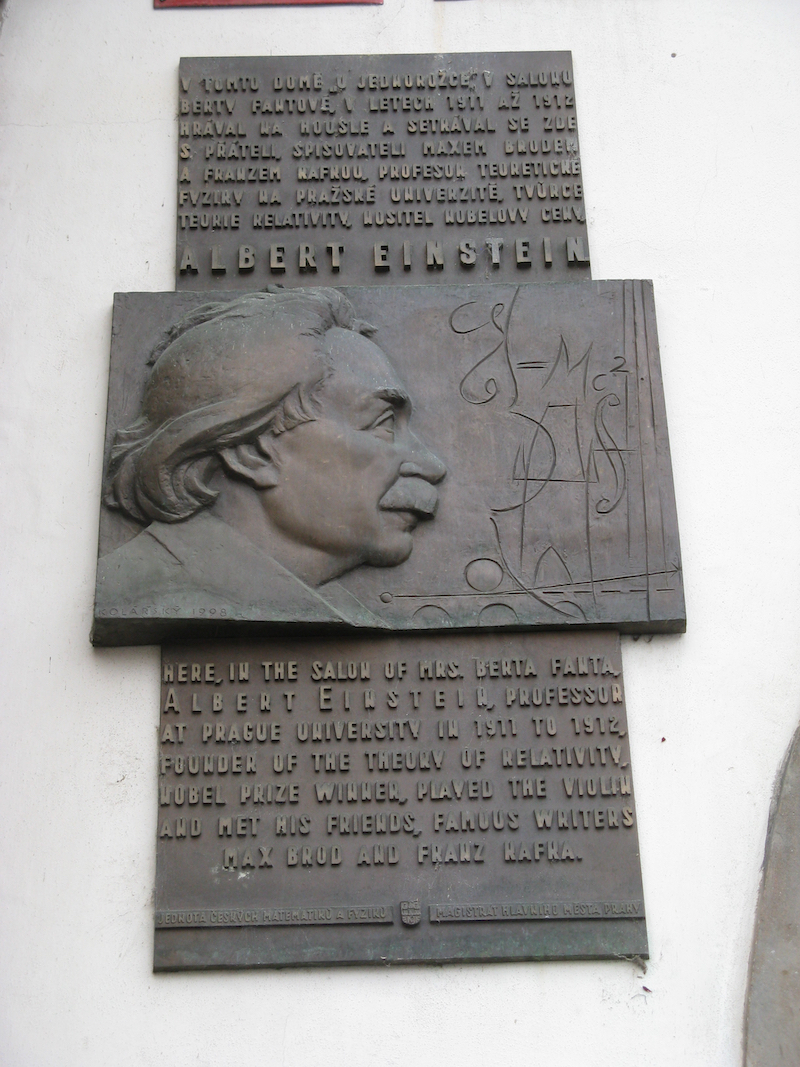 The famous scientist was a regular guest of Mrs. Berta Fanta. He used to go to the salon every Tuesday evening to discuss philosophy and literature with the German-speaking artists and scientists of the time.
Einstein credited Prague with helping him to develop some of his ideas. He wrote:
"In the quiet rooms of the Institute of Theoretical Physics of Prague's German University in Vinicna Street, I discovered that the principle of equivalence implies the deflection of light rays near the Sun by an observable amount. In Prague I also discovered the shift of spectral lines towards the red."
While in Prague, Einstein published various papers on the theory of relativity. In fact, it was in Prague that he found time to refine his famous theory of relativity. In his words:
"I found the necessary concentration for developing the basic idea of the general theory of relativity, which I had already conceived in 1908."
Another one of Einstein's favorite meeting places was the Café Louvre, which still exists today. The Café Louvre is over a hundred years old and has entertained guests such as Eduard Vojan, Otto Pick, Franz Werfel, Oskar Kraus, and Hugo Bergmann.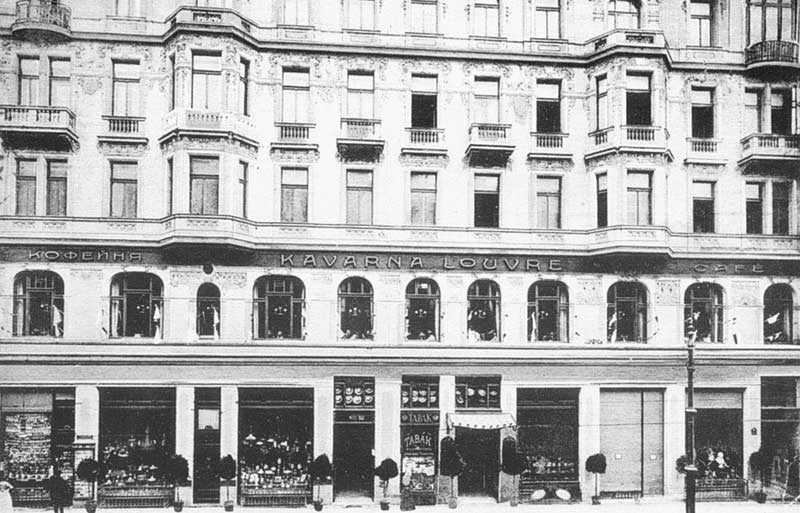 Einstein loved Prague and evidence suggests that he was happy during his professorship in the city. He was especially fond of the Kampa area and the famous Charles Bridge. But his wife, Mileva, did not share her husband's view. She was not particularly fond of Prague and wanted her husband to take a job in another country. So they moved back to Zürich in July of 1912, after sixteen months in Prague.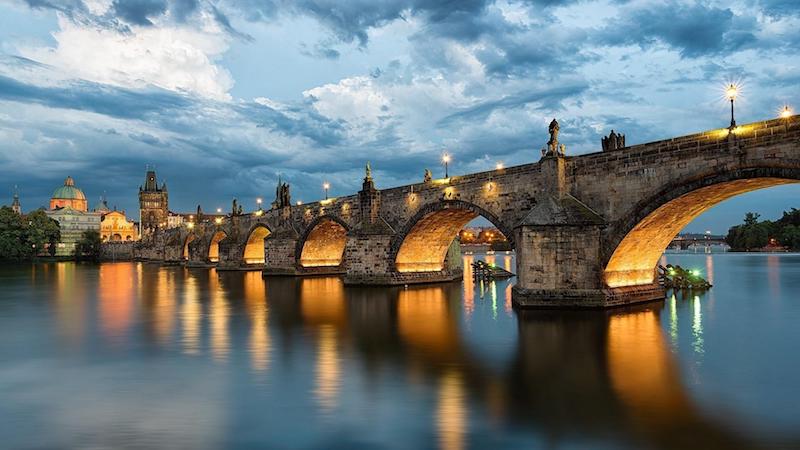 Einstein and his wife later divorced in 1919 and Einstein returned to Prague, the city he had loved so much, for one last visit in 1921.
To this day you can find reminders of Einstein's life in Prague. There are various plaques and sculptures scattered throughout the city. There is even a street named after him (Einsteinova) in the Prague 10 district of the city.
Sources: Einstein Website, Einstein in Bohemia by Michael D. Gordin, Prague Post, J. Bicak: Einstein's Days and Works in Prague, in Physics and Prague, J. Fanta and J. Niederle, Albert Einstein's Year in Prague by Physics Today.
If you have not already subscribed to get TresBohemes.com delivered to your inbox, please use the form below now so you never miss another post.
---
Remember, we rely solely on your donations to keep the project going.
Become a friend and get our lovely Czech postcard pack.