Today we are sharing a wonderful guest post on Czech character by Mila Rechcigl. The images included in the post were selected by me…
An uninformed person may wonder what is so special about the Czech character. Let me assure you at the outset that it really exists. I should know, being a Czech myself, and having lived among the Czechs for many years. Based on their racial origins and shaped by geographical location and historical events, the Czechs have developed unique national characteristics which encrusted their souls, when compared to other nationalities. There were even serious studies written about the subject, however, I will not draw upon them but rather stay with my own perceptions and my own experiences.
What Makes a Czech a Czech?
As a member of the large Slav family of nations, the Czechs are generally considered to be cordial, friendly, jovial, and, above all, very hospitable people.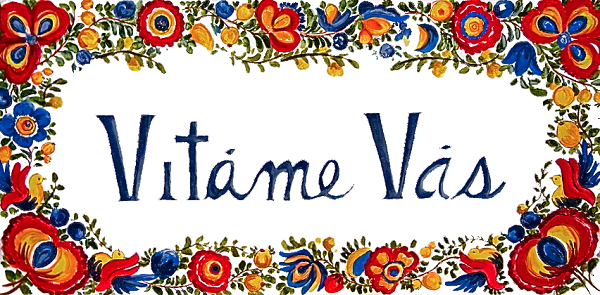 Land Ownership
From earliest times on, they have had natural love for land and specifically for land ownership. Land would pass on from father to his oldest son, from one generation to the next. Land would otherwise hardly ever pass hands outside the family. It was considered the most treasured possession of all. This love for land frequently turned into an obsession since many a Czech farmer would enter into a law suit against his neighbor over the mez, i.e., a very narrow strip of land separating two adjacent fields, with catastrophic results.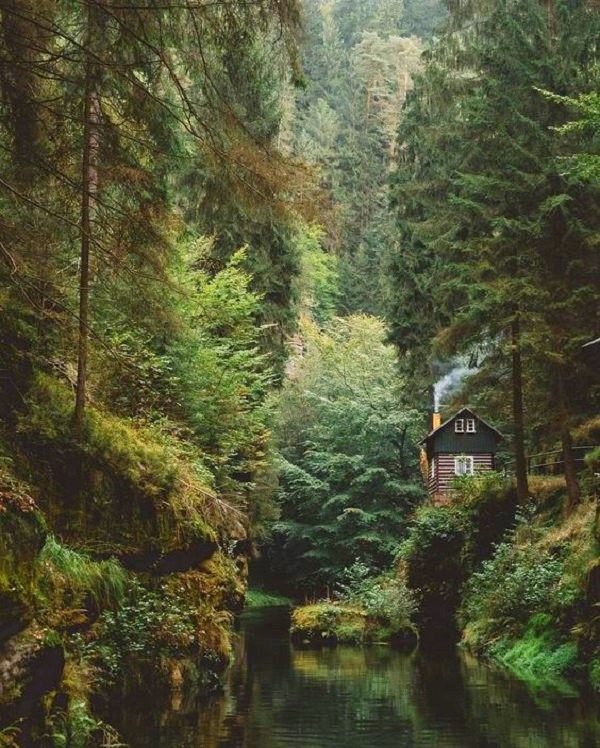 Love of Music
All Czechs love music which is also reflected in their saying A co Čech to muzikant (The Czech – The musician). According to some musicologists, Bohemia was considered the Conservatory of Europe and its composers have ranked among the world's best. Bohemian musicians, who used to frequently travel to foreign lands, have become known throughout Europe. Because of this, the word 'Bohemian' changed its original meaning and now it usually refers to the unique style and life of musicians and artists.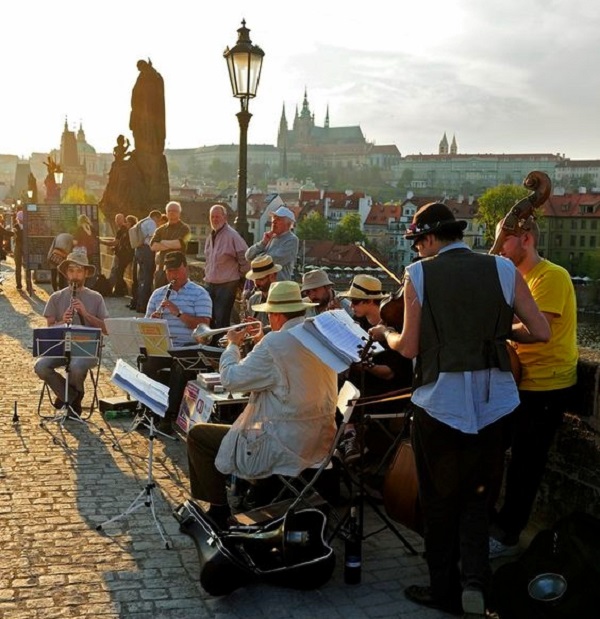 Singers of Song
There is hardly a Czech who does not like to sing.  As youngsters, we would sing in school, during our outings, while sitting around the fire baking potatoes; we simply sang at every possible occasion. Singing was not limited to the young. The adults sang as well, while drinking beer in a local pub, at weddings, birthday parties, etc. One could hear singing anywhere you went. Actually, it is this singing which I have missed most after coming to the US.
Individualists
Being the most western-based Slavs, the Czechs interacted with the neighboring Germans, from whom they acquired some of their traits, including realistic tendencies, their industrious nature, technical skills, organizational ability, exactness, and punctuality. They did not, however, adopt their tendency to follow a leader at any cost, 'almost like sheep,' which is so characteristic of Germans. The Czechs, in comparison, are highly individualistic people, and the concepts like togetherness, solidarity and unity are almost foreign to them. It seems that only times of real danger or disaster brought Czechs together and united them in a common cause.
This lack of togetherness and unity cost Czechs dearly, as evident throughout their tumultuous history. It was the disunity which brought the end of the Svatopluk monarchy, thus ending the era of the Great Moravian Empire. It was also the disunity among Czechs which ended the glorious period of the Hussites. The tragic outcome of the infamous Battle of the White Mountain, which led to the 300-year Habsburg oppression of the Czech Nation, might have possibly been averted had the Czechs remained united.
Brave and Strong Survivors
Nevertheless, throughout history, Czechs showed an unusual ability to defend themselves against the enemy, frequently against all odds. The victorious battles of Hussites, under the leadership of Jan Žižka, against the eminently stronger imperial forces and crusades are almost legendary.
The bravery of Czechs cannot be disputed.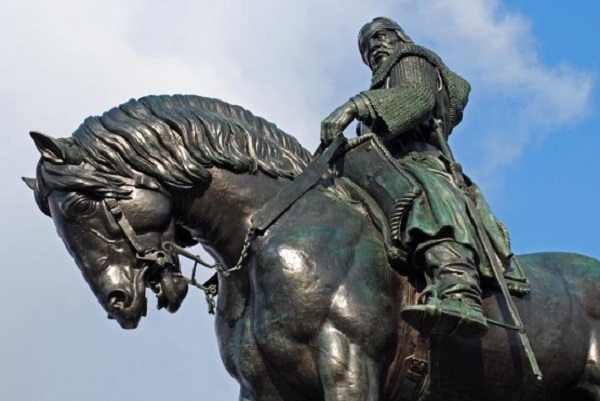 The survivability of Czech Nation and Czech language in a completely German environment for more than three centuries is truly phenomenal.
This alone should dispel claims of some people that Czechs are not willing to fight for themselves, based on the supposition that Czechs did not make any effort to stop Germans from invading their country in 1939. How little such people know the history!  As a matter of fact, the Czechs were prepared to fight and they had their troops ready and mobilized at its borders. It was only the pressure of their so-called allies, the French and the English, who forced them to accept the humiliating Munich Agreement and give up a part of their territory to Germany without the fight, as a price for averting World War II.
Adaptable and Individualists
All Czechs possess a high degree of individualism and adaptability. A typical Czech likes to be independent, he likes his privacy, and despises any authoritarian rule. He believes in and supports liberal causes for which he is willing to fight, but on his own terms. He supports spontaneous movements for causes he believes in but generally is reluctant to join any mass movements if they come from above.
It is their individualism, resourcefulness, and high degree of adaptability which makes them succeed where other individuals might not. I have seen this, time and time again, in the US where practically all the Czech immigrants, without any means or connections, have succeeded almost at any profession and achieved the highest positions in public life.
Considering their small numbers, in terms of their accomplishments, they beat just about any other national or ethnic group, except perhaps for Jews, or for that matter, the Bohemian American Jews.[1]
Interestingly, the smartest person in the world turns out to be a Czech American.[2]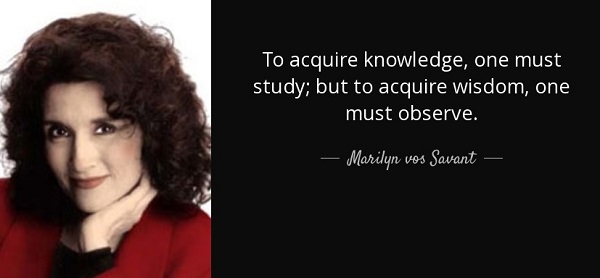 Realists and Pragmatists
All Czechs are realists, pragmatists, to some degree skeptics, and fiscally conservatives. Whenever they face a problem, they don't get emotional about it and before they react or act, they first think about it, analyze it and examine the various options available to them. They are very careful, cautious, deliberate, rational and seem to follow their proverb Dvakrát měř a jednou řež", which means Measure Twice and Cut Once. Being realistic, does not necessarily mean, that they are pessimists or that they lack idealism. Their idealistic tendencies are plainly discernible throughout their history.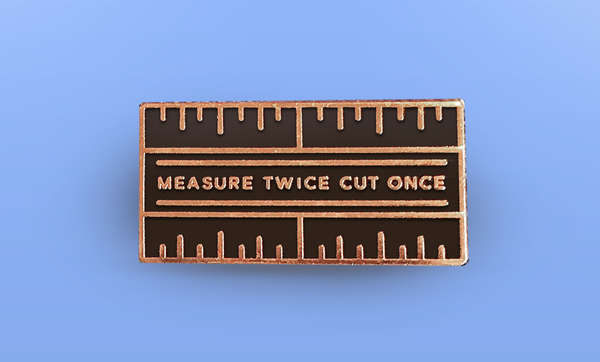 Their realism and pragmatism might be misconstrued by an outsider that Czechs lack emotions or temperament. That is obviously not true, as anybody who has frequented a local Czech pub can testify. It seems that every Czech has his own opinion, almost on any subject, which he vigorously defends. It is not very uncommon to see Czechs engaged in heated debates over political differences or the virtues of one soccer team over another, among closest friends, while enjoying their glass of beer.
Proud People
Three hundred years of oppression, servitude  and bondage under the Habsburg rule have clearly left distinct marks, at least on some of the Czechs, including servility, obsequiousness, and slavishness. Some Czechs also acquired from their Austrian masters bureaucratic tendencies and officiousness, to a degree, that they behave more Pope-like than the Pope himself. Nevertheless, you would hardly ever find an individual among them suffering from a minority complex. Actually the opposite may be true. Most Czechs are very proud people who have a good opinion and good feelings about themselves.  The country's geography might have aided in this. Being separated from most of their neighboring countries by mountain ranges, Czechs have not had much opportunity to interact with other nations, and consequently have developed a somewhat narrow view of the world, bordering on parochialism. This is also reflected in the old saying, Co je české, to je hezké, which means What is Czech is nice. Because of the increased opportunity to travel abroad, some of these traits are understandingly disappearing fast.
Highly Educated
Most Czechs intuitively respect education and Czech teachers have generally been held in high esteem. Most parents would spend all their savings to assure that their children get the highest education possible. The fact that university professors are appointed by the President of the Republic is another indication of the importance with which education has been perceived among the Czech people. A sign of an educated household was a private library for which wealthier families reserved a special room in their house.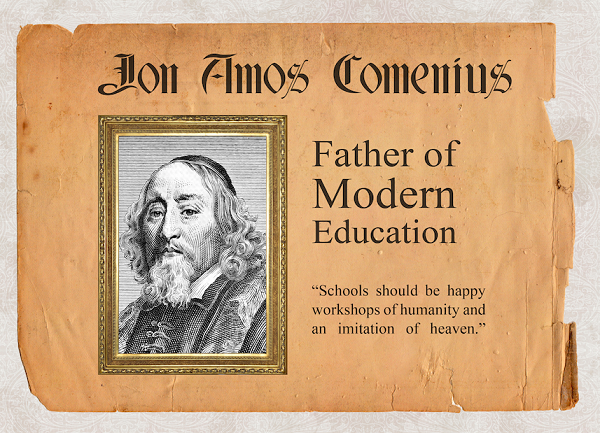 Intellectuals
In contrast to the US, where wealth has always been considered one of the highest achievements, being a true intellectual in Czechoslovakia, at least in my days, meant definitely more than just to make money. Interestingly enough, Czech intellectuals have also played a significant, if not the leading, role in most populist movements in the country, including the national revival in the 19th Century, in the struggle for independence after the World War I, in the Prague Spring of 1968 and the Velvet Revolution of 1989.
The closeness of Czech population to its intellectuals can be explained by the fact that most Czech intellectuals came from rural area and were of humble origin. A typical European intellectual, on the other hand, had his origin usually in the aristocratic or wealthy background.
Devoted with Inner Sanctum
On the surface, Czechs may appear less religious than other Slavs, particularly the neighboring Slovaks and the Poles. Many of them may indeed not belong to organized churches but inside they are as deeply religious as anyone. Their history speaks for itself. After all, the Reformation, as well as Counter-reformation movements had the beginnings in Bohemia. The Czech martyr John Hus refused to retract his religious beliefs at the cost of his own life and ended by being burnt at stake. `
In his recent memoir, the Czech publicist Karel Kornell, [3] who incidentally is  also a native of Mladá Boleslav, as I am, devoted a few paragraphs to Czech character, which corroborate some of my own conclusions: As he points out, the first thing that strikes one is the stolidity of the typical Czech. On the surface he appears to care for the simple comforts of life: good food and good beer, a weekend in the country, by the river or in the mountains, fishing or bathing or indulging in winter sports, or simply putting on his Sunday best and taking his family for a stroll through the streets of Prague or his own town. A hard-working man, he uses his brains to make his work easier and to earn his money. Deep down, in his heart of hearts, he is a quiet sort, a stoic and skeptic receiving blows of fate with a grace all his own. Good soldier Svejk [4] could only have been Czech.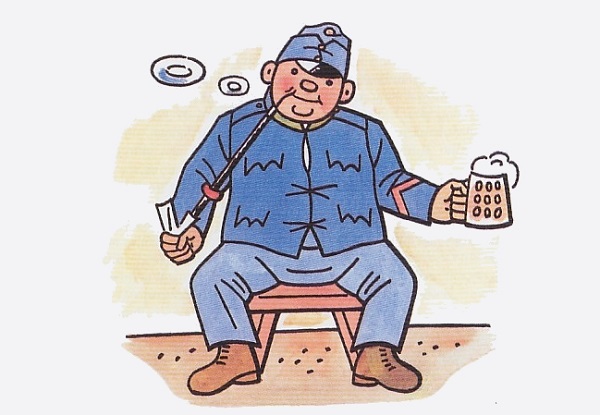 Pretending lack of understanding, he had his own way, no matter what the others thought. He came close to personifying the distinctive Czech philosophy. It may be the tactics of least resistance, it may be the outlook of the little man, it may even turn out to be the way a relatively little nation faced those that were superior in numbers. It certainly results in preserving one's inner privacy as an impenetrable sanctum and is the typical Czech approach to life.
Stable, Faithful and Good
Objectively, it is, of course, always better to have a foreigner talk about the Czech character than Czechs themselves. I like to quote from an American author Rev. Kenneth D. Miller, [5] a recognized authority on Czech Americans: "The charge that the immigrants are undermining the moral standards of America cannot be brought against the Czecho-Slovaks. A police captain of New York testifies that of all the people in the East Side were as clean, morally and physically, as the Czecho-Slovaks we should have little trouble."
According to Miller, the Czechs are conspicuously quiet, industrious and law-abiding. With reference to life style, he states that family life among the Czechs is generally stable, and marked by unusual faithfulness on the part of man and wife.  Immorality exists among them, of course, but their standards compare favorably with any other element in our population in this respect.
Frank Debates
At the same time, however, Miller makes reference to vigorous quarreling among the Czech Americans. The writer has time and again seen two Czechs enter upon a heated argument, get very red in the face, put their faces very close together, and tell each other in vigorous and unmistakable fashion what they thought of each other. But always they manage to cool off without resorting to fisticuffs. Czechs raised on the other side very seldom put their hands on anyone, even under the greatest provocation. The newspaper editors flay one another in their columns most unmercifully, using language that would surely cause a suit for slander with Americans. But nothing comes of it, and one is liable to see the contending editors sipping their beer together the next day.
Czechs seem to regard quarreling as an necessary incident of life, and they lose no sleep over altercations which would worry others for days. They themselves say: We are a very frank people. We say just what is on our minds. Which is often another way of saying: Disagreements and quarrels are the spice of life. Soft speaking and tactfulness mark the weak man.
A Challenge and a Charm
In the words of a Nebraska teacher [6] of Anglo-Saxon ancestry, "If I were to put upon the printing page some of the epithets applied to these people from Central Europe, with their hard living, their queer customs, their joyous and sometimes hilarious beer-hall festivals, their old-country music, with its wild notes of passion, despair and defiance, their strange intense language with its jarring Z's and R's – by their prairie and backwoods American neighbors, I greatly fear it would not add to the growing cordiality between this group and the rest of us. For me and my three hundred years of Yankee ancestry there was a challenge and a charm in these people. They certainly were different from the rest of us. They were more than different. They were hungry to know the new things in the new land. I had some Czech school children who were dull, but I do not remember one who was not eager. And many of them had minds of extraordinary power and clearness. They were sensitive in so many different ways, to a picture, to a story, to a sentiment. I learned to know and to love the characteristics of these people in spite of all the contrast between them and those of my own breed."
We're Czechs, They're Americans
The distinct characteristics of Czech Americans are also discussed in detail by an American sociologist Robert L. Skrabanek, [7] who was born in the Czech community of Snook in Texas, where the Czech farmers led a distinctive and fiercely proud way of life. "We're Czechs, they're Americans", was an expression commonly used in his home, often accentuated with the additional admonition – "And don't you forget it!" The expression seemed somehow or other to give the impression to kids that they were a cut above the other white people who spoke English only and lived on small farms near their community. Were their corn rows straighter and neater than those of their non-Czech neighbors? Did their children excel in the local schools and in county-wide athletic contests? The explanation for all these differences seemed simple to them; "We're Czechs, they're Americans."
Yankees of Europe
Some people likened the characteristics of the Czech people, such as realism, pragmatism, independence, and love of liberty and democracy, to Americans and called them "Yankees of Europe". Rev. Miller, [8] in the same vein, concluded that the Czechs are well fitted to understand the genius of American life. He believes that this is because both their background and mental equipment give them a splendid preparation for life in America. Liberty, equality, democracy, justice and such ideas and ideals find ready acceptance in the hearts and mind of Czech people.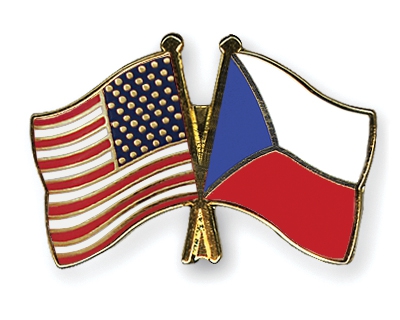 END NOTES:
[1] Miloslav Rechcigl, Jr., "Bohemian and Czech Jews in American History," Kosmas 26, No. 1, Fall 2012, pp. 70-112.
[2] I am referring to Marilyn vos Savant (née Marilyn Mach) (1946-), a native of St. Louis, MO, who is known for previously having the highest recorded IQ according to the Guinness Book of Records.
[3] Karel Kornell, I am a Czech (Lewes, Sussex, England: The Book Guild, 1986), pp. 6-7.
[4] The fictitious Czech character, created by Jaroslav Hašek in his classic satire Osudy dobrého vojáka Švejka za světové války (1921-1924), which has been compared with the creations of Rabelais and Cervantes. An excellent unabridged English translation was written by Cecil Parrott, under the title The Good Soldier Svejk and his Fortunes in the World War (New York: Thomas Y. Crowell Co.,1974). 
[5] Kenneth D. Miller, The Czecho-Slovaks in America (New York: George H. Doran Co, 1922), p.70-71.
[6] Addison E. Sheldon, Nebraska Czechs as I Have Known Them, in A History of Czechs (Bohemians) in Nebraska. Compiled by Rose Rosicky (Omaha: Czech Historical Society of Nebraska, 1929), pp.15-17.
[7] Robert L. Skrabanek, We're Czechs (College Station, TX: Texas A&M University Press, 1988), pp. 3 and ff.
[8] Op. cit., p. 106-107.
Tags: Czech Character, Czechs in America, Czech People, Bohemians, American Czechs, Czech Faith, Czech Politics, Czechs and Beer, Czechs Sayings, Czech Proverbs, Being Czech.
---
Guest Post Author
Miloslav Rechcígl, Jr. is one of the founders and past Presidents of many years of the Czechoslovak Society of Arts and Sciences (SVU), an international professional organization based in Washington, DC.
He is a native of Mladá Boleslav, Czechoslovakia, who has lived in the US since 1950.
Read his entire profile here.
Discover Mila's many books on Amazon.
Thank you in advance for your support…
We know that you could spend hours, days, weeks and months finding some of this information yourselves – but at this website, we curate the best of what we find for you and place it easily and conveniently into one place. Please take a moment today to recognize our efforts and make a donation towards the operational costs of this site – your support keeps the site alive and keeps us searching for the best of our heritage to bring to you.


Remember, we rely solely on your donations to keep the project going.
We appreciate you more than you know!
If you have not already subscribed to get TresBohemes.com delivered to your inbox, please use the form below now so you never miss another post.