Our images of Prague locations then and now highlights the beautiful city of Prague which has withstood much time. Many parts have grown and changed and much of it has remained the same. Today I am sharing some old black and white historical photographs with current ones to show how some things change while others remain the same…
The Chodovská vodní tvrz or Chodov fort, is a round building with its origins in the 13th century (though heavily restored) which now serves as a cultural centre and includes a gallery and a small recital room.
Charles Square or Karlovo náměstí, is a city square in the New Town of Prague, Czech Republic. At roughly 70,000 m² it is one of the largest squares in the world and was the largest town square of the medieval Europe.
Founded in 1348 as the main square of the New Town by Charles IV, it was known as a cattle market (Dobytčí trh) from the 15th century and finally named after its founder in 1848. The central portion of the square was turned into a park in the 1860s.
The square is now one of the main transport hubs of the city centre with Karlovo náměstí metro station and numerous tram lines and busy roads crossing it in all directions.
The Palladium mall when it was Josefska kasárna as photographed in 1900.The Palladium is a multifunctional complex and commercial building, standing in the center of Prague's New Town. It was opened in October of 2007. It was created by a partial demolition and rebuilding the old barracks behind the facade of and basically building a new building on the back side.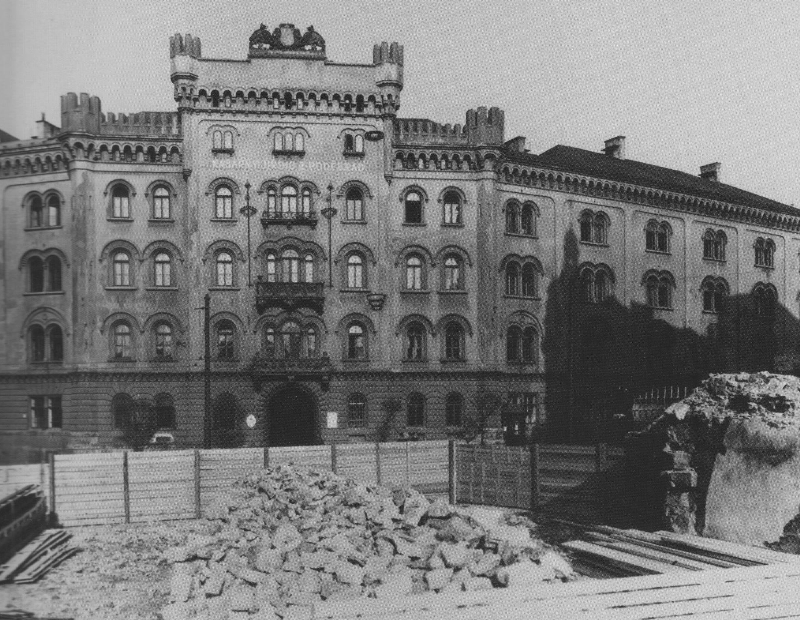 It is now an 11 storey building with 5 of the floors below ground. In addition to being a commercial space, the Palladium is also an entertainment center.
Some of these images were scanned from my hardcover copy of Prague – Yesterday and Today. It's a gorgeous book full of wonderful photographs.
Incredibly, you can get your own hardcover copy at Amazon for only around $3 and shipping.
Wow!
Sources: Wikipedia 1,  Wikipedia 2, Wikipedia 3, Wikipedia4.
If you have not already subscribed to get TresBohemes.com delivered to your inbox, please use the form below now so you never miss another post.
---
Remember, we rely solely on your donations to keep the project going.
Become a friend and get our lovely Czech postcard pack.