Bohemian beer back in the day was based on craftsmanship, skill, hard labor and teamwork. In the town of Plzen in 1842, Josef Groll was the brewmaster who made the first ever batch of what became known as Pilsner Urquell. In their 172+ years of brewing, there have been a total of 16 brewmasters working in Plzen to date. The brewery was built along the Radbuza River and operated by several of Plzen's independent brewers.
In 1839, Burghers in the city of Pilsen decided to found the Burgess' Brewery (Měšťanský pivovar) and on September 15, 1839, construction of the Burgess' Brewery, forerunner of today's brewery began.
On October 5, 1842, the very first brew of bottom-fermented beer, so-called pale lager came out of the barrels and on March 1, 1859 the name Pilsner Bier as a brand name was registered at the Chamber of Commerce and Trade in Pilsen.
Thus, the first Pilsner beer was born.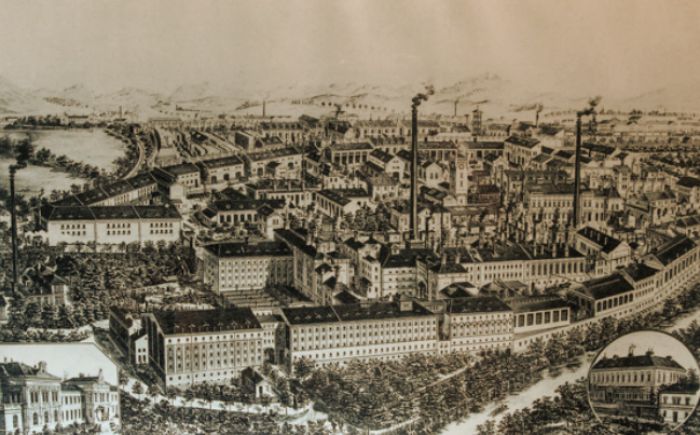 1842. A historical illustration of the Brewery.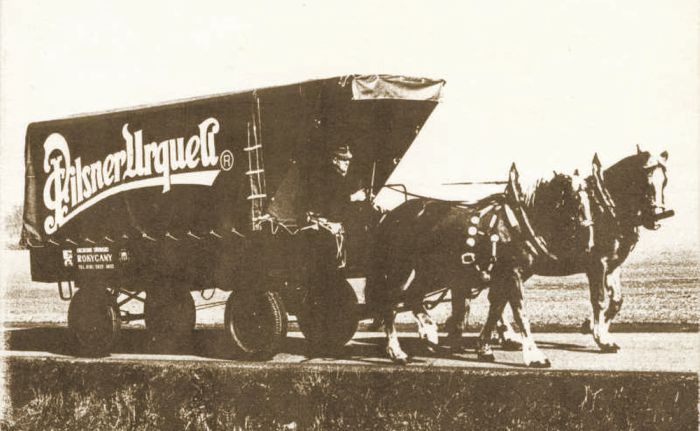 1856. Beer delivery using horse and cart.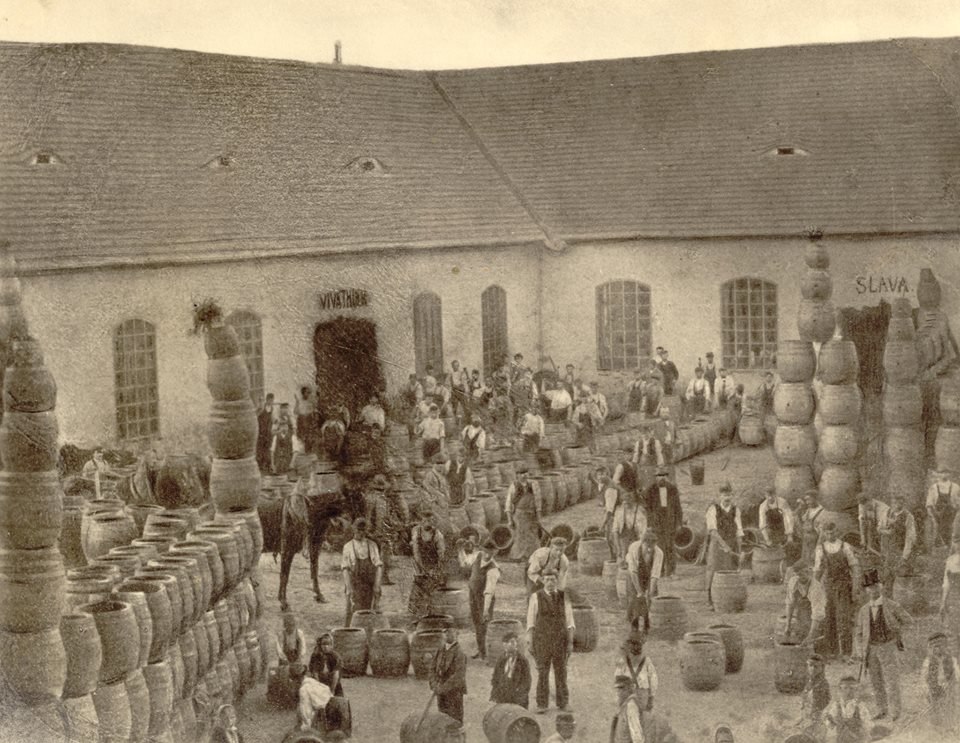 1870. This is the coopers' yard at the brewery.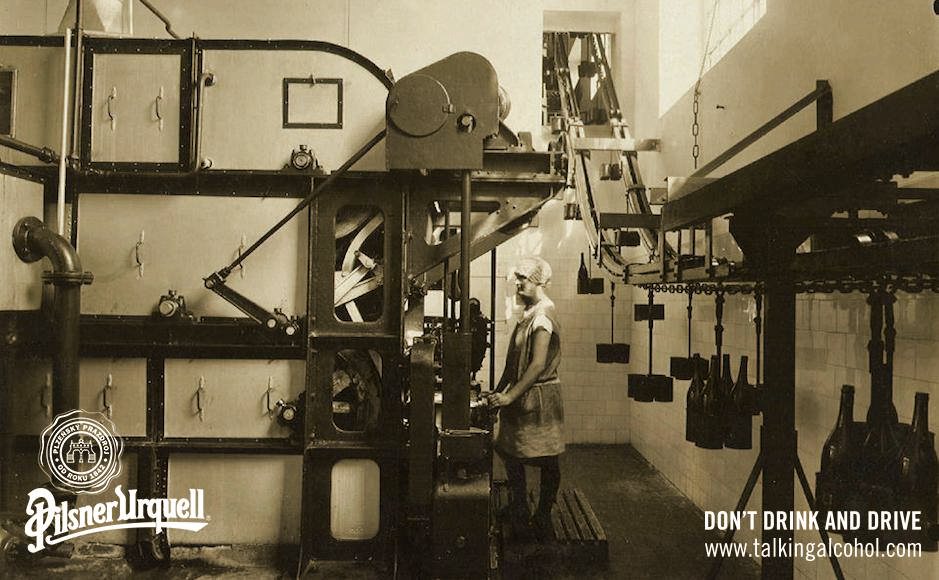 1877. This is the original line where they used to fill bottles of Pilsner Urquell.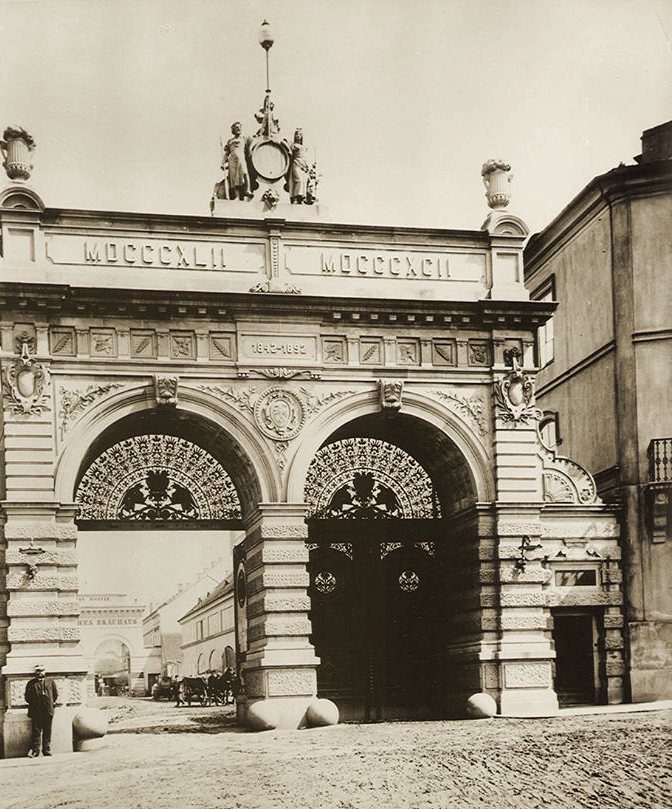 1892. Masterfully brewing the original Pilsner behind these famous gates for over 172 years.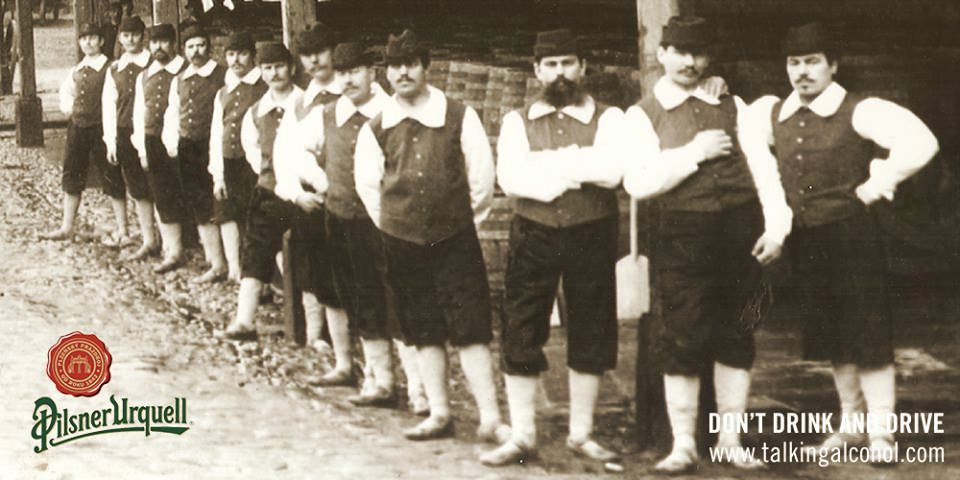 1896. It looks like moustaches were just part of the uniform in the brewery many years ago!
The distinctive gateway to Plzensky Prazdroj, Pilsner Urquell's historic brewery are neo-renaissance double-arched gates, built in 1892 to mark 50 years since the first batch of Pilsner beer filled the air of the Burgher's Brewery on 5th October 1842.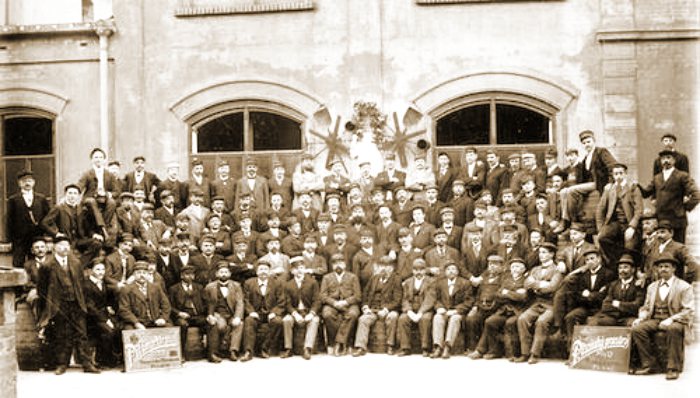 1900. The malting team looking sharp for a team photo.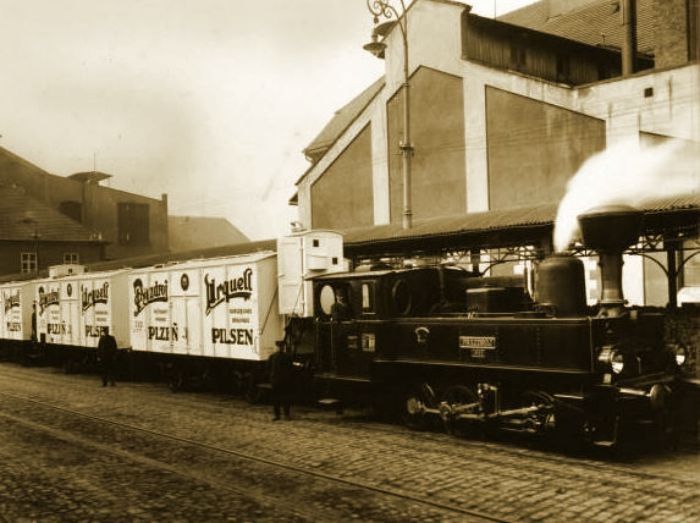 1901. The locomotive is loaded.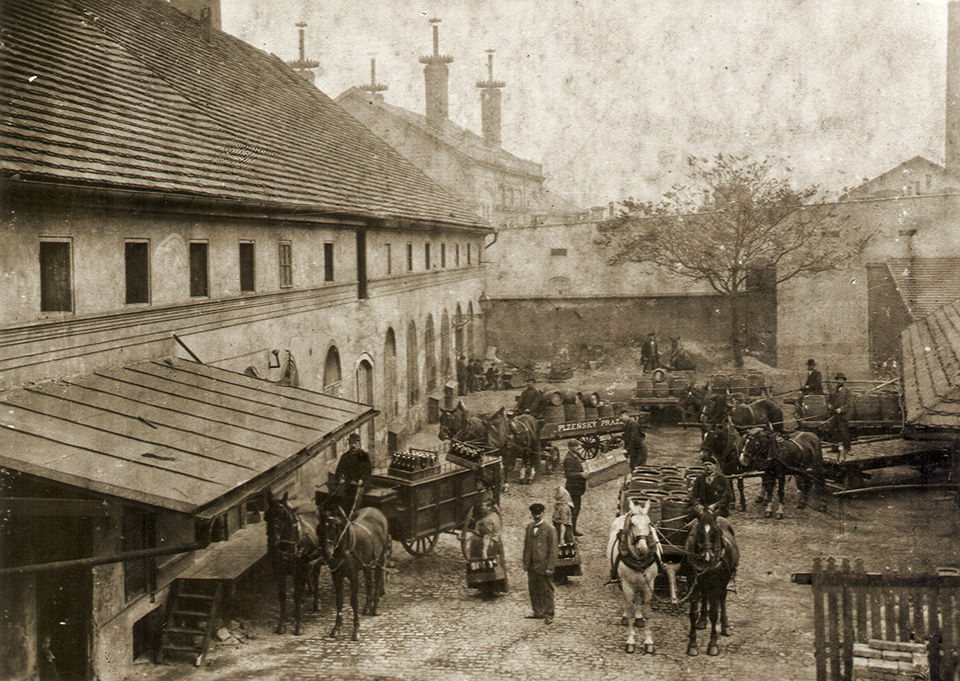 1902. What beer deliveries looked like in Plzen back then – I love those big wooden bottle crates!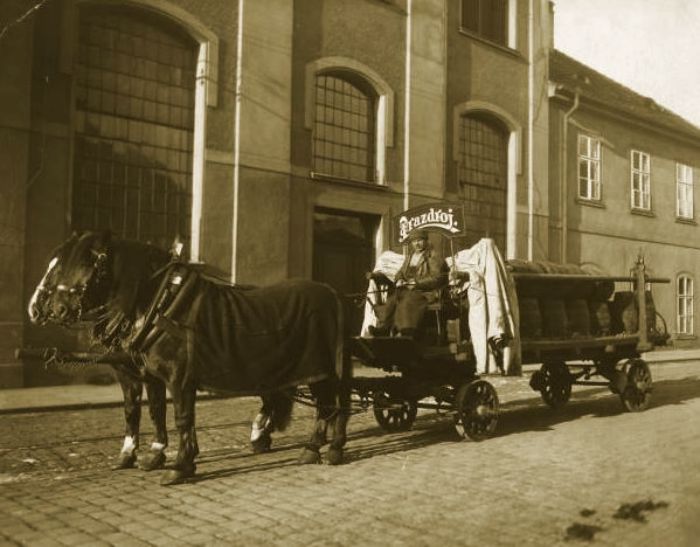 1903. Beer delivery time.
Ask any Czech and they will tell you that unpasteurized Pilsner Urquell is not just beer, it is a cure.
Perhaps it's true that every nation has a typical product which is known to the world and which is an indispensable part of its history. For Czechs this product is beer.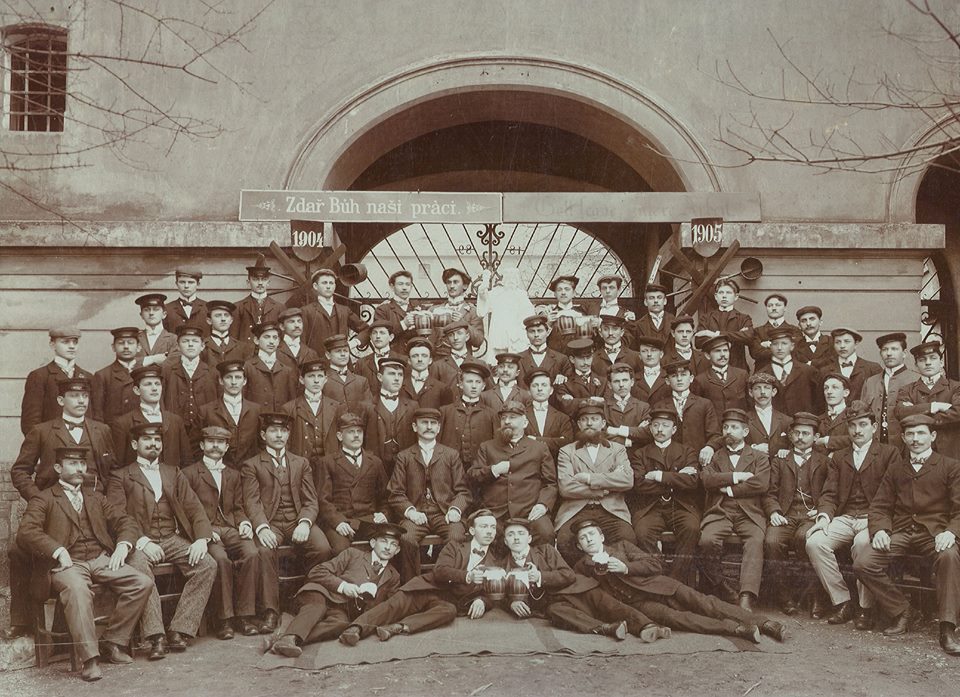 1904. The brewmasters.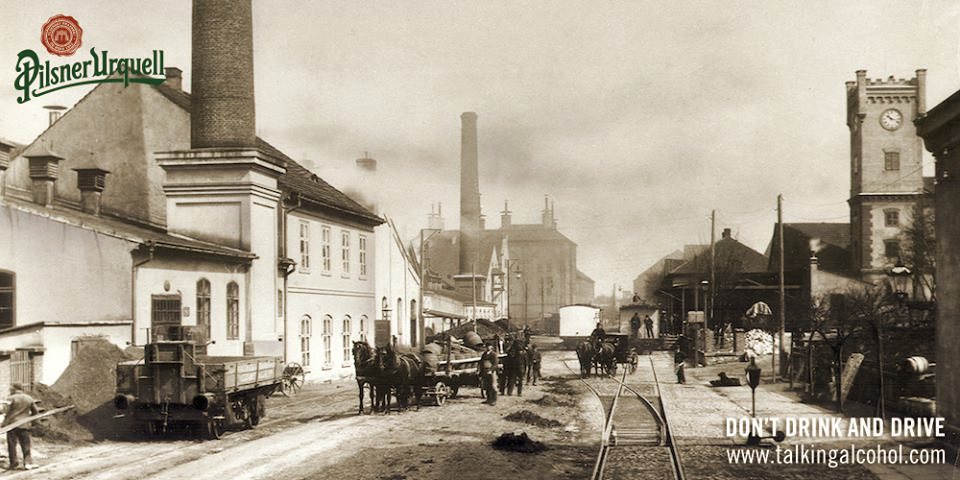 1906. Beer being delivered in wooden barrels by horse and cart.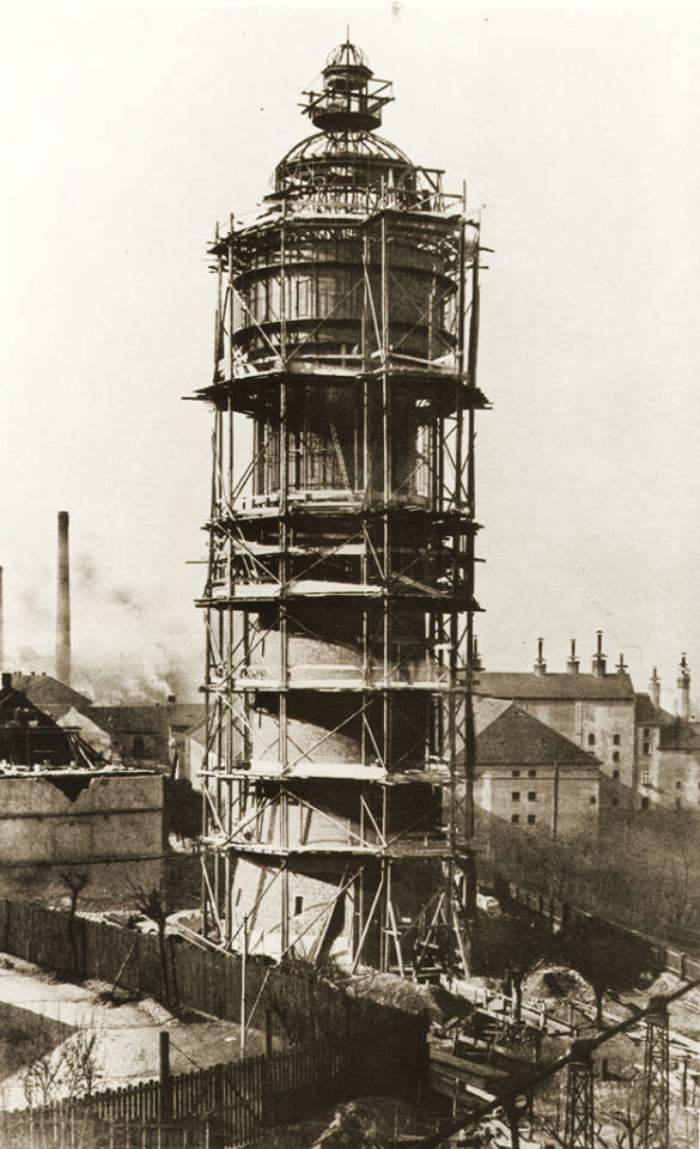 1907. The water tower was built with a design reminiscent of a traditional Dutch lighthouse.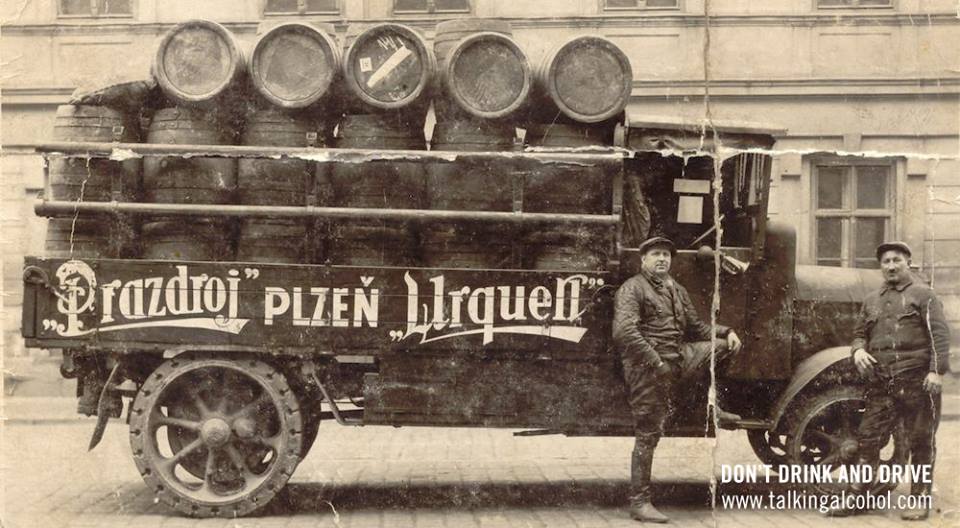 1914. Don't they look happy in one of their first vans? I guess it was better than a horse and cart!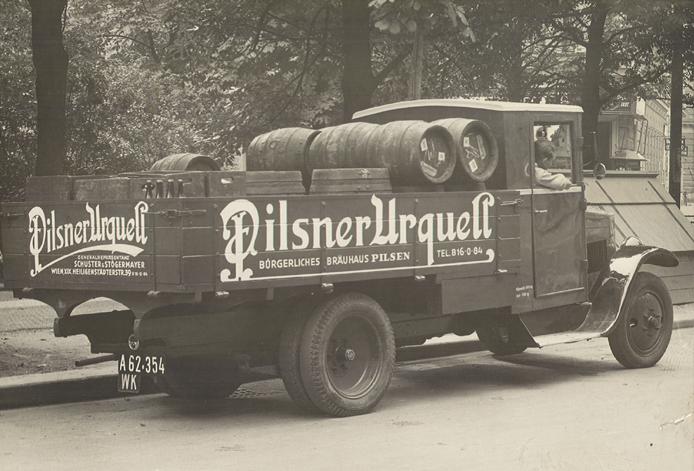 1927. Early truck ready to go out for delivery.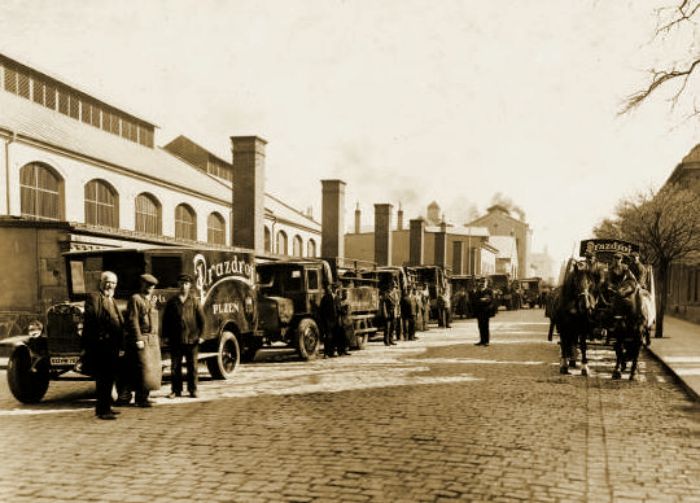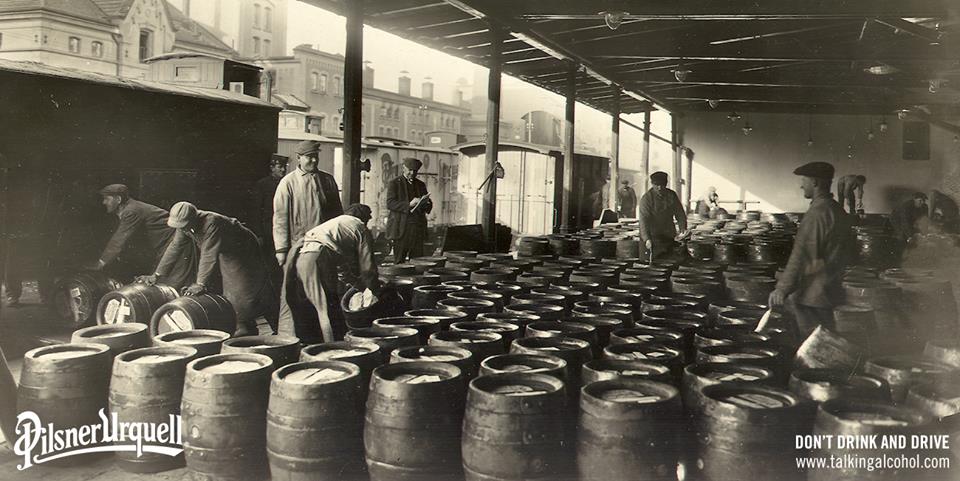 1928. This is what delivering beer looked like with these wooden barrels being loaded onto the brewery's train.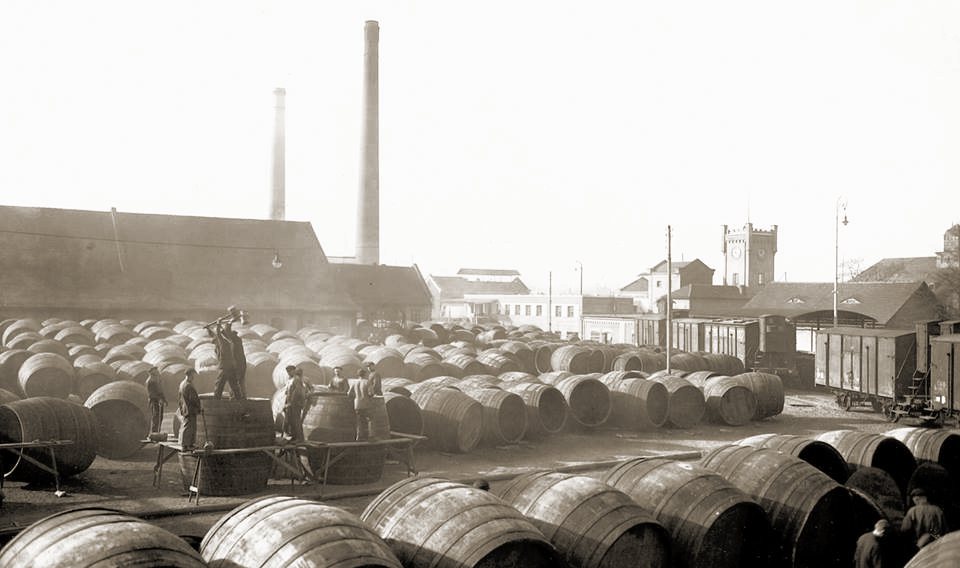 1928. The coopers yard. Each of these wooden barrels held over 2,000 litres of Pilsner Urquell and was built and maintained by hand. They still employ coopers today and they still build those big barrels by hand.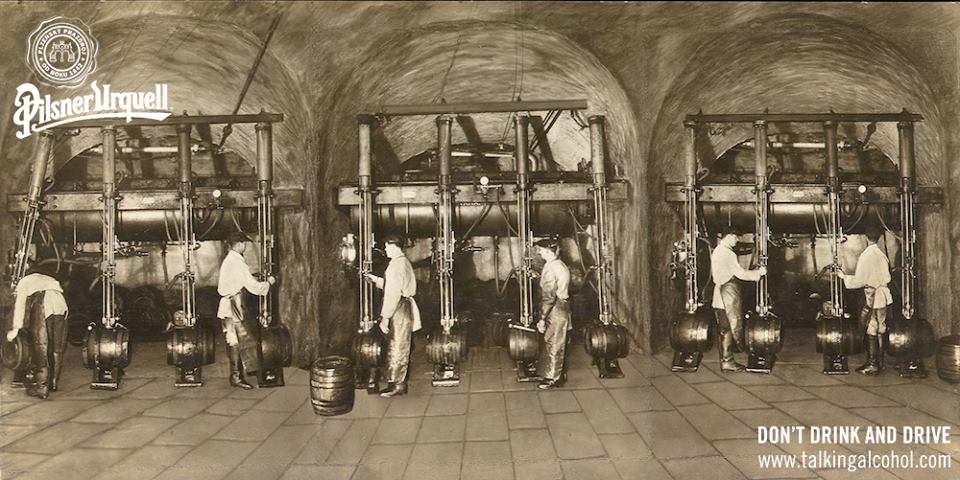 1928. Ever wondered how they put Pilsner Urquell into wooden barrels? This photo is taken down in the brewery cellars where all the packaging took place.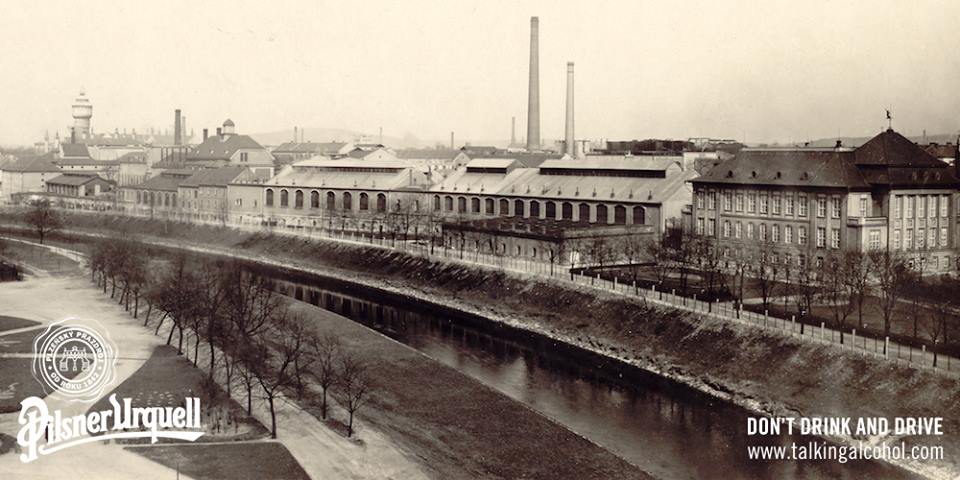 1932. The Pilsner Urquell brewery, since 1842.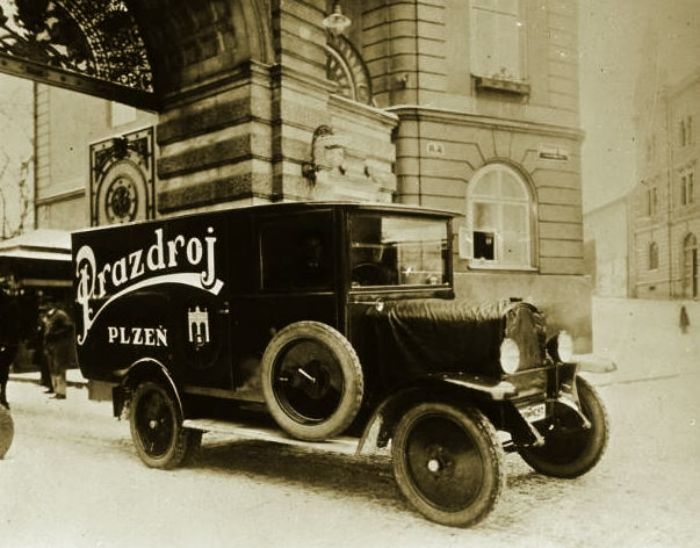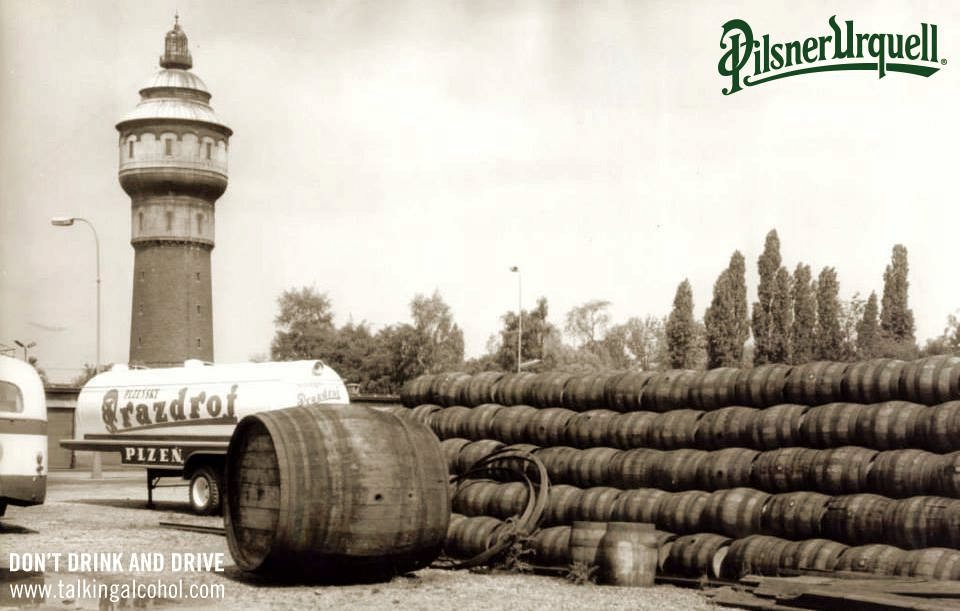 When all beer was matured and served from wooden barrels – the brewery looked like this.
Both Plzeňský Prazdroj and Pilsner Urquell can be roughly translated into English as "the Fountainhead at Pilsen" or "the original source of Pilsner".
Amen.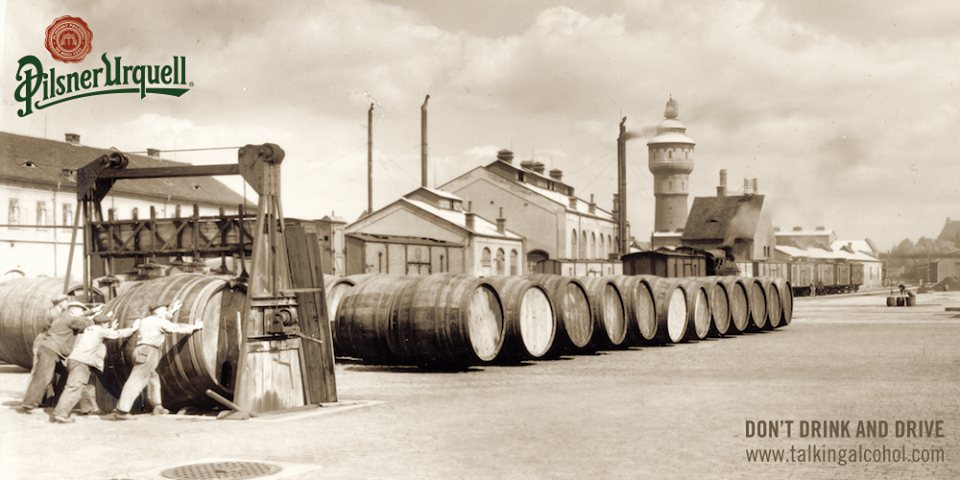 1943. A time when it took four guys to move the big barrels down into the brewery cellars.
Pilsner Urquell is hopped with Saaz hops, a noble hop variety which is a key element in its flavour profile, as is the use of soft water and fire-brewing. This is what gives it it's incredible flavor.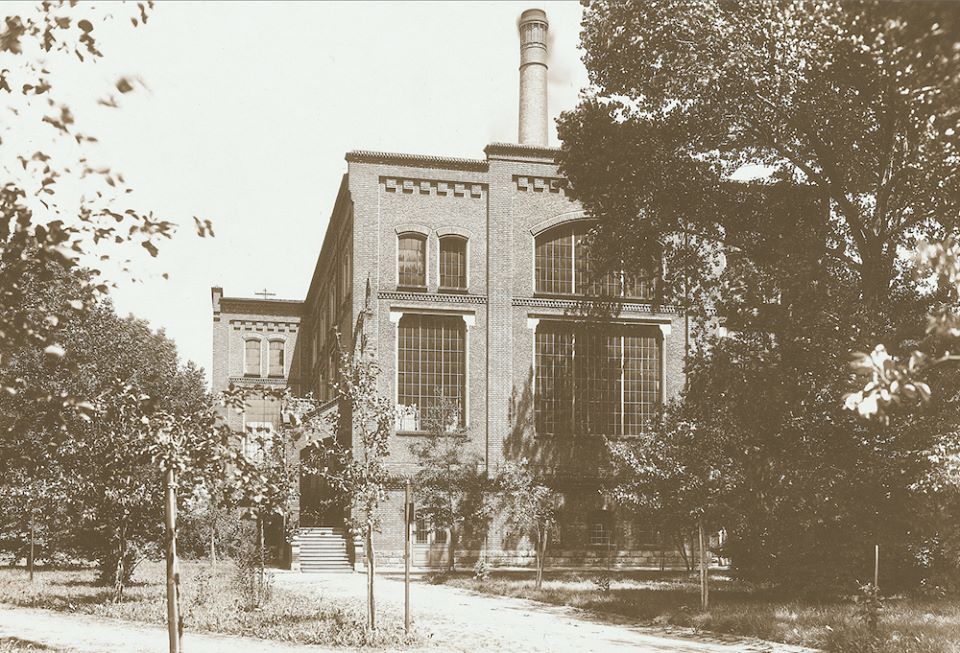 Orchards in the brewery gardens provided food for workers and also space for their families to rest and children to play.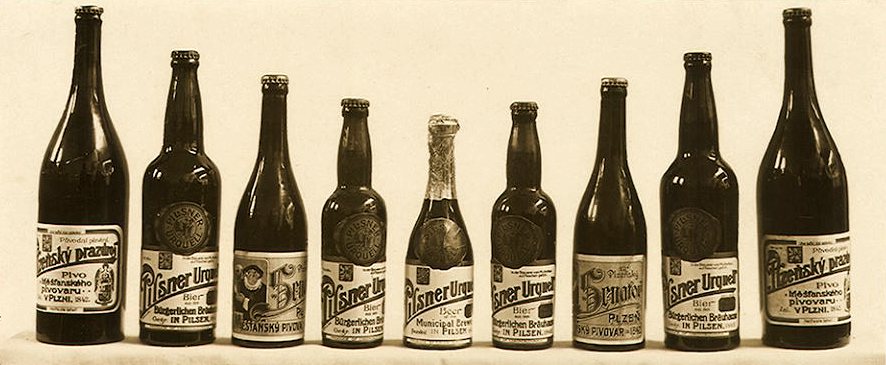 The beer hasn't changed a bit since 1842, but the bottle and the label has. And so have the vehicles for delivery.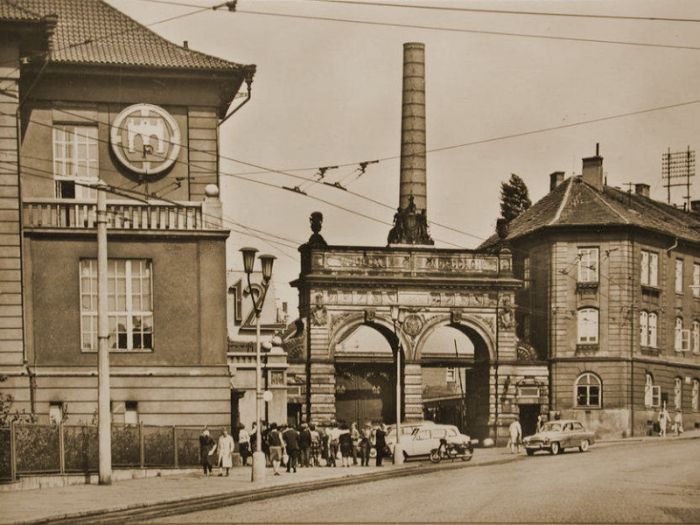 1963. The brewery keeps attracting visitors.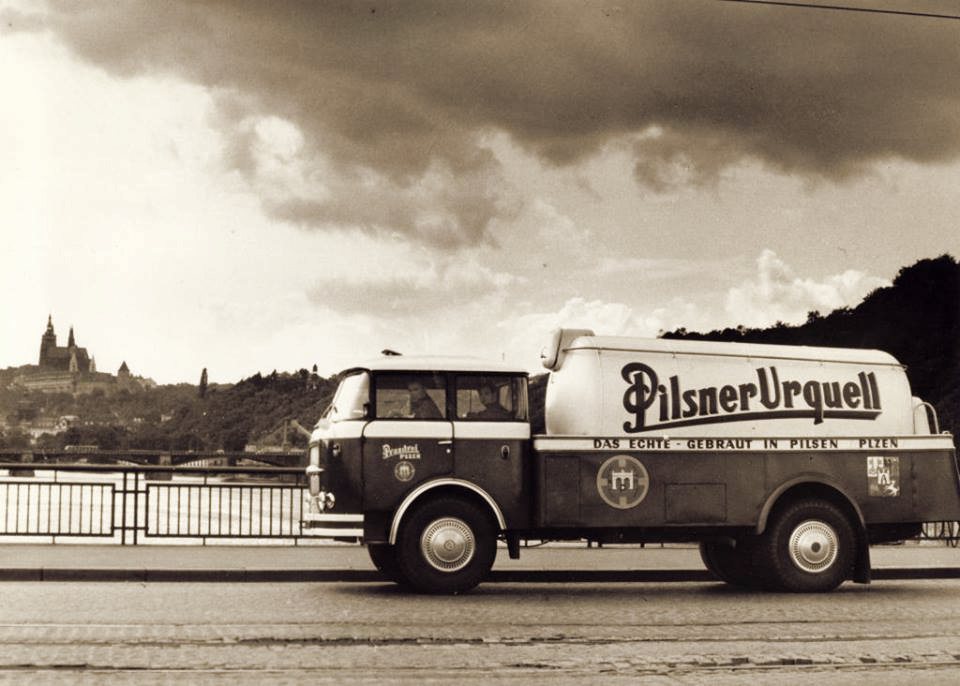 1960s. Delivering original golden Pilsner come rain or shine.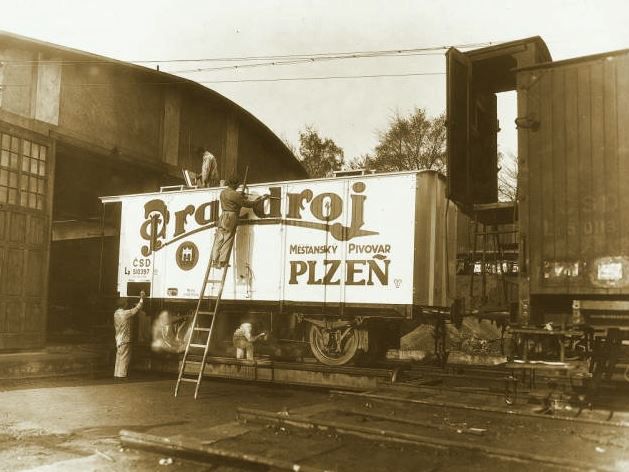 Almost all draught Pilsner Urquell is packaged in kegs and dispensed under carbon dioxide pressure but small quantities are available unpasteurised, unfiltered and naturally conditioned in cask in the Czech Republic and in very limited amounts in Germany, the United Kingdom, and United States. This is the Pilsner you have to taste!
For those planning a visit to the Czech Republic, a brewery museum called Pivovarské muzeum has been set up near the brewery in the authentic medieval brewing house with malt house, which has been declared a cultural monument. It includes the late Gothic malt house, kiln, original drying shed and two-level laying-down cellars with ice-cellar, which are hewn from the Pilsen substrata.
The exhibition covers Pilsen's most ancient history, the development of crafts, the emergence and growth of the guilds, the beginnings and development of brewing, malting, the craft of cooper, haulage and catering. The tour also includes a replica of a pub from the turn of the 19th and 20th centuries and a laboratory from the second half of the 19th century.
Learn more about the tour.
Sources: Pilsner Urquell, Wikipedia, Prazdroj, My Traveling Joys, Pansky Dum, Pivovar CZ
Thank you for your support – We appreciate you more than you know!
We know that you could spend hours, days, weeks and months finding some of this information yourselves – but at this website, we curate the best of what we find for you and place it easily and conveniently into one place. Please take a moment today to recognize our efforts and make a donation towards the operational costs of this site – your support keeps the site alive and keeps us searching for the best of our heritage to bring to you.


Remember, we rely solely on your donations to keep the project going.
Thank you in advance!
If you have not already subscribed to get TresBohemes.com delivered to your inbox, please use the form below now so you never miss another post.