The Czech Language is a thing of beauty. Czech, formerly known as Bohemian, is a Slavic language spoken by over 10 million people worldwide. Most people who can speak Czech live in the Czech Republic, the country where it originated and remains the dominating language.
Almost going extinct in the mid-eighteen hundreds when the Germans took Prague, it has survived to let people hear all of it's beauty. Therefore, Czechs are extremely proud of their language, which they should be.
During the time when Germans occupied Czech, many Czechs escaped to America, mostly to Florida, Colorado, Chicago, California, and New York. Even though many Czechs live in the United States, chances are if you are an American, you have probably never even heard this unique language. 
Because so many Czechs migrated to the U.S. they have created Czech centers and special communities where Americans can go to learn about the Czech heritage. You most likely have one in your neighborhood.
The Czech language has sometimes been mistaken for Russian, Polish, and the language of it's neighboring country, Slovakian. And even though it does contain many similarities to Slovakian, Czechs have a certain way of pronouncing their words which have lots of soft vowels and rolling of the letter R.
Czech is probably one of the easiest languages to learn, and to write. The thing about Czech which makes it so easy to learn and read is that everything is pronounced the way it is written, something that is not very true in the English language.
Czech is a less commonly taught language, but one that I think everybody should learn. Here are a few simple phrases to use when you go to Czech!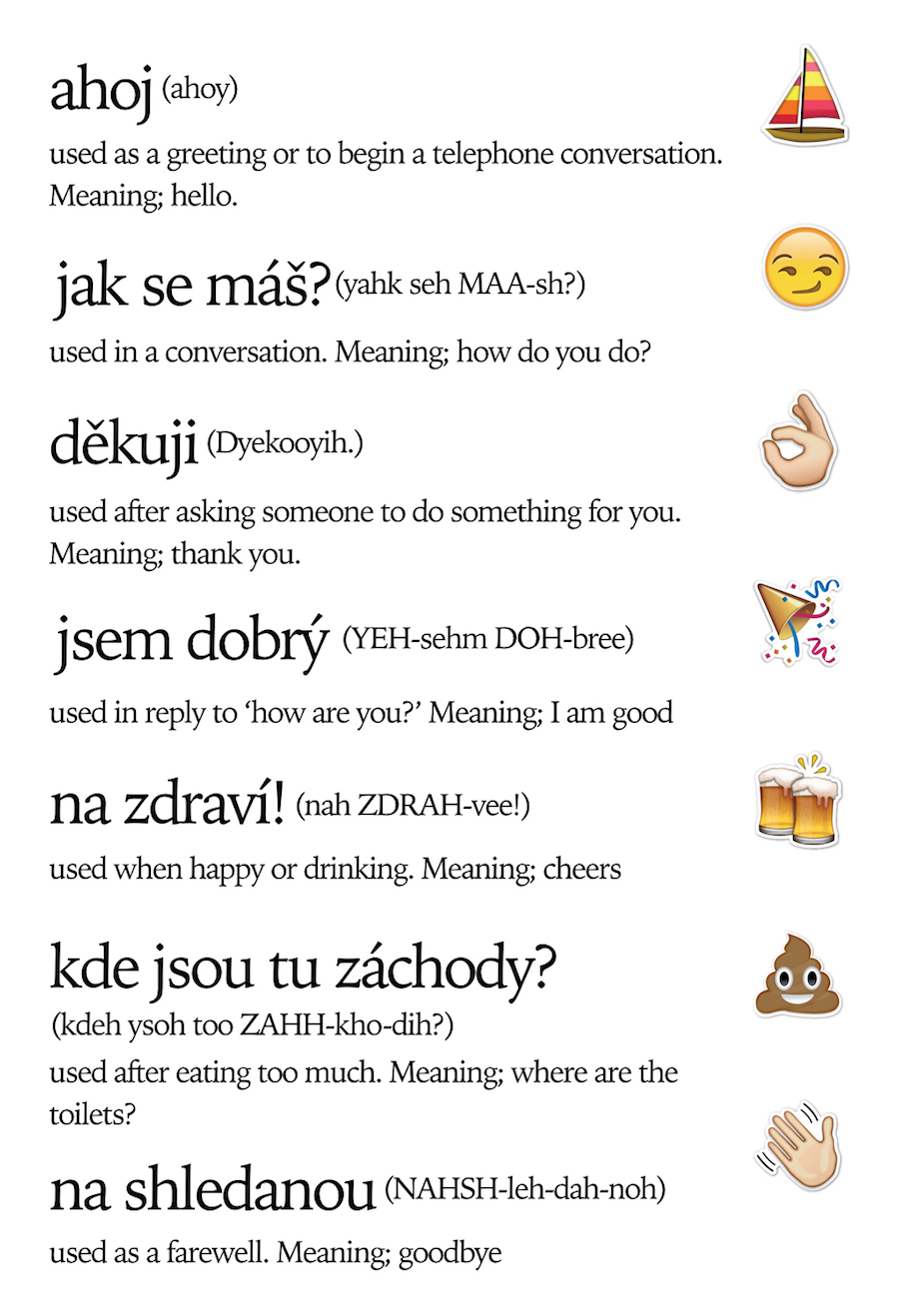 To learn more about the Czech Language and its origin click here.
If you have not already subscribed to get TresBohemes.com delivered to your inbox, please use the form below now so you never miss another post.
---
Remember, we rely solely on your donations to keep the project going.
Become a friend and get our lovely Czech postcard pack.