What does groovy dancing have to do with communist tanks? Not much, but one day in August of 1968, groovy music videos were being filmed simultaneously in and around Prague. A popular television program at the time, Europarty had crews filming music videos for the show. It was the height of Prague Spring, and there was a who's who of famous people who just happened to be in Prague enjoying and celebrating the temporary freedom. American actors were on site as well, filming a new movie.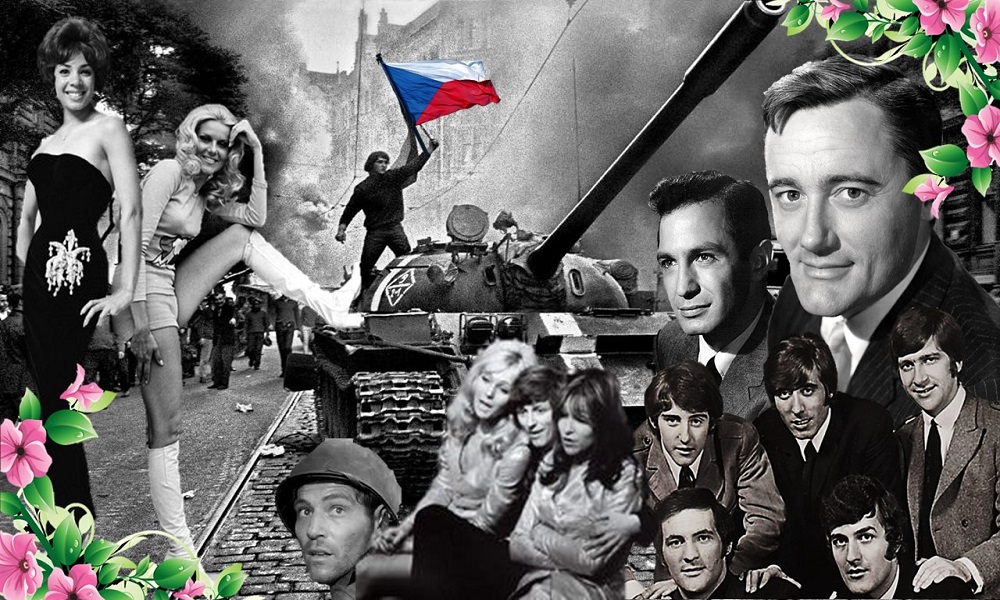 August, 1968 Prague, Czechoslovakia. This is the year of freedom and open expression for all creatives, musicians, artists… It's also the year of a complete and fatal crushing of all these liberties.
Among the musical acts in Prague in August were the British band the Moody Blues (who we wrote about and shared photos and videos here), United Kingdom singer Shirley Bassey (filming for her first appearance on German television), French singer Françoise Hardy, Belgian singer Robert Cogoi, American pop singer Peggy March, and French Alain Stéphane (Stefan).
What they all had in common was that they were all filming an episode of the TV show Europarty at various picturesque Prague locations during Prague Spring.
Czech singers Václav Neckář, Marta Kubišová and Helena Vondráčková were also in the episode and they were on location at the Charles Bridge. They performed Šlechtici in the episode, with music by Angelo Michajlov, lyrics by Eduard Krečmar and Karla Krautgartnera orchestration.
The Moody Blues were filming their segment on the day of Aug. 20, just hours before the Soviet-backed invasion of Warsaw Pact tanks crossed the border. (Read and see that here.)
The band appeared on Charles Bridge and the steps to Kampa Island to perform two songs — their big hit "Nights in White Satin" as well as "Voices in the Sky."
The beautiful and talented Shirley Bassey was being filmed singing her new big hit, the theme song to "Goldfinger" at a Prague construction site.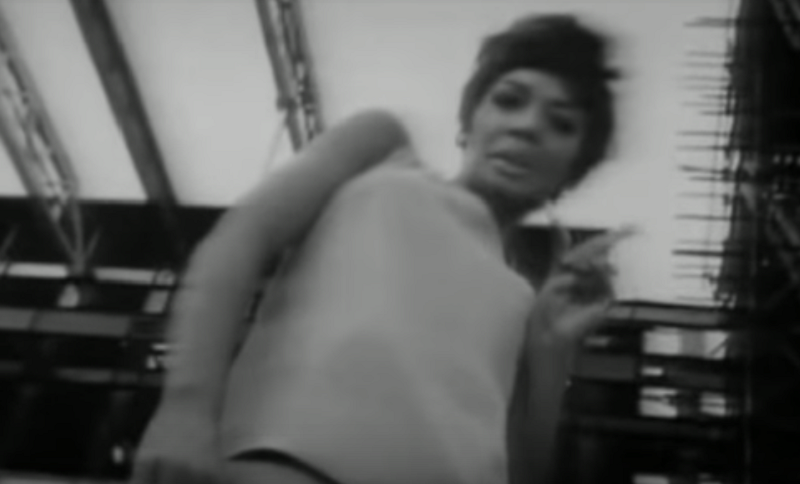 Shirley Bassey's second song, "What Now My Love" was recorded on the steps of the National Museum, which the invaders would soon mistake for the Parliament and shoot at. The clip shows the calm of Wenceslas Square just before the invasion.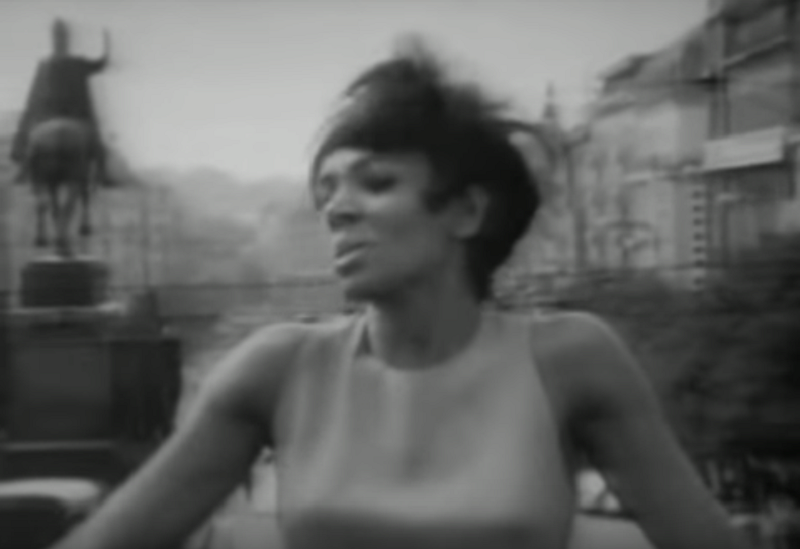 Shirley Bassey's third song, "Big Spender" features her singing as she walks down Národní třída past rather surprised pedestrians and shops with full shelves.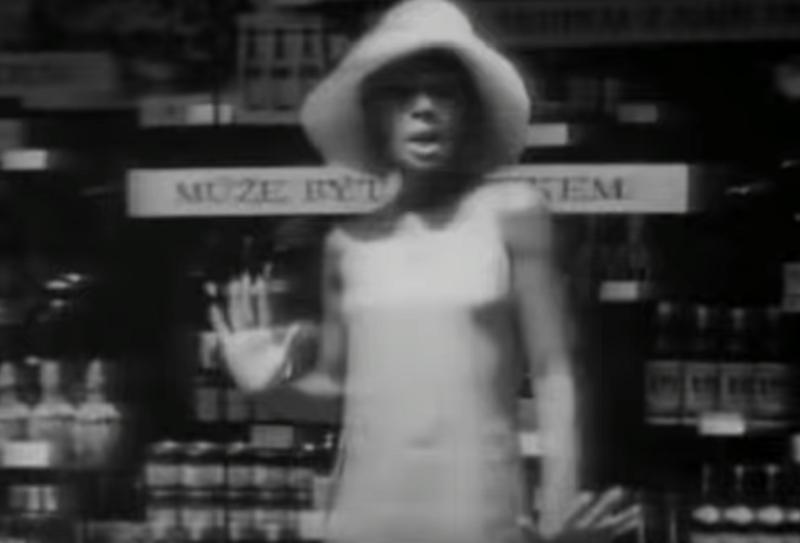 Europarty host Albert Raisner interviewed the performers in English and then translated their answers into French and German.
Here are all three Shirley Bassey performances in this one video, along with the interview with Albert Raisner…
Despite the invasion, the Prague episode of Europarty was directed by Dieter Pröttel and aired on August 21, 1968. The show ran from 1967 to 1970, featuring acts and locations across Europe.
Moody Blues frontman Justin Hayward told Outre magazine in 2000 that the incident convinced them to become involved in the anti-war movement. "I think the thing that hit us most was that we were in Czechoslovakia when the Russians rolled in. The British Air Force very kindly got us out, and it wasn't until we got back to England that we realized what was going on. It left a big impression on us — and not only because we never got paid!" he said.
Hayward in an online video interview said that the British Consulate arranged for the band and other British subjects to be flown out. "Our hotel was taken over by the Russian generals, some kind of Russian command, but of course we had no information at all, nor did the people working with us. We were taken to the airport … in a bus with a lot of other British people who knew that we had to leave but nobody was sure what was going on," he said. Learn more and read that here.
"It was only when we got to London airport that people said, 'Hey, you have been all over the news,' and we realized what had happened," he said.
But there were some positive memories. "It was a beautiful city and we had a wonderful welcome there," he added.
It's so surreal and unbelievable to see them all performing so freely in their hippie clothes, celebrating the beauty of Prague and in the next moment, the tanks rolled in. The imagery is just heart breaking, especially in this silent footage after seeing the dancing and hearing the music before.
There were other famous people in Czechoslovakia that Prague Spring late summer day of 1968. Film producer David L. Wolper decided to film a World War II movie called The Bridge at Remagen just south of Prague but because he could not get permission to a bridge in West Germany (they were told it would interrupt bridge traffic), they chose the locations of Most, Mechince, and Davle in then called Czechoslovakia instead. Davle is a small Central Bohemian town with an old-fashioned bridge just south of Prague. The bridge is still there, and instantly recognizable to anyone who has seen the film. In real life, the bridge seems much smaller than the one in the film.
Hollywood actors such as George Segal, Robert Vaughn and Ben Gazzara were all acting in the film The Bridge at Remagen.
While actors Robert Vaughn and Ben Gazzara were waiting to be expelled from the country, the two actors decided to help a Czech waitress to escape across the border. Gazzara described some of the details.
"We had decided to help a young waitress get out of Czechoslovakia, our plan being that she would ride in the car with Robert Vaughn and me, headed for neutral Austria. She would carry no luggage, only identification papers. Her name was Apolina. … We simply liked her style. She was pretty and smart. I went to the dining room to see if she still intended to go. I felt like I was in a spy movie starring Humphrey Bogart. I was even wearing a trench coat, although it wasn't raining," Gazzara wrote. He found her in the dining room and she nodded that she would go.
Ben Gazzara recounted the invasion in his 2004 memoir, In the Moment: My Life as an Actor. He witnessed the invasion from the International Hotel in Prague.
"I started hearing strange rumblings, then jet planes zooming overhead. I looked out the window and saw tanks — lots of them — moving into position below us. … I called the front desk to ask what was going on. The kindly telephone operator told me. 'It's the Russians. They've come like the Germans in 1939. They've come to kill our freedom.' She was crying. 'Poor Czechoslovakia,' she said," Gazzara wrote.
Robert Vaughn wrote has a lengthy account of Prague Spring in his 2008 autobiography, A Fortunate Life. at the time, Vaughn was at a different hotel — Parkhotel, now called Mama Shelter.
"Standing atop the tanks was a collection of very nervous and confused-looking young men — Soviet soldiers, who, I learned later, had been brought in from places like Mongolia and told that, when they reached Prague, they would be joyfully greeted as liberators. (As Dick Cheney discovered in Iraq thirty-five years later, such predictions rarely come to pass.)," he wrote.
Read more about Ben and Robert's experience during their stay in August 1968.
Finally, Shirley Temple Black, the former actress, was then starting her involvement in foreign diplomacy and was in the city by chance as well.
Shirley Temple Black, wearing a Czech national costume, joined about 150 persons on August 24 (1968) in demonstrating against Russian intervention in Czechoslovakia and placed a red carnation before a statue of the first Czech president, Tomáš Garrigue Masaryk in Golden Gate Park. Mrs. Black said she brought the carnation from Prague where it had been given her by a Czech woman. She returned home from Czechoslovakia late 8/23. She was there on behalf of a charitable organization when the Russians invaded.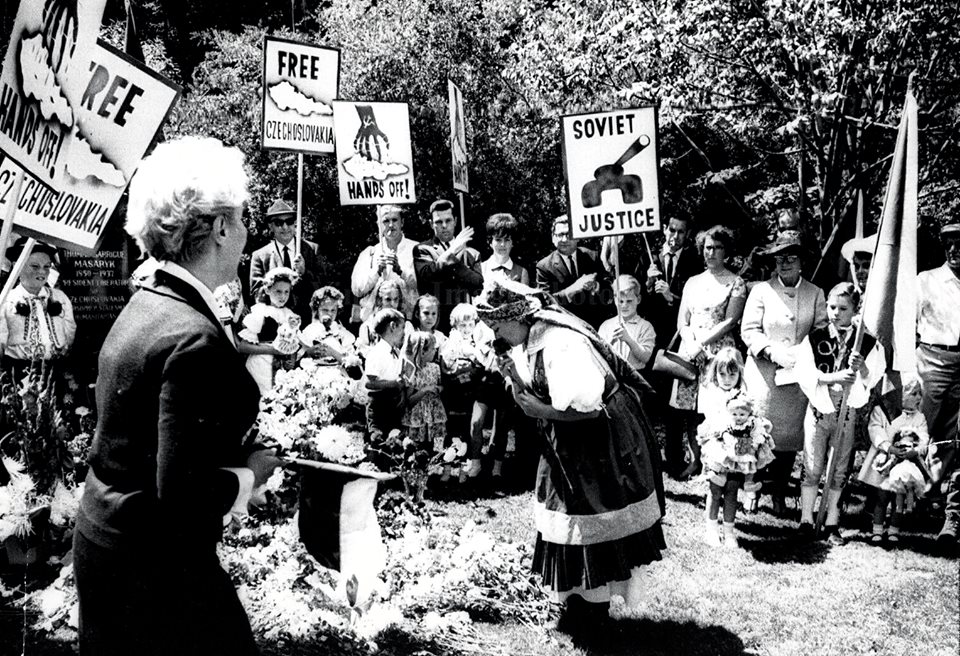 The bust is in the rose garden in Golden Gate Park. Masaryk was the keenest advocate of Czechoslovak independence during World War I became the first President and founder of Czechoslovakia. He led the country between years 1918 and 1935. He studied in Brno, Vienna, and Leipzig, and he spoke many languages (Latin, French, Polish, German and English) He worked as a teacher at a university in Prague and Vienna. He was a big persona with huge charisma and he is called "President liberator" and "Daddy Masaryk".
What a stark contrast to what was going on by day and what came by nightfall… Prague had changed forever, in an instant.
Sources: In the Moment: My Life as an Actor by Ben Gazzara and Raymond Johnston, Prague Post.
xxx
We know that you could spend hours, days, weeks and months finding some of this information yourselves – but at this website, we curate the best of what we find for you and place it easily and conveniently into one place. Please take a moment today to recognize our efforts and make a donation towards the operational costs of this site – your support keeps the site alive and keeps us searching for the best of our heritage to bring to you.

Remember, we rely solely on your donations to keep the project going.
Thank you in advance!
If you have not already subscribed to get TresBohemes.com delivered to your inbox, please use the form below now so you never miss another post.