Lewis Wickes Hine (September 26, 1874 – November 3, 1940) was an American sociologist and photographer. Hine used his camera as a tool for social reform. His photographs were instrumental in changing the child labor laws in the United States. He photographed many immigrant families, including Czechs. Today we are looking at Bohemian Farming Families of the Early 1900s and some of his images of Bohemians, Moravians, Slovaks, Silesians and Carpathian Ruthenians that he documented during his travels across America.
Hine was born in Oshkosh, Wisconsin. After his father was killed in an accident in 1892, Hine began working and saved his money for a college education. This forced Hine to help sustain his the family financially. His first job was in a furniture upholstery factory; he worked 13 hours a day, 6 days a week where he earned $4 per week. He studied sociology at the University of Chicago, Columbia University and New York University. He became a teacher in New York City at the Ethical Culture School, where he encouraged his students to use photography as an educational medium.
In 1908 Hine became the photographer for the National Child Labor Committee (NCLC), leaving his teaching position. Over the next decade, Hine documented child labor, with focus on the use of child labor in the Carolina Piedmont, to aid the NCLC's lobbying efforts to end the practice. Hine's work for the NCLC was often dangerous. As a photographer, he was frequently threatened with violence or even death by factory police and foremen. At the time, the immorality of child labor was meant to be hidden from the public. Photography was not only prohibited but also posed a serious threat to the industry. To gain entry to the mills, mines and factories, Hine was forced to assume many guises. At times he was a fire inspector, postcard vendor, bible salesman, or even an industrial photographer making a record of factory machinery.
Hines also wrote about the injustices of the padrone system, whereby recent immigrants to the United States were brought from cities like Baltimore to factories around the South.
"I found a number of these workers who have been South, who are very bitter in their denunciation of the treatment they received," he wrote in his report, "Child Labor in the Canning Industry of Maryland."
The Meishell family was one such case. Originally from what's now the Czech Republic, they lived at 830 Hartford Ave. in Baltimore. In 1907, the family of seven left Maryland for the winter to work as oyster shuckers in Bay St. Louis, Miss., for Peerless Oyster Co.
Employment agents had promised them steady work and solid pay, but conditions in Mississippi were not what they had been promised. The company housed workers in miserable shacks, called camps, "where they were huddled like sheep." The entire family, a 3-year-old child included, had to work. The Meishells woke up at 3 a.m. and worked until 4 in the afternoon.
The work was irregular, and the company nickel-and-dimed its workers, often cheating them on the weight of oysters. Their store charged high prices for lousy food. Should workers get sick, Peerless sent them to a company doctor – of course, taking the high cost out of their pay.The Meishells returned to Baltimore without a cent saved.
"You can talk about the days of slavery being over, but this is worse," Mrs. Meishell told Hine in 1909.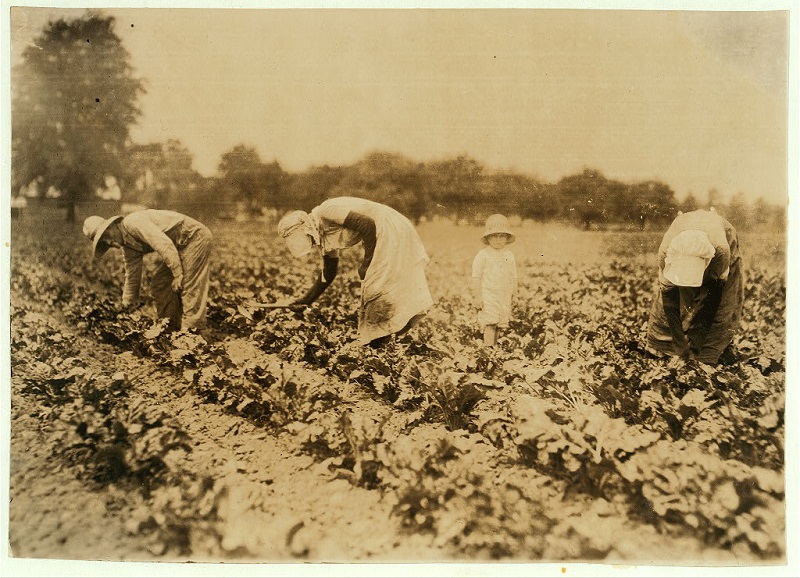 During and after World War I, he photographed American Red Cross relief work in Europe. In the 1920s and early 1930s, Hine made a series of "work portraits," which emphasized the human contribution to modern industry. In 1930, Hine was commissioned to document the construction of the Empire State Building. He photographed the workers in precarious positions while they secured the steel framework of the structure, taking many of the same risks that the workers endured. In order to obtain the best vantage points, Hine was swung out in a specially-designed basket 1,000 ft above Fifth Avenue. At times, he remembered, he hung above the city with nothing below but "a sheer drop of nearly a quarter mile."
During the Great Depression Hine again worked for the Red Cross, photographing drought relief in the American South, and for the Tennessee Valley Authority (TVA), documenting life in the mountains of eastern Tennessee.
Now let's look at Texas. People whom we call Czechs today were among what was at the time the third largest immigrant group in Texas. They were technically natives of the Austro-Hungarian Empire, but came as mostly Moravians who spoke Czech and became known as Bohemian farming families. The officials at immigration incorrectly referred to them as Bohemians.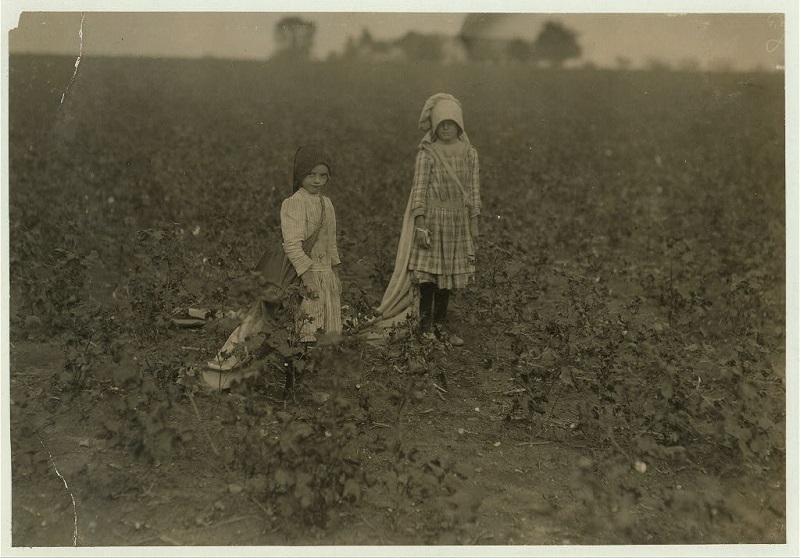 Czechoslovakia was founded in October 1918. More than 150 years ago, Czechs in Texas established schools and newspapers to teach and maintain their language. Today, the University of Texas at Austin teaches Czech as a modern language. Czech culture, such as food and music, are represented in many popular festivals in Texas. According to the Texas Almanac, the Czech language is still widely spoken in Texas.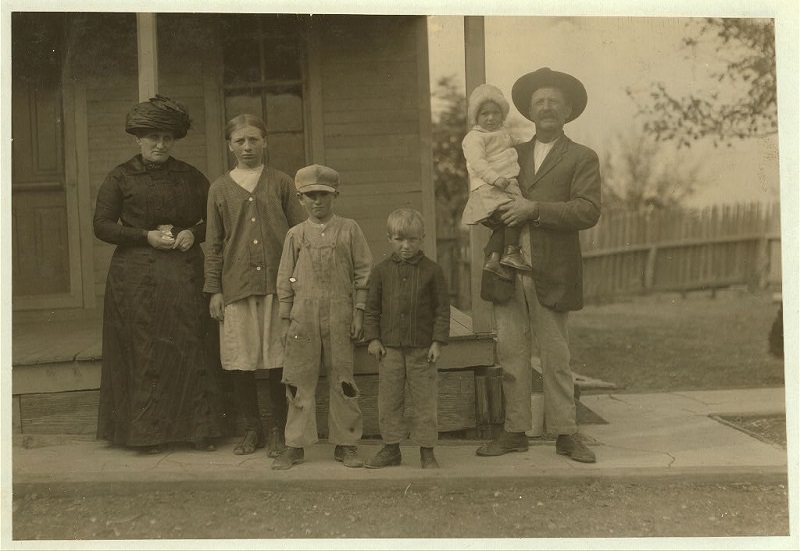 Photography as an art form began with the influence of Alfred Stieglitz, who had organized the Photo-Secession group, which promoted a "painterly" style of photography. The characteristics of this type of photography were romanticized images produced in a "soft-focus."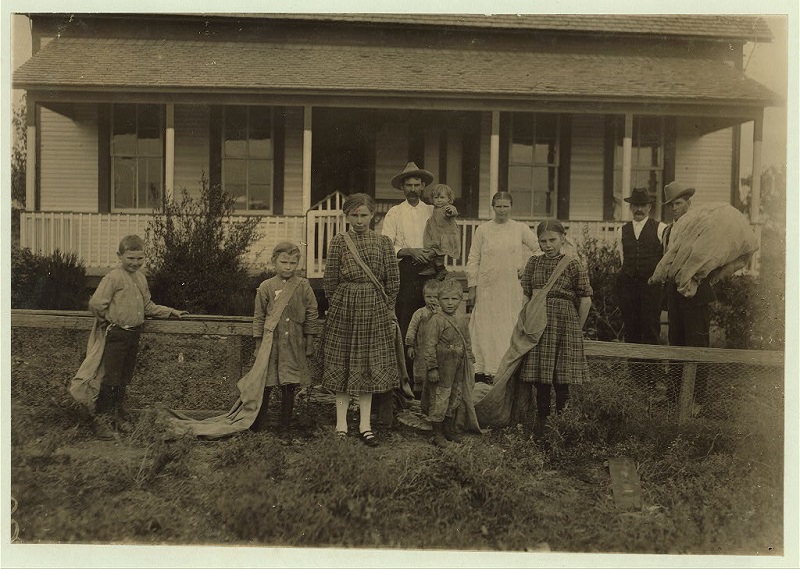 Trickery of the actual image-making and its production were the heart of creating this type of photography. What isn't trickery is the amount of work people like the Sulak's and their children put in. Here's what they told Hine in respect to how much cotton they pick on a given day:
The five-year-old picks cotton some.
The seven-year-old picks one hundred pounds a day.
The nine-year-old picks about a hundred pounds.
The eleven-year-old two hundred pounds.
The thirteen-year-old two hundred and fifty pounds.
The adults pick three or four hundred a day.
But back to the artistry of these photographs. Hine once questioned the groups artistic methods, from their ivory tower, how could they see way down to the substrata of it all? Hine, from the beginning, considered his photography as an educational tool in addition to an art form. Look at these Bohemian farming families…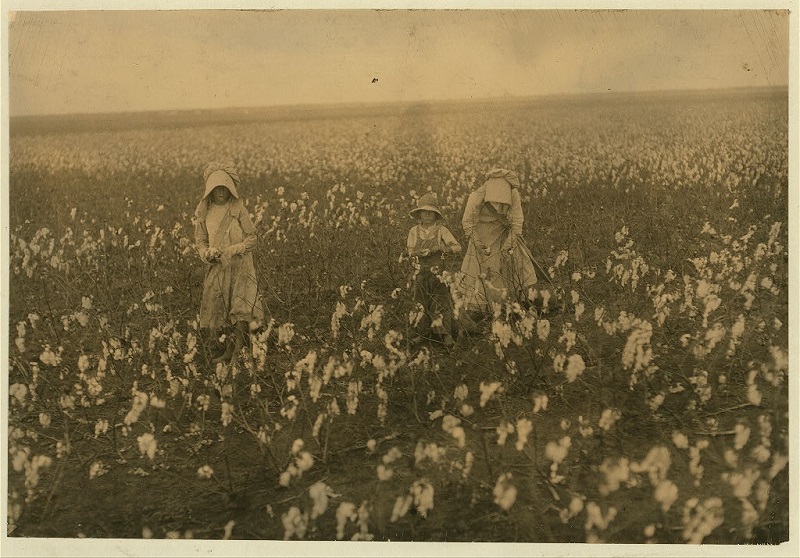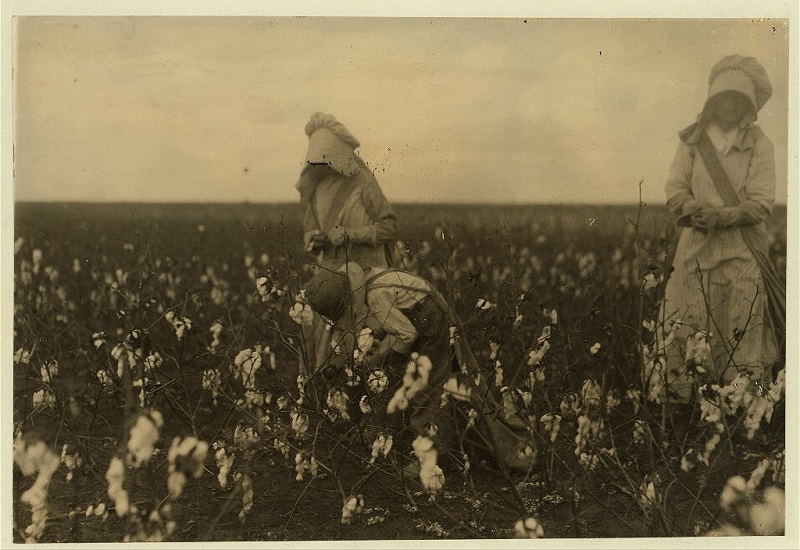 For Hine, the art of photography lay in its ability to interpret the everyday world, that of work, of poverty, of factory, street, household. He did not mean "humble" subjects; he did not mean "beauty" or "personal expression." He meant how people live. According to Hine, the art and beauty lay with the people and recording the truth of the people. Pushing the boundaries of the thought of the time, Hine posed his subjects to look straight at the camera. One who viewed the image would have no choice as to look the subject straight in the eye. This type of confrontation was daring, but effective.
Hine set new standards of thought, and many photographers began to see the power of these images and began to follow his influence.
The last years of his life were filled with professional struggles by loss of government and corporate patronage. Hine hoped to join the Farm Security Administration photography project, but despite writing repeatedly to Roy Stryker, Stryker always refused. Few people were interested in his work, past or present, and Hine lost his house and applied for welfare.
He died on November 3, 1940 at Dobbs Ferry Hospital in Dobbs Ferry, New York, after an operation.
He was only 66 years old.
If this sort of thing interests you, you may also wish to read about Rudolph & Louis Kartous of Dallas, Texas.
We know that you could spend hours, days, weeks and months finding some of this information yourselves – but at this website, we curate the best of what we find for you and place it easily and conveniently into one place. Please take a moment today to recognize our efforts and make a donation towards the operational costs of this site – your support keeps the site alive and keeps us searching for the best of our heritage to bring to you.

Remember, we rely solely on your donations to keep the project going.
Thank you in advance!
If you have not already subscribed to get TresBohemes.com delivered to your inbox, please use the form below now so you never miss another post.