Czech Apricot Dumplings made with yeasted dough are so delicious. Because fresh apricots are at their peak from May through August, we decided today was the day to share this recipe. Apricots are filled with a burst of summertime color, a deliciously sweet scent, and a slightly soft fruit, which is best in season when they are tree-ripened. This packs the absolute best flavor. The best thing about these dumplings is how very versatile they are, as you can make them with apricots, plums, strawberries – any fruit!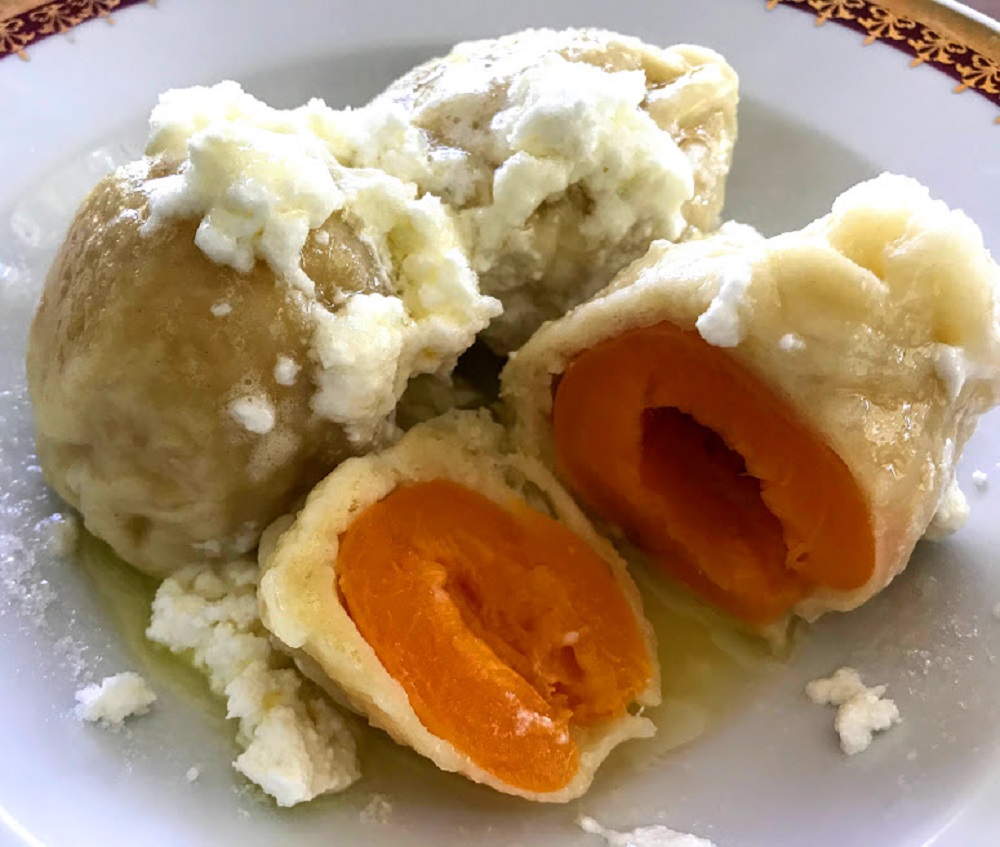 Thanks to our friends at Everything Czech Facebook Group who asked for us to share this recipe. This one is specially for you!
We have shared two recipes for fruit dumplings before, but both of these do not have yeast:
Quick & Easy Czech Fruit Dumplings (includes video)
Though this looks like a delicious dessert, Czechs often eat fruit dumplings as a meal. How lucky was I to have this served for dinner! Every child's dream come true!
Ingredients for Czech Apricot Dumplings
2 3/4 cups flour
1 bag dried yeast
1 cup lukewarm milk
2 tsp powdered sugar
2 Tbsp butter, melted
2 egg yolks at room temperature
pinch of salt
1 – 1 1/2 pounds fruit of your choice (apricots or plums!)
Suggested Toppings
1 cup tvaroh, quark, farmers cheese, curd cheese (use ricotta, cottage cheese or sour cream as a last resort)
powdered sugar (we actually prefer granulated)
1/3 cup melted butter (to pour over the topping)
cinnamon
Directions for Czech Apricot Dumplings
Before we begin let's address the apricots…
I prefer to keep them whole. They cook better and in my opinion if you pit them and they are very ripe, the dough feels wet on the inside and hard on the outside. I don't like that. Some people do pit them, and before they roll them they place a sugar cube or a little bit of sugar inside where the pit was. I suppose you can do it that way, but keep in mind the fruit will "leak" more and your dumpling will be wet on the inside. If it's very ripe, it can cause the dumpling to come undone and your fruit can fall out of the dumpling while it is boiling.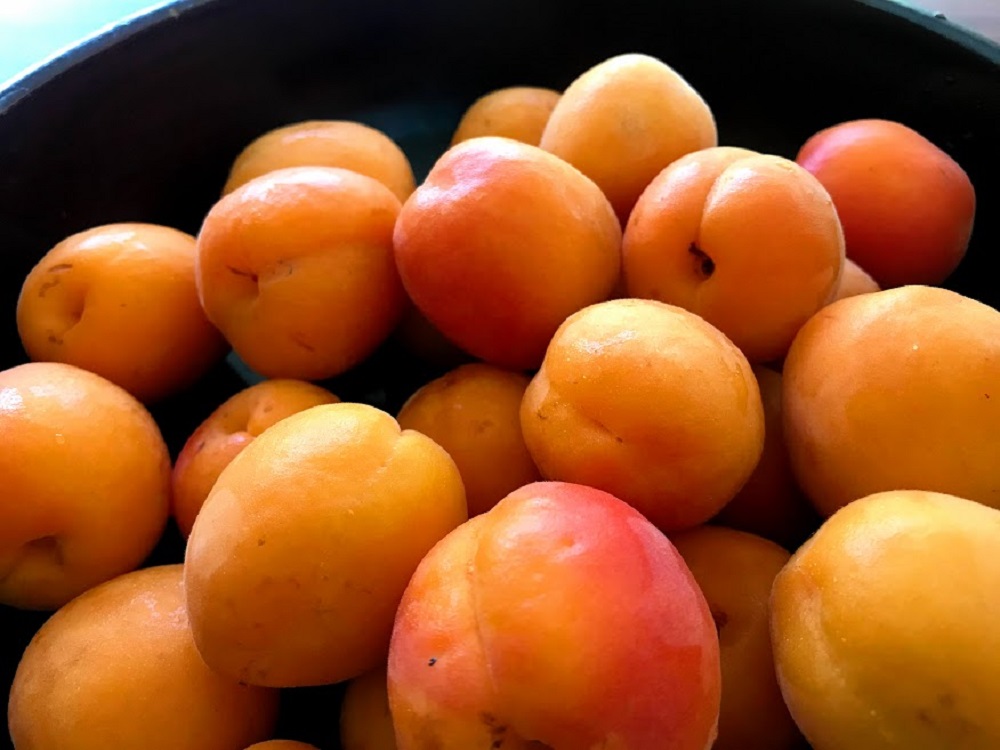 Now that I have shared my little secret for not having the Czech apricot dumplings fall apart in the water, let's get started.
Place flour in a deep bowl and add pinch of salt.
Melt butter and set aside.
Heat milk to lukewarm.
Add the powdered sugar to half of the lukewarm milk and add yeast packet.
Gently stir and set in a warm place to allow yeast to proof for approx. 15 minutes.
Meanwhile, in the remaining milk, add the two egg yolk and stir well.
Make an indentation in the flour with a wooden spoon and pour in the yeast mixture.
Mix well but carefully.
Add the remaining milk with egg yolks and mix again, gently.
Finally, add the melted butter to the flour mixture.
Begin to work the dough with the wooden spoon.
If you prefer, you can use the kneading or dough hook attachment on your hand blender. Using a machine will make the final dough a bit smoother than hand mixed.
Check your dough for texture. If it's too hard, you may add a little milk, a teaspoonful at a time. You do not want to over milk the dough, so add in little amounts. The ideal texture of the dough is smooth and not sticky, and when it stretches well.
Cover the dough with a clean dishcloth and place in a warm place to rise for approx. 1 hour.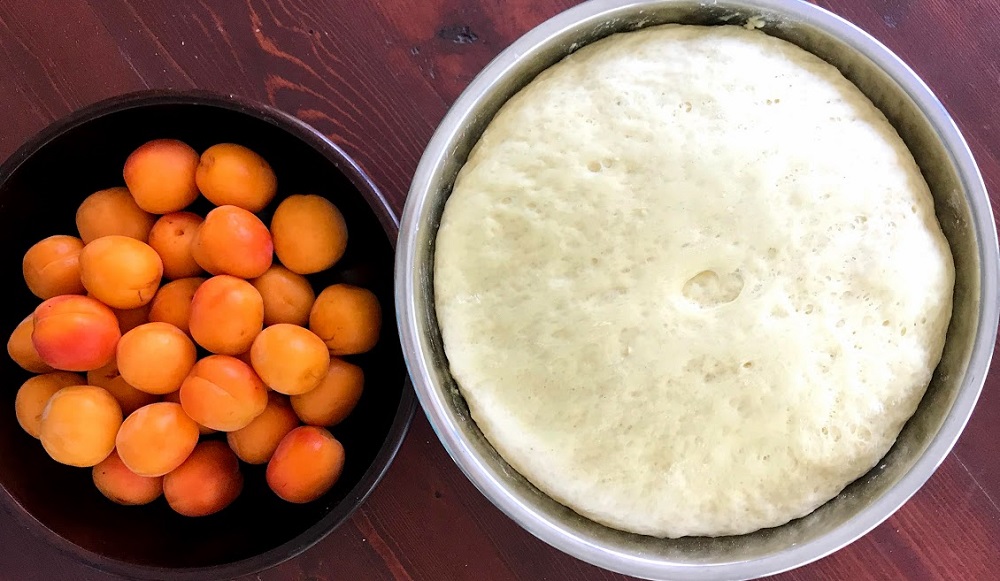 Before you prepare the dumplings, prepare a very large pot of water. Ensure that it has a well fitting lid.
Prepare a large wooden cutting board sprinkled with flour.
Now, uncover your dough and with a tablespoon, spoon cut out even sized dough pieces and then roll them all into even sized balls. Use your hands to then flatten the balls slightly to create a space for your fruit with an ample border around the edges.
When all of your dough is prepared, cover each piece with the fruit.
With floured hands, close the fruit into each dough ball, making sure it is completely sealed. You do not want the seal to break and your fruit to fall out during boiling.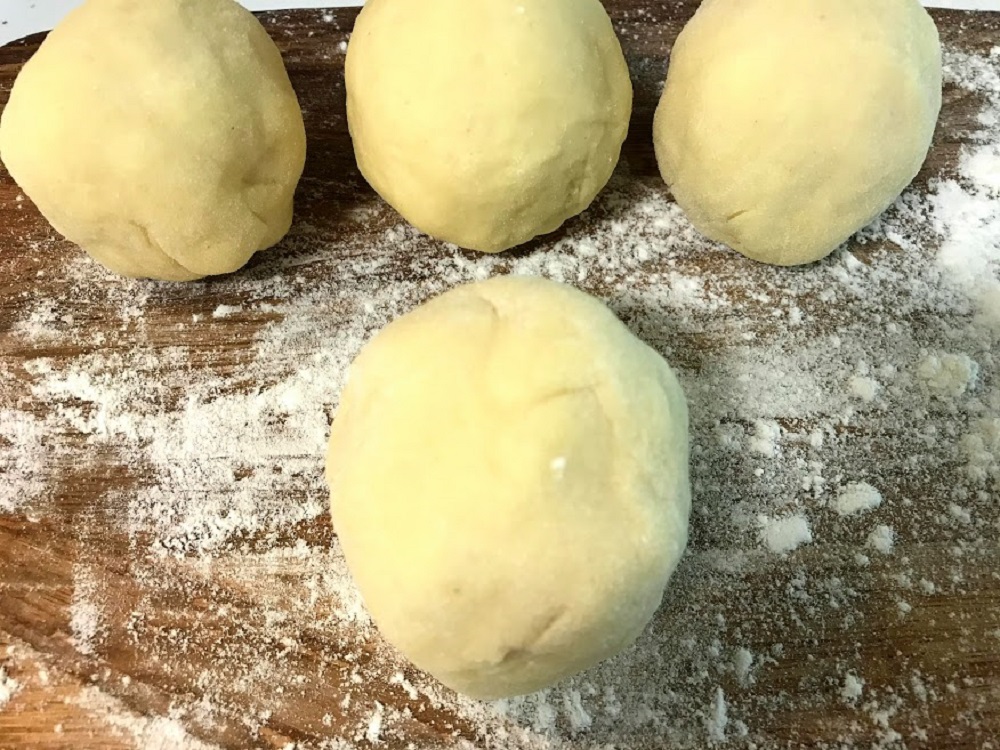 Once all of them are sealed and ready, cover again with the dishcloth and allow to rest and rise again for approx. 10-15 minutes while bringing your water to a boil.
Meanwhile, you can also use this time to grate your cheese which you will sprinkle on top of the finished dumplings to serve. Based on your taste, you can add anywhere from a few teaspoons to 1/2 cup granulated sugar to the cheese mix and mix well.
You will also want to melt your butter for serving. Set aside.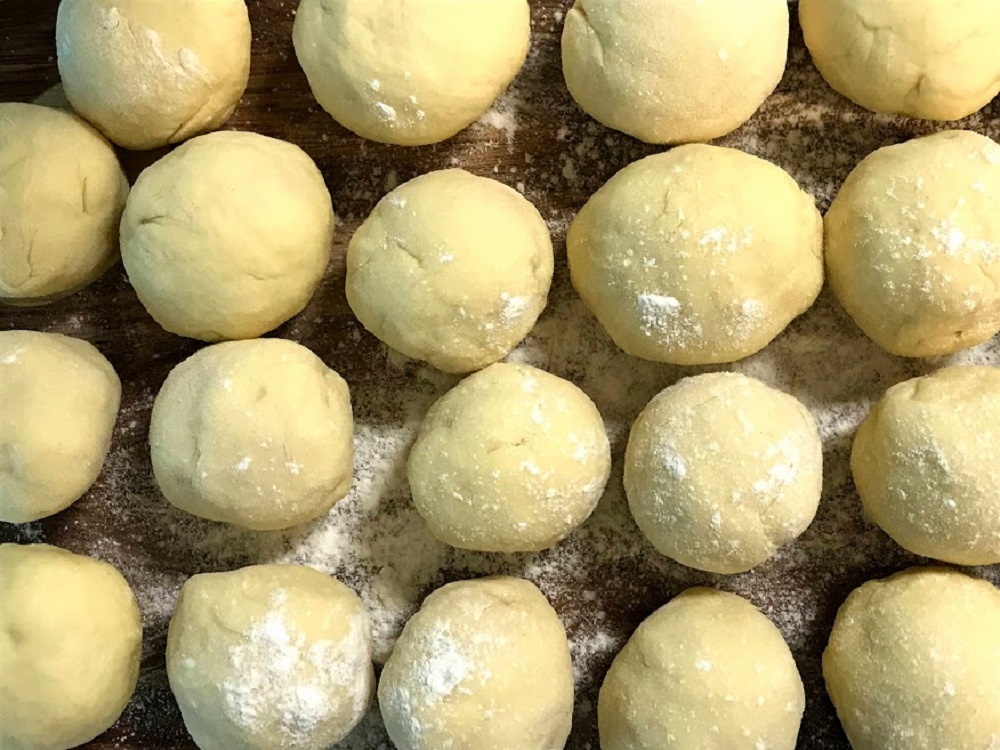 When the water is boiling, place 1/2 of the dumplings into the water gently. You can drop them in – just be careful. Stir them. Cover the pot and allow them to cook for 4 minutes.
After 4 minutes, pull one dumpling out and break apart with a fork to see if the dough is cooked. If not, stir them again and keep them in the boiling water for an additional minute or two.
I use a small 6″ strainer to pull each one out seperately. Once they are out, pierce each one with a fork to allow the steam to escape.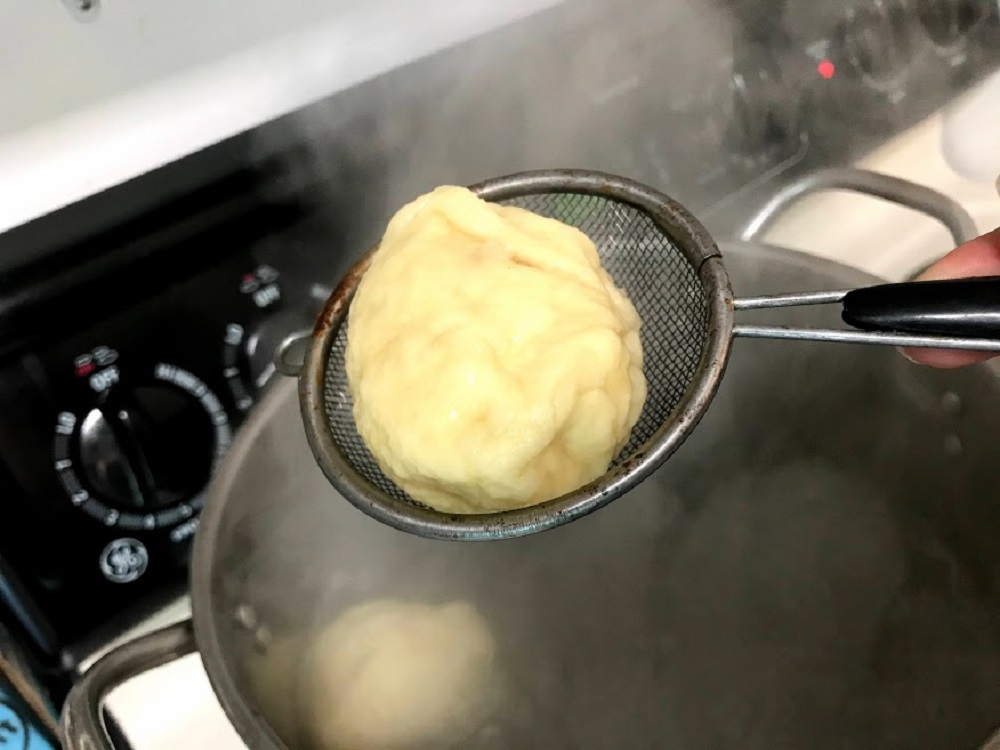 Serve immediately.
To plate place 3 or 4 dumplings into the center of your plate. I use a wide soup bowl as then you can use a spoon to get all of the juices, melted butter and cheeses as well.
Cover with some of the grated cheese and melted butter.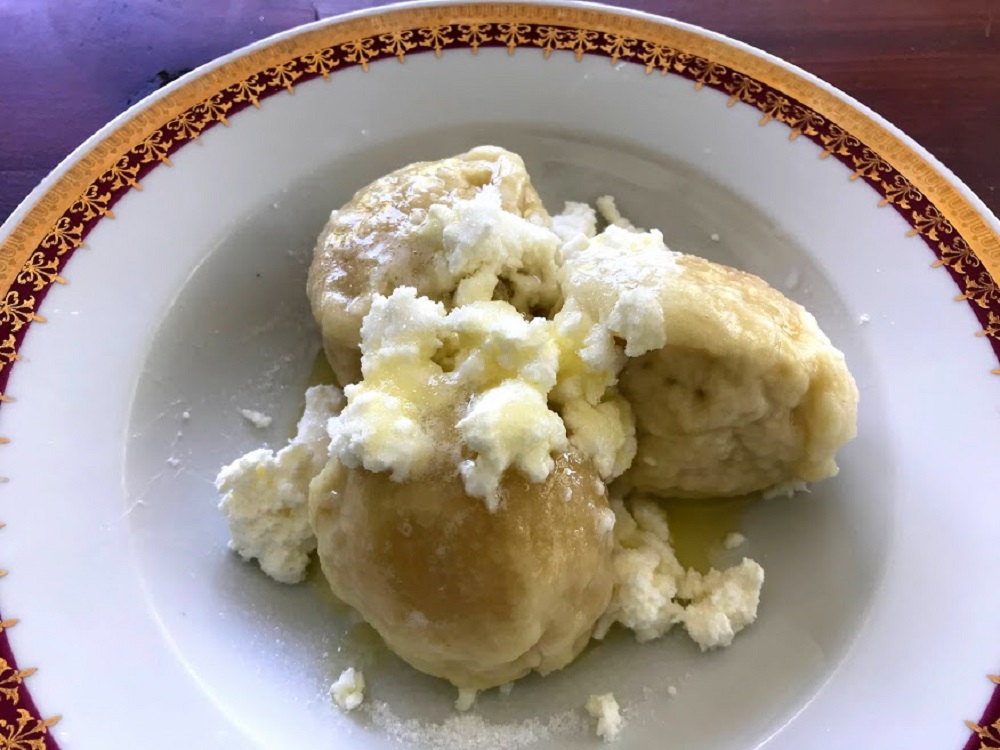 I always have more cheese, butter, sugar and cinnamon at the table to people can adjust them to their liking.
Shopping for Supplies for Czech Apricot Dumplings
We don't like ads either – but if you purchase your supplies through any of the links below, we do collect a very small commission on your purchase, and every little bit helps!
These dumplings are quick and easy to make and well worth the time and effort it takes to make them. We like to use Italian plums or the smallest of apricots. Make sure to tell your guests if you are using stone fruit.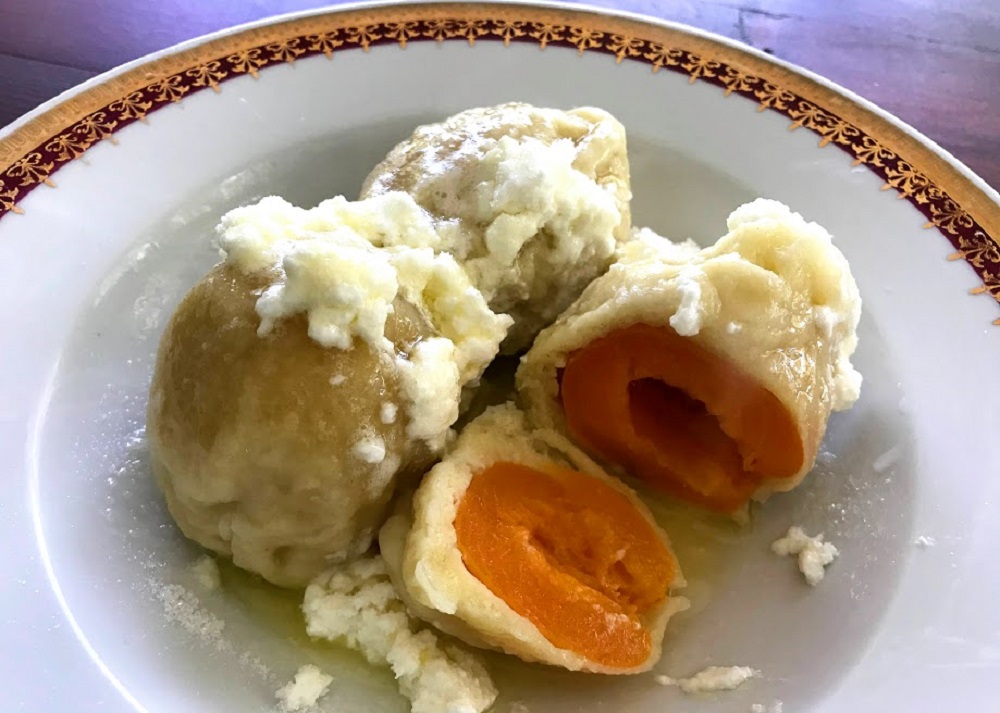 I hope you like and enjoy our recipe for yeasted Czech apricot dumplings.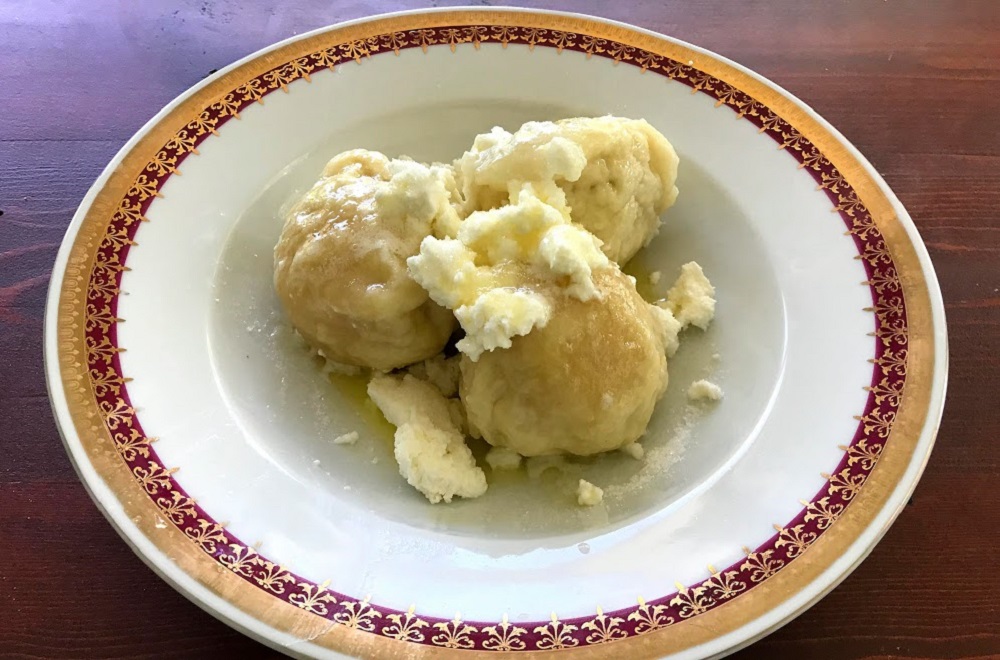 Let us know in the comments below, and as always, Dobrou Chut!
We know that you could spend hours, days, weeks and months finding some of this information yourselves – but at this website, we curate the best of what we find for you and place it easily and conveniently into one place. Please take a moment today to recognize our efforts and make a donation towards the operational costs of this site – your support keeps the site alive and keeps us searching for the best of our heritage to bring to you.

Remember, we rely solely on your donations to keep the project going.
Thank you in advance!
If you have not already subscribed to get TresBohemes.com delivered to your inbox, please use the form below now so you never miss another post.