After 104 years of publication, the end for the last Czech-language newspaper in Texas could come in a Williamson County nursing home. It's there that 82-year-old Joe Vrabel puts out the Našinec paper as far more labor of love than producer of profit.
"Oh, I hate to see it go," he told me in the converted storage room where Našinec is produced biweekly on a desktop computer and printer. "I don't want to think of it even. I worked for it so much and dedicated myself to doing the Czech thing because everybody said, 'Keep going. Keep going.'"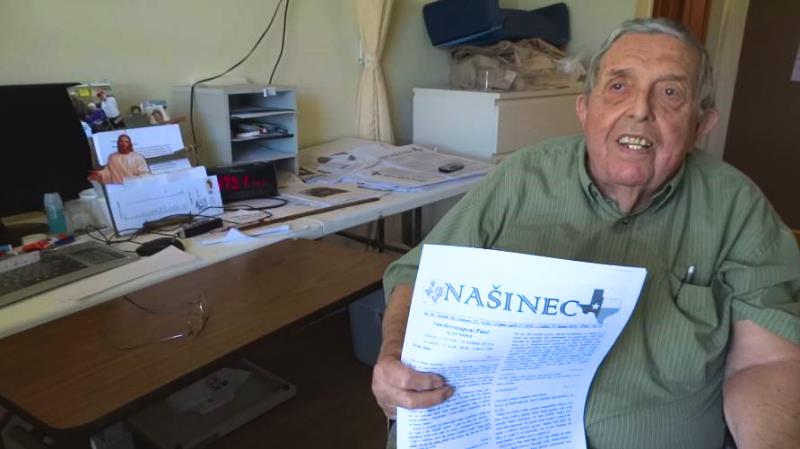 And he did, dating back to 1981 when he bought the paper and produced it first at a downtown Granger building, then in his home and now in the Granger Villa nursing home where Vrabel and wife Dorothy live.
"Very sad, very sad," he said about the prospect of the end of Našinec, which translates to "Fellow Countryman." It began publication in 1914 in Hallettsville and wound up in Granger in 1938.
Vrabel knows this sad truth: "I can't go on."
The Numbers Don't Work
He has health and business challenges, both circulation related. His right leg was partially amputated four years ago due to circulatory problems. His subscription base is down to about 70. At $35 a year for a subscription, the numbers don't work.
Though we still have many Texans of Czech heritage — and thanks for the kolaches, a highlight of Tex-Czechs cuisine — there are fewer and fewer people who speak Czech, a fact acknowledged by Lida Cope, director of the Texas Czech Legacy Project at the University of Texas.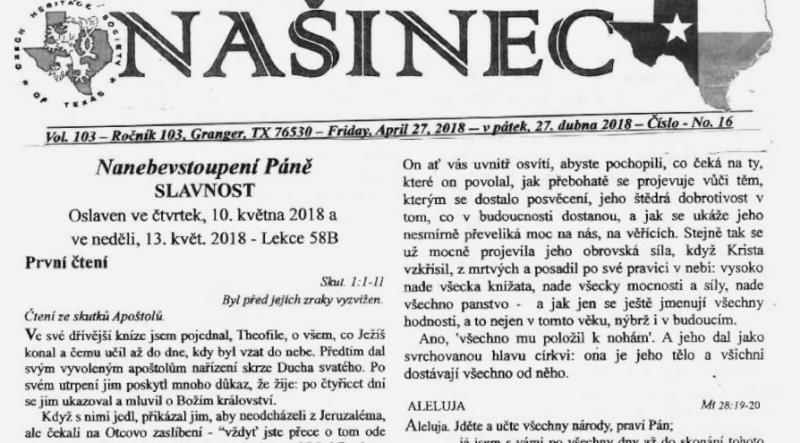 I asked her what the demise of Našinec would mean.
"I wish I could say it would mean a great deal," Cope said. "But pragmatically speaking, it will be something that old-timers will miss, but there are not that many of them anymore."
Texas has no shortage of publications for Texas Czechs, she said, but they're all now in English, even some that used to be in Czech.
"I've always commended Joe Vrabel for doing this and I really wish someone would pick it up," Cope said, suggesting perhaps it could become a student project. "I just don't have high hopes that he will find somebody who will take this over and keep it in Czech."
Texas Czech Dialect is Rated as "Nearly Extinct/Critically Endangered
The 2010 census found 136,447 Texans of Czech descent. Cope has written that there's a "cautious current estimate" among scholars that the population is 150,000 to 225,000. In that 2016 article by Cope in the International Journal of the Sociology of Language, it's noted that the Texas Czech dialect is rated as "nearly extinct/critically endangered."
"Texans of this descent are proud to affirm their Czechness, though largely through nonlinguistic, emblematic means," she wrote. "Words and phrases remain part of their vocabulary and find their way to billboards, to event advertisements, t-shirts, baseball caps, bumper stickers, church picnics and dances to the tunes played by popular Texas Czech bands."
Up against that reality about the language, Vrabel figures he can keep the biweekly paper going for a few more months while he looks for somebody to keep it alive. "I'm trying to work it out if somebody would be interested in it, more like a hobby almost, because you don't really make any money now."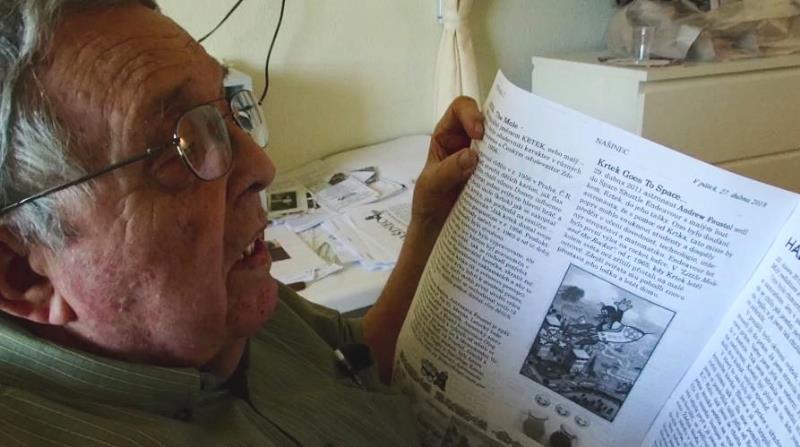 Vrabel was born in nearby Jarrell and moved to Granger when he was 10 months old. He's pretty much been there ever since, working in farming and in newspaper production, including stints at the Temple Daily Telegram, American-Statesman and four years in the 1970s in the composing room of the University of Texas' Daily Texan.
Growing up, his family spoke Czech at home. "My dad could talk English," Vrabel said. "My mother didn't know a word of English." Young Joe benefited from bilingual education.
I Didn't Know a Word of English
"When I started school, gee whiz, I didn't know a word of English. It was hard. We had a teacher, she could get you going because she knew Czech and English," he recalled, speaking with a hint of an accent.
After high school, he did agricultural work, including some in West Texas and the Coastal Bend. He got into the newspaper business in 1958 when Našinec needed somebody to set type.
Vrabel could speak Czech far better than he could read or write it. But he learned well enough to take the Našinec job operating a Linotype machine. Look it up. It's a mechanical marvel from another era.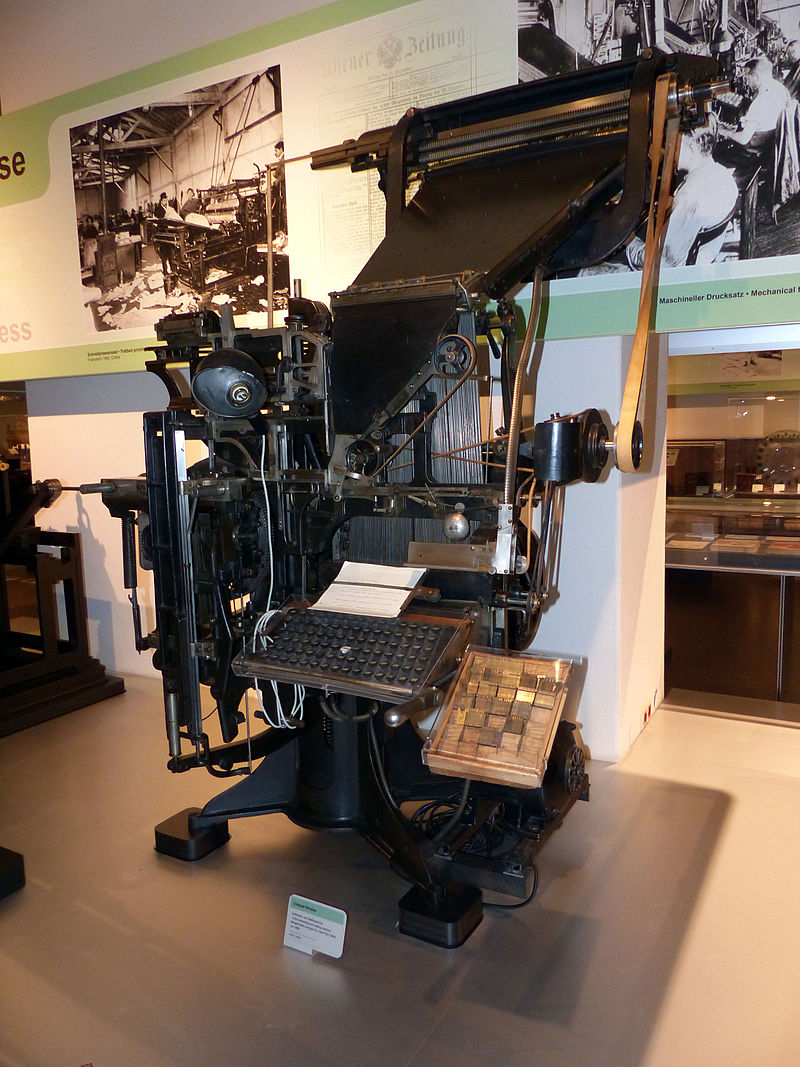 Between the newspaper and commercial printing jobs, Vrabel and his wife Dorothy Vrabel, who also had other jobs, did well enough to raise four kids.
But the demand for a Czech language paper continued to dwindle.
They Have No Interest in the Czech Language
The younger generation, Vrabel said, is curious about their Czech heritage but not the language. "They have no interest in the Czech language."
"Why is it?" he asked. "Nobody can tell me the answer on that. What's going on that it's dwindling down?"
Cope said it's a natural progression: "By the third generation, you lose the language."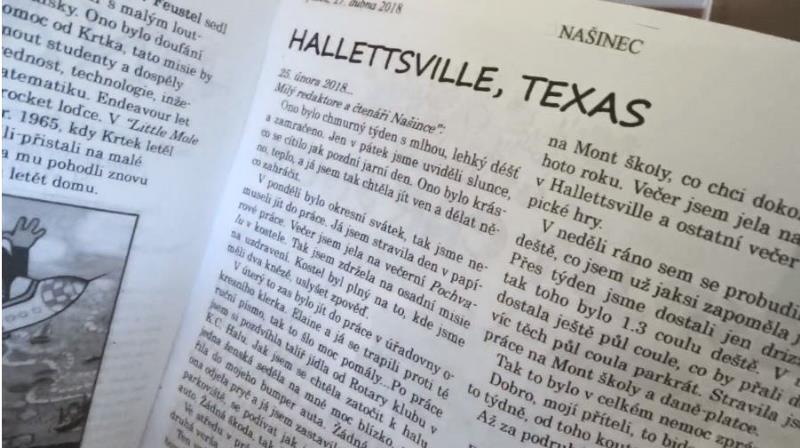 In 1981, Našinec's owners wanted to shut it down. Vrabel, with backing from his wife's family, put together the money to buy it. Years earlier, the circulation had peaked at 3,800. When he bought it it there were 800 subscribers. Vrabel weeded out the non-payers and it got down to 500. But he pumped it back up.
In a 1995 resolution honoring Vrabel and his newspaper, the Texas Senate proclaimed: "Whereas, although younger generations are not all taught the language and customs of their ancestors, Joe Vrabel is providing a valuable service for many people of Czech descent."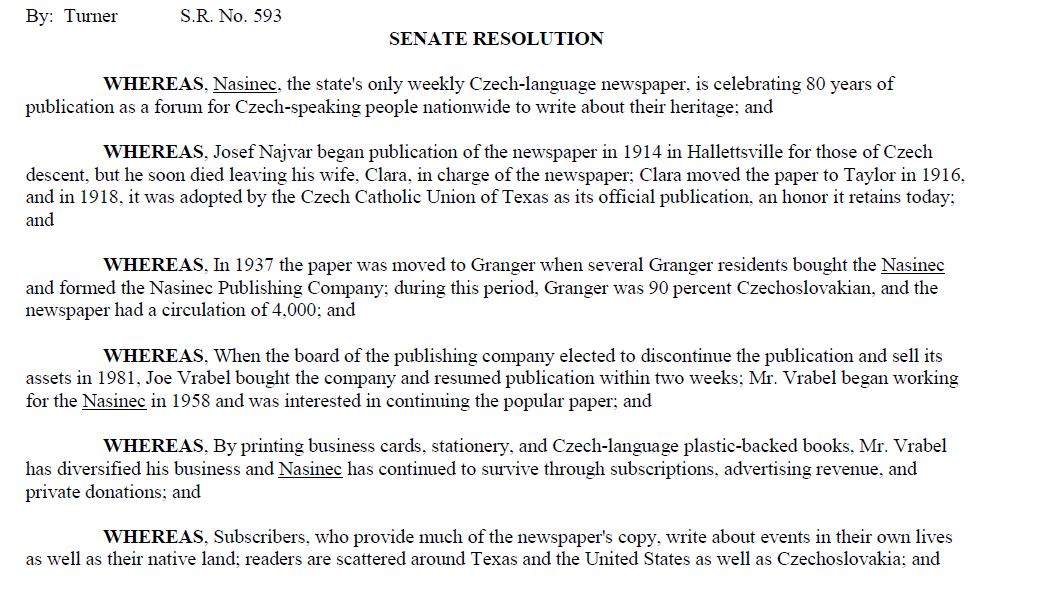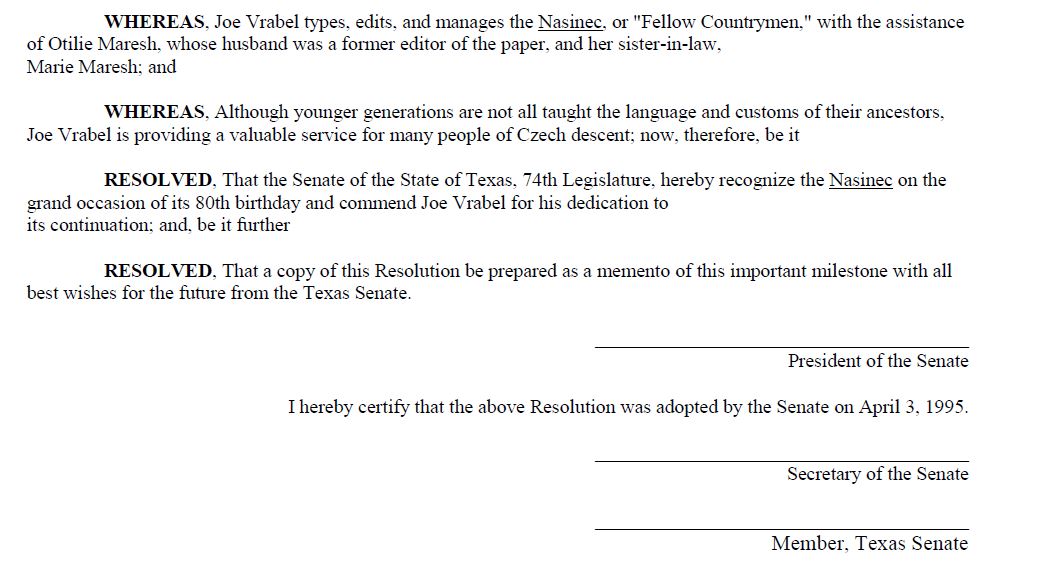 About 10 or so years ago, Vrabel sold the Granger building where Našinec was published. He produced the paper at his home until he moved into Granger Villa last October.
Now down to six pages from eight, the newspaper is a decidedly homespun collection of personal reports from correspondents and news of interest to readers of Czech descent. The front page of the current issue is dominated by a seasonal religious reading.
Page Three has Irene Polansky Szwarc's folksy dispatch from Hallettsville, starting, "Ono bylo chmurný tyden s mlhou, lehký déšt a zamraceno."
She was nice enough to send me a translation of her column. "It has been a dreary week with fog, mist and drizzle and overcast skies," she starts. "Only on Friday did we see the sun and it felt like a late spring day. It was nice, warm and I had the urge to go out and do some gardening."
And there was this crime report: "As I was at a stop sign getting ready to turn, the lady who was behind me from the (Knights of Columbus) hall and who had been practically sitting on my bumper, hit my car in the back. No damage but she left the scene as I pulled into Los Cabos parking lot to check for damage. (There was) no seen damage to the car, thank goodness. I hope it woke her up into not tailing people."
Szwarc has been writing for the paper since 2002, having first started taking the paper to refresh her Czech, the language in her home until first grade.
"My parents recognized I was not picking up English so they dropped it at home," Szwarc, now 66, recalled.
During trips to Europe, she's noticed that her Czech, sort of frozen in time in 19th-century Texas, differs from the Czech that's evolved in Europe. "They have to listen really hard to us and we have to listen hard to them," she said.
Our Language is Really Going Away
The end of Našinec, she said, would "be heartbreaking because it would mean our language is really going away."
Page Five of the current issue has a story about Bozena Nemcova, a 19th-century Czech writer. And, in English, there's an item noting the first Czech newspaper in Texas started in 1879.
"Czech immigrants came to Texas in the early 1850's and were inspired by the flowing descriptions of countryman Josef Arnost Bergmann," the story says. "This pioneer, known as the 'father' of Czech immigration to Texas, wrote of the freedom and fertile land available in the Lone Star State."
It also notes that the immigration wave peaked just prior to World War I when there were more than 15,000 foreign-born Czechs in Texas.
The back page includes a box labeled as "The Czech Way": "Kde Víra tam láska. Where there is faith, there is love."
Vrabel loves the paper. He tries not to think about life without it.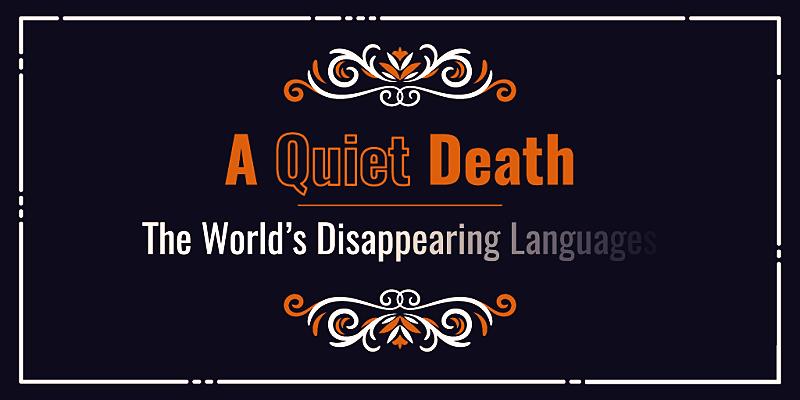 "I hate to talk about it," he told me. "It is more than a job."
Cope, who knows Vrabel and is a subscriber, feels his pain. She understands the why of the paper's probable demise, but she's not happy about it.
"I love the fact that we still have a newspaper in Texas that's published in Czech," Cope said. "And also because I know how much work has gone into this. It's basically a lifetime of complete dedication to his newspaper, and so that makes me very sad when I think about this.
"It's not surprising to me we are at this point," the Czech-born professor said, "but I wish we were not."
Written by Ken Herman – American-Statesman Staff, May 05, 2018. See the original here.
---
We relate to this story very deeply because we have numerous older Czech friends who have started and sustained projects to celebrate the Czech heritage and who have then watched them slowly die away as they have aged. At times, we have wished and wondered how we could gather enough funds to save all of these projects, all the while struggling each day to maintain our own site. Thus, we understand that projects such as this are a labor of love and not money making ventures. My daughters and I continue to work tirelessly for no pay so you can read about all of the various subjects we cover here at TresBohemes.com.
We are sharing this reprint of Ken's article here to bring awareness to this subject and in hopes that Joe Vrabel will find someone who will take over the Našinec and continue the work to keep Czech language alive. While his article reached the eole of Texas, it is our hoe that our sharing will reach others who may not have seen the American-Statesman story.
A thousand-year history flows through each word. We do something magnificently old and historic when we speak Czech. –Karel Čapek
Facts About Language
Over Past 500 Years half (½) of the world's languages have disappeared (Janse).
Of 7,000 Languages that Remain half (½) are in danger of disappearing within this century (Janse). 
There are around 10 million Czech speakers in the world, primarily in Czech Republic where it is an official language. A benefit of learning Czech is that it is also mutually intelligible with the Slovak language. But it is not just the language. Many studies regarding population growth in the Czech Republic have come to the same conclusion, Czechs are having fewer children and the population is shrinking. The United Nations estimates that in 50 years the Czech population will diminish by an astonishing one and a half million people, fifteen percent of the current population.
The United States has a long history of immigration from Bohemia and Moravia. Citizens across the country want to learn more about their ancestors and connect with their heritage by learning about the culture and the country. Heritage, non-heritage, and native Czech speakers are making efforts to keep the language alive through language schools and classes, meet-up groups, cultural events, and Czech organizations and societies. Technology has allowed for the creation of online Czech communities, blogs, and newsletters. Most beginner courses on college campuses or at existing Czech schools allow students to learn basic Czech, reaching advanced beginner proficiency.
In order to successfully develop professional proficiency in languages such as Czech, at least 10 months of intensive study is necessary, totaling about 1,100 hours of study with an average of 28 hours per week (Jackson & Malone, 2009). Even though the available opportunities do not lead to fluent proficiency in the Czech language, there is still a desire for people to learn it, and there are Czech heritage speakers who continue to make an effort to sustain and further develop their heritage language across the generations, because it plays an important role in their cultural identity.
Bottom Line:  Language death demands attention, especially the Czech language, and esecially in the United States.
Thank you Mr. Vrabel
If you wish to contact Mr. Vrabel, whether to show interest for the paper or to just say THANK YOU for his many dedicated years of maintaining the project (with no profit), he can be reached at the following address:
Joe & Dorothy Vrabel
c/o Granger Villa, Inc.
800 N. Commerce Street
Granger, Texas, 76530
If you have not already subscribed to get TresBohemes.com delivered to your inbox, please use the form below now so you never miss another post.
---
Remember, we rely solely on your donations to keep the project going.
Become a friend and get our lovely Czech postcard pack.