Vaclav Havel was the dissident and Czech writer who had a way with eloquent dissections of Communist rule. Some believed he was the Rockstar president with a heart. His way of expressing gave voice to a powerless people under communists and helped to destroy it in revolutions that brought down the Berlin Wall.
The New York Times said, "His moral authority and his moving use of the Czech language cast him as the dominant figure during Prague street demonstrations in 1989 and as the chief behind-the-scenes negotiator who brought about the end of more than 40 years of Communist rule and the peaceful transfer of power known as the Velvet Revolution, a revolt so smooth that it took just weeks to complete, without a single shot fired. He was chosen as post-Communist Czechoslovakia's first president — a role he insisted was more duty than aspiration — and after the country split in January 1993, he became president of the Czech Republic."
He was known as a polite man, quite shy and yet resilient who could articulate the people's voice. Mr. Havel spent five years in and out of Communist prisons, lived for two decades under close secret-police surveillance and endured the suppression of his plays and essays.
But what many do not know is that Havel was also inspired by a psychedelic rock band to start a human rights group and that he hung out with people like Frank Zappa, Lou Reed and the Rolling Stones.
That's right. It took a Czechoslovakian rock band that worshipped Frank Zappa and the Velvet Underground to make Vaclav Havel realize the true power of rebellion.
Havel was the ideological prodigal son of the American 60's. He was a Czech version of Benjamin Braddock without the sex with Mrs. Robinson (well, we can't really know such details). Unsure of his future and knowing that he does not want to be like his parents, he was a seeker with a vision for a new world. People noted that despite being president, he always seemed more at home in the counterculture.
When communist authorities arrested a Velvet Underground-inspired band called The Plastic People of the Universe, Havel and other activists drafted the Charter 77 Manifesto. Spreading the text of the document was considered a political crime by the communist regime. Charter 77 criticized the government for failing to implement human rights provisions of a number of documents it had signed. It called on Czechoslovakia and other Warsaw Pact countries to abide by the human rights provisions in their constitutions. The communist regime suppressed publication of the Charter 77 text and declared it "an anti-state, anti-socialist, and demagogic, abusive piece of writing."
But that did not stop Havel and his friends… and the rest, they say… is history.
He invited numerous counterculture artists, musicians, rock stars and writers to the castle once he became president. Below are some images of the visits.
To celebrate the last Soviet troop leaving Czechoslovak soil, the Czech president organized a star-studded concert featuring Paul Simon and Frank Zappa.
This was, by the way, the last live show by Zappa, who would later die of prostate cancer.
On the occasion of Bob Dylan's concert at Prague's Sazka Arena on November 11, 2005, Bob Dylan invited Václav Havel and his wife Dagmar to his dressing room where they recalled Havel's first visit to the USA.
You can listen to the entire live performance of Bob Dylan in Prague on November 7, 2005 if you click here.
The secret police may have stopped Havel from bringing Joan Baez on stage in 1989, but twenty years later, he was happy and proud to bring her guitar to the stage.
President Havel told a startled Lou Reed when he met the Velvet Underground's former front man in 1990, "Did you know that I am president because of you?"
Nine years later, during his last presidential visit to the Bill Clinton White House, Havel made two musical requests: Get Lou Reed to play a set, then bring over the Plastic People.
Apparently, they hung out quite often, always happy to see each other.
Via The Economist: "They shared not only a taste in music, but a sardonic humor and detestation of shallowness, pomposity, and conformity. Both found journalists tiresome. Both shared vices: smoking, drinking, and late nights. When the Czech president was invited to the White House in 1998, he demanded that his friend Lou be invited too. It was the height of the Monica Lewinsky scandal. A singer whose lyrics featured oral sex, drug use, and mental illness made the officials nervous. Mr. Havel was firm; a carefully vetted performance ensued, to the delight of the beleaguered Clintons."
In 1995, during a trip abroad, he apparently ignored awaiting dignitaries and lingered on the airport tarmac, chat with Mick Jagger and Keith Richards.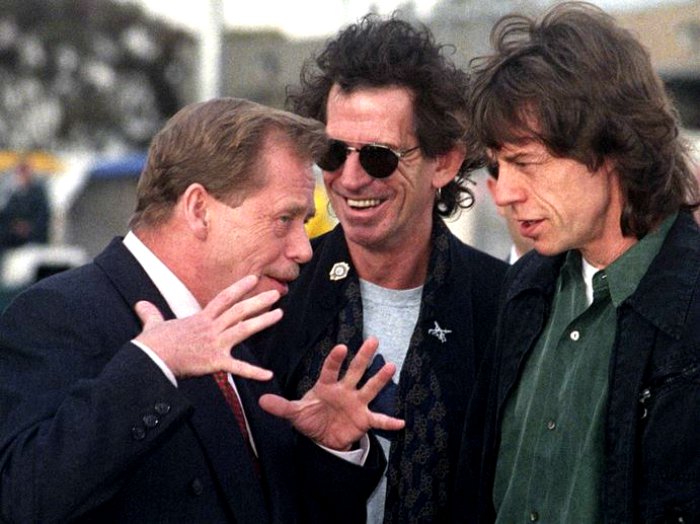 Immediately after the Velvet Revolution, Vaclav Havel, invited the famous British band the Rolling Stones to the Strahov Stadium in August of 1990.
What a concert that must have been for the new democracy. All news reports always said that the Rolling Stones loved Havel.
Even in his own book Life, Keith Richards writes: "At the tail end of the Steel Wheels tour we liberated Prague, or so it felt. One in Stalin's eye. We played a concert there soon after the evolution that ended the communist regime. Tanks Roll Out, Stones Roll In was the headline. It was a great coup by Vaclav Havel, the politician who had taken Czechoslovakia through a bloodless coup only months earlier, a brilliant move. Tanks were going out and now we're going to have the Stones. We were glad to be apart of it."
Richards continues, "Havel is perhaps the only head of state who has made, or would imagine making, a speech about the role that rock music played in political events leading to a revolution in the Eastern Bloc of Europe. He is the one politician I am proud to have met. Lovely guy. He had a huge brass telescope in the palace, once he was president, and it was focused on the prison cell where he did six years. And every day I look through there to try and figure things out."
Richards continues, "We lit the state palace for him. They couldn't afford to do it so we asked Patrick Woodroffe, our lighting guru, to relight the huge castle. Patrick set him up, Taj Mahal'd him. We gave Vaclav this little white remote control with a tongue on it. He walked around lighting up the palace, and suddenly statues came alive. He was like a kid, pushing buttons and going, whoa! It's not often you get to hand with presidents like that and say , Jesus, I like the cat."
Here is a little bit of rare footage of Vaclav Havel with the Rolling Stones.
The Plastic People of the Universe were born in the immediate wake of the Warsaw Pact invasion of Czechoslovakia in 1968 to suppress Prague Spring reforms.
Driven underground to play secret gigs and make surreptitious recordings of radical desperation, later enduring the incarceration of several members, Prague's Plastic People might be the bravest, most literally revolutionary band in the history of rock — and former Czech president Václav Havel even wrote lyrics for them. At times hard to find, The Plastic People of the Universe sometimes show up on Amazon.
He even rocked out with Bill Clinton, who, during a state visit in 1994, joined a saxophone jam session at Mr. Havel's favorite, Reduta jazz club .
Okay – they jazzed out. Want to hear the jam session?
Bill Clinton playing My Funny Valentine
Bill Clinton playing Summertime
And after all of that rock and roll?
Well, Vaclav Havel mediated with his friend, the Dalai Lama. (They apparently meditated for hours!)
They also managed to have some tea…
His Chief political adviser from 1997 to 1999, Jiří Pehe said, "Initially, he had difficulty changing his mentality from being a dissident to a politician, but Mr. Havel had been a better president than many had expected." His staff remember him covering a side of the building with a large neon-red heart, and often pedaling the corridors with a child's scooter.
Truth and love must prevail over lies and hatred. – Vaclav Havel, slogan during the revolution
Some accused him of naïveté, but he never lost his childlike idealism and for that, people who love freedom everywhere will always love him. He even signed his name with a small heart.

Vaclav Havel will always be lovingly remembered as the one who personified a Czech nation with the ideology of freedom and human rights for all. During the course of his life, he wrote a total of 9 books, 19 plays, served 14 years as president. He remains one of his generation's most seductively nonconformist writers.
If you want to pick up Vaclav Havel's books, here's your shopping list.
1978/85 – The Power of the Powerless (1978 titular essay, online, excerpts online)
1986 – Living in Truth
1988 – Letters to Olga (Dopisy Olze)
1991 – Disturbing the Peace
1991 – Open Letters
1992 – Summer Meditations (Letní přemítání)
1994 – Towards a Civil Society
1998 – The Art of the Impossible
2007 – To the Castle and Back
You can also read Stories and Totalitarianism (April 1987) It was written for the underground cultural journal Jednou nohu (Revolver Review), and dedicated to Ladislav Hejdánek on his sixtieth birthday. In English, it appeared in Index on Censorship, no. 3 (March 1988) and, in a slightly different version, in The Idler, Toronto, no. 18 (July-August 1988). Translation by Paul Wilson.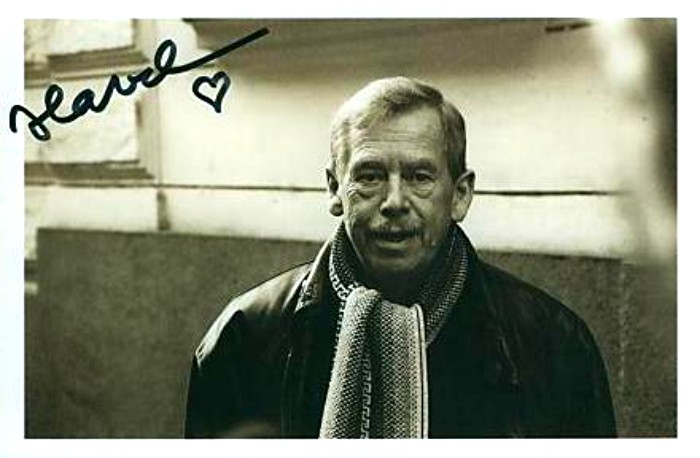 Sources: 1, 2, 3, 4, 5, 6, 7, 8, 9, 10, 11, 12, 13, 14, 15, 16, 17, 18, 19, 20, 21, 22, 23, 24, 25, 26, 27, 28.
Thank you for your support – We appreciate you more than you know!
We know that you could spend hours, days, weeks and months finding some of this information yourselves – but at this website, we curate the best of what we find for you and place it easily and conveniently into one place. Please take a moment today to recognize our efforts and make a donation towards the operational costs of this site – your support keeps the site alive and keeps us searching for the best of our heritage to bring to you.


Remember, we rely solely on your donations to keep the project going.
Thank you in advance!
If you have not already subscribed to get TresBohemes.com delivered to your inbox, please use the form below now so you never miss another post.