Below are our loyal supporters, many of whom give an annual donation to the project and thus create a bedrock of support vital to its survival.
Would you like to join them and help keep the project alive?
If so, please click here to learn more.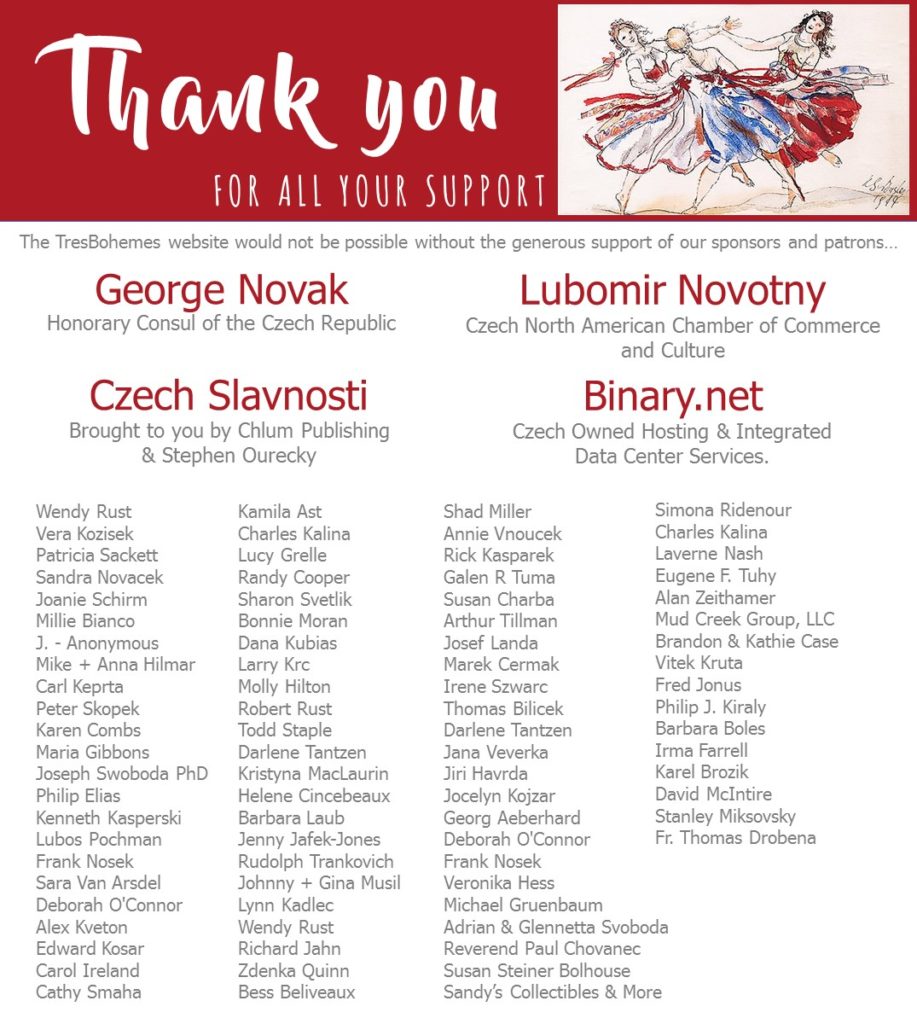 Much Appreciated Friends
of Tres Bohemes
(Updated monthly)
Czech Slavnosti Newspaper (aka Chlum Publishing LLC)
George Rhodes
Marianne Kabes-Crane
Philip J. Kiraly
Sandra Novacek
Millie Bianco
Bill Moravec
Irene Szwarc
Arthur Tillman
Rick Kasparek
Leonard Murphy
Gregory Vokoun Trent
Francis Nosek
Helen Newman
Maurice Bursey
Nancy Williams
Maria Frycek
Alan Vybiral
Dr. Kenneth Kasperski
Douglas Bess
Lillian Hendricks
Glenn Fogarty
George Bures
Christopher Bentley – Author of the Blogs: 'Bananas For Breakfast' and 'Girls Of The Golden East'
Marguerite Williams
EJ Biskup
Kathleen Caid
Jim Johndrow
Karel Sala
Edward Bures
Robert Anderlik
Nancy Bailey
Juanita Bartley
Irma Farrell
Jill Ravnic
Charlotte Brendel
Zdenek Kaplan
Helen Kaiser
Dorothy Davis
David Del Frate
Austin Kam Chee
Howard Erdman
Gregory Vokoun Trent
David Chase
Mary Pavlik
Erica Viezner
Greg Mika
Frank and Peggy Repka
Robert Doubek
Wendy Rust
Sharon Perkins
Helen Roth
Ludvik Svoboda
Sylvester Suda
Michael Parnell
Other Donors
Cynthia Zuber
Larry Obereigner
Jenny Jafek-Jones
Linda Schrom
Mary Oliver
Robert Doubek
Darlene Tantzen
Jim Tanoos
George Kralik
Jocelyn Kojzar
Rick Pryll
Leemer Cernohlavek
Annabel Vnoucek
Frank Weiner
Vilma Lieberman
Helena Bursik
Diana Keener
Eva Maria Campo
Marguerite Williams
Audrey Zapletal
Sabi Cunningham
Christine Okon
Rob Prior
John Hesley
Linda Wiesner
Andrea Fitzgerald
Jill Sykora
Nancy Williams
David Mcintire
Fran Vojik
Maureen Henderson
Barbara Vann
James Carter
Robby Prior
Andrew Sitka
Jennifer Webley
Dagmar Gorman
Bonnie Moran
Jeane Novotny
Barbara Weitz
Jill Ravnic
George Alderson
Maurice Bursey
William Skocpol
Chris Nantua
Mary Oliver
Josef Tomas
Shirley Gillespie
Jaromir Valenta
Rex Steiner
Mary Ann Kocurek
Linda Schrom
Julia Giner
Rosalie Vaneck
George Alderson
David Lewis
Ann Cramer
Daniel Charvat
Victoria Castleberry
Karl Vacek
Robert Rust
Mary Reilly
Kathy Waggoner
Fred Blair
Janet Hartman
Joan Krikava
Would you like to join them and help keep the project alive?
If so, please click here to learn more.
If you have not already subscribed to get TresBohemes.com delivered to your inbox, please use the form below now so you never miss another post.