Before he died in Paris in July of 1971, Jim spent much time writing in a journal. This writing has come to be known as Jim Morrison's Paris Journal. It is a notebook that some refer to as a manuscript which went on to be published in full as a part of The American Night: The Writings of Jim Morrison Volume II published out by Vintage Books in 1990.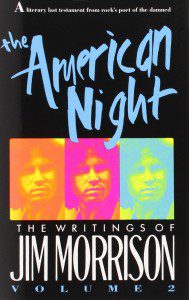 The American Night notes "The entire notebook consists of one angry, reflective and defiant poem. As there are only three places in the notebook where words or phrases appear to be crossed out, this appears to be a clean and finished draft. (Morrison) wrote the title Paris Journal on the front of the notebook's black cover…These are among the last lines he wrote."
Paris Journal was part of the legendary 127 Fascination box, the archive of Jim Morrison manuscripts saved after Morrison's death by his common-law wife, Pamela Courson. After Courson's death in 1974, the manuscripts went missing, and were rediscovered 1986 in Northern California, in a strongbox labeled 127 Fascination.
Courson had given them to a paramour in the Bay Area for safe keeping; and while he'd returned some of her possessions to her family, he'd kept the 127 Fascination manuscripts.
When the manuscripts resurfaced, attempts were made to publish them, but the Morrison and Courson families objected and a legal settlement was eventually hammered out. After the settlement, Paris Journal was sold, and has been in a private collection until now. Scans of the Paris Journal were made available for the Jim Morrison Archives.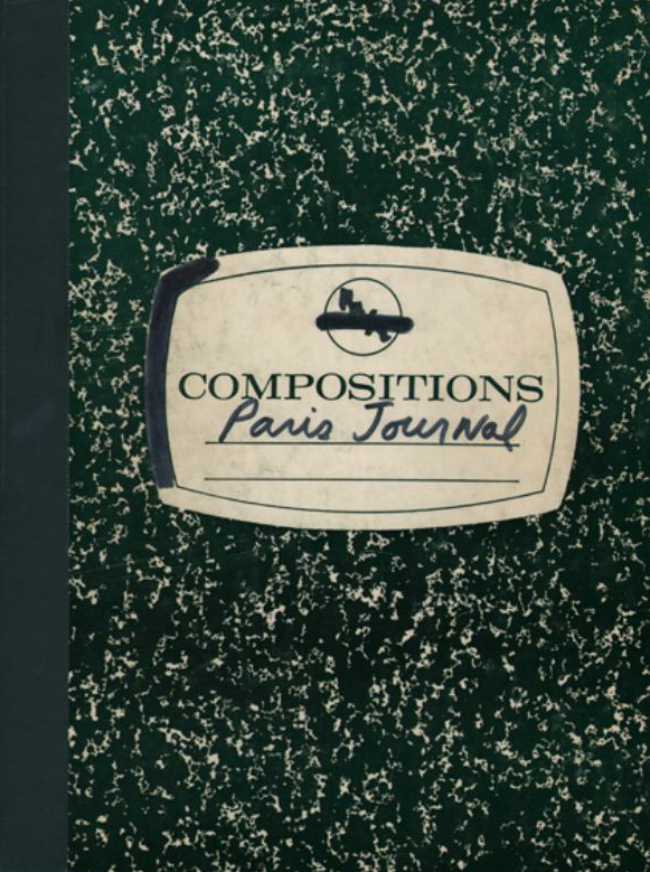 Paris Journal cover.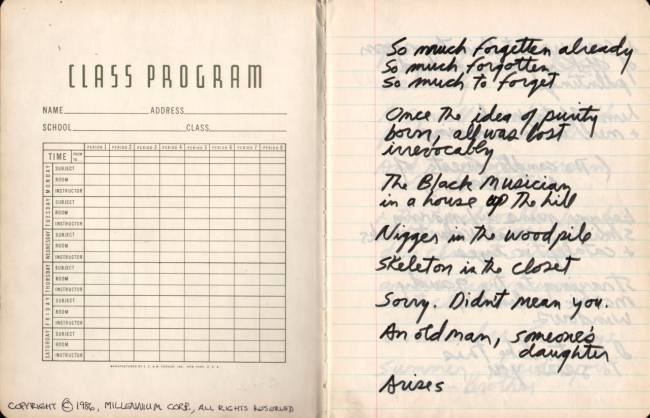 Page 1.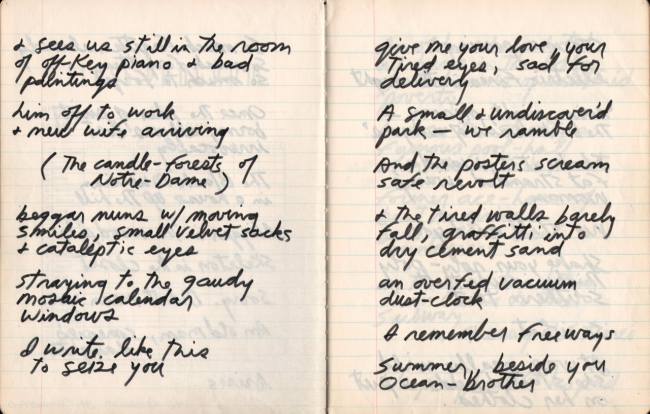 Pages 2 and 3.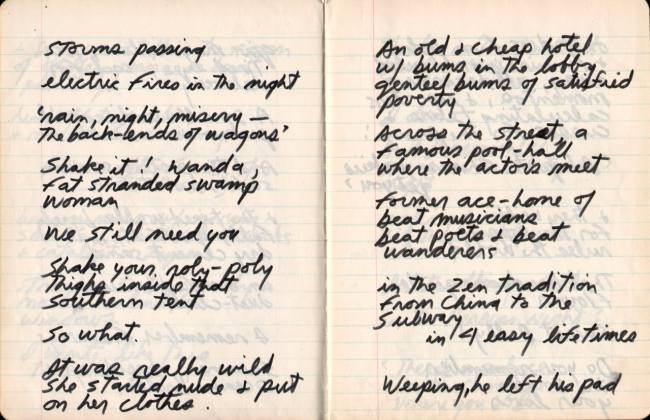 Pages 4 and 5.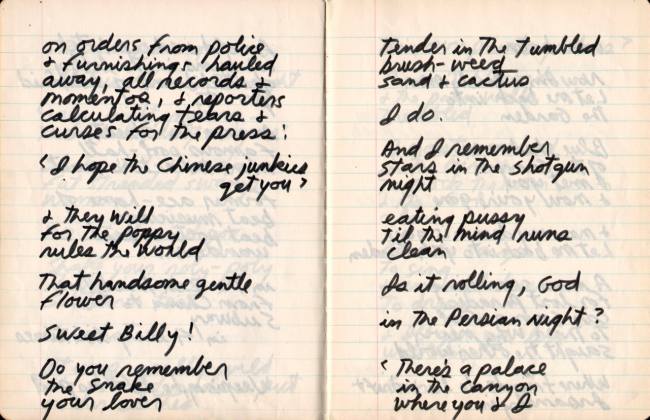 Pages 6 and 7.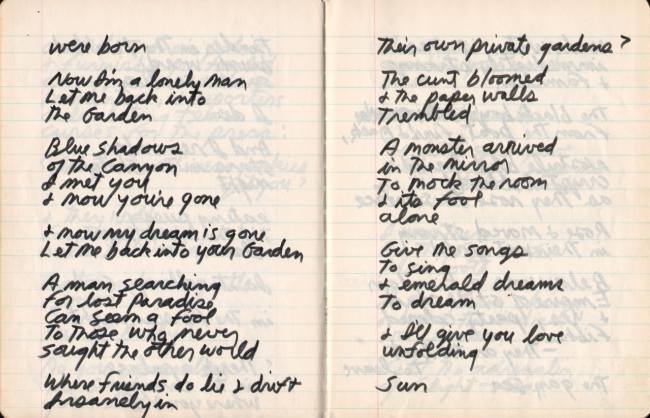 Pages 8 and 9.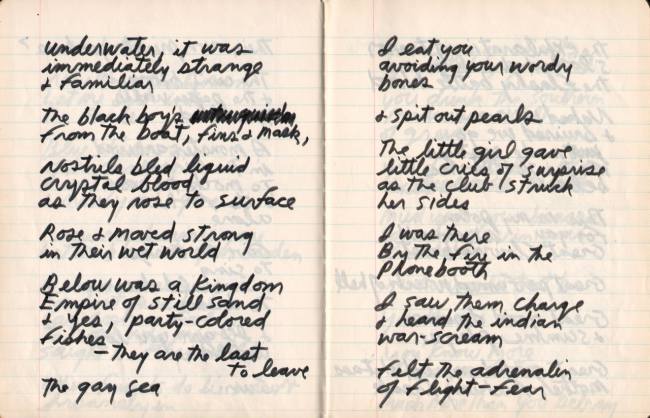 Pages 10 and 11.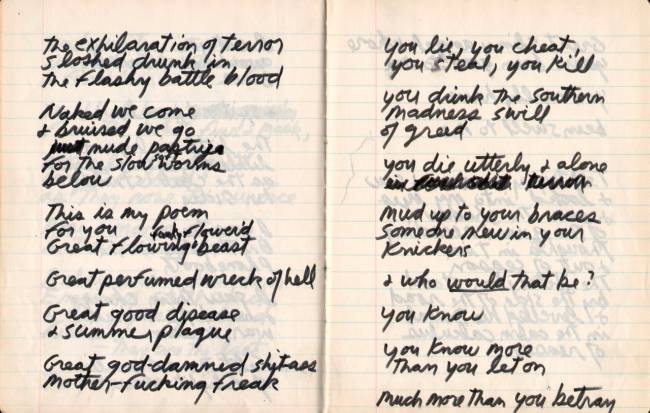 Pages 12 and 13.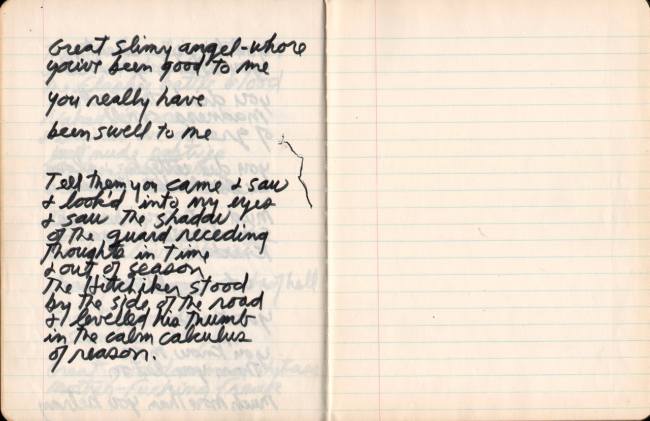 Page 14.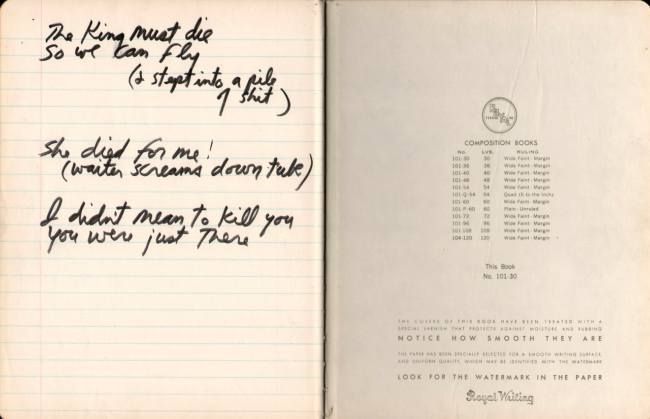 Page 15.
In December 2013, another of Morrison's notebooks from Paris, filled with his ramblings and short poems, sold for $250,000. at auction.
(Note: The 1986 copyright date was added by the individuals who discovered the 127 Fascination box, prior to the legal settlement with the Morrison and Courson estates.)
Listen to Jim recite his poetry. Note – this is not from the Paris Journal…
Source: Record Mecca
Leave a Comment
comments